Foundation Works Completed for ZADA Tower in Business Bay
DAMAC Properties has recorded an important milestone at its ZADA Tower project in Business Bay with major foundation works completed within three months of awarding the major works contract.

"The contractor has fully mobilized the project with the required number of workers and machinery and currently the site is working in both day and night shifts, which has ensured that the progress is on schedule. In fact, it is quite quick progress given the current market conditions due to the pandemic," Niall McLoughlin, Senior Vice President of DAMAC said.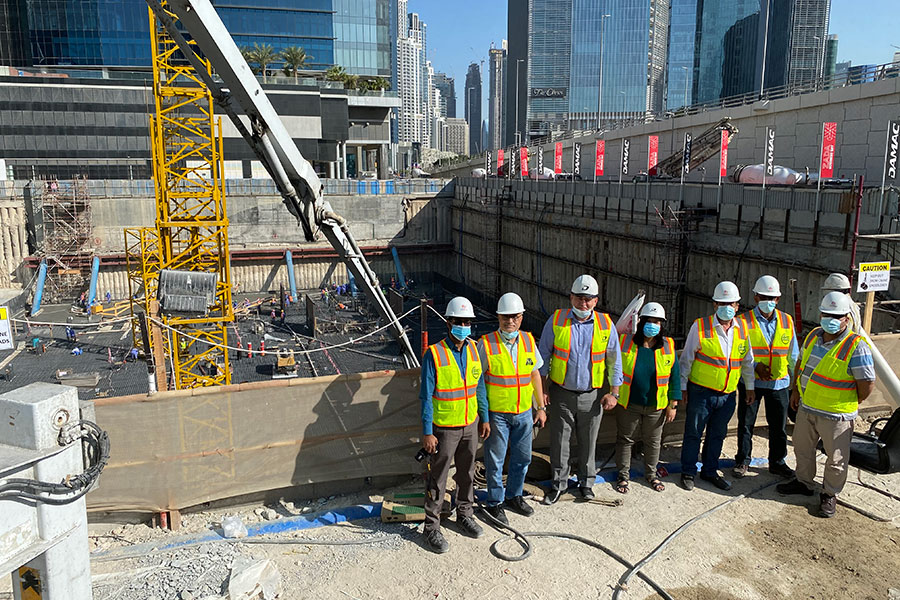 More than 9,000 cubic meters of concrete was poured into the foundation, an amount that could fill three Olympic-sized swimming pools. The concrete was casted to support the tower, lift pits, sump pits and retaining walls. Additionally, 1,600 tons of steel reinforcement was used to complete the foundation.

In September, DAMAC awarded Trans Emirates Contracting, LLC a contract worth AED 181,000,000 to start main work construction of ZADA, a 26-storey building located in the coveted Business Bay neighborhood.

ZADA offers world-class amenities such as a swimming pool, a children's playground and a fitness center, among others. Owing to its location in one of Dubai's most sought after neighborhoods nearby Burj Khalifa, residents will be close to the best shopping, dining, and entertainment experiences in their vicinity.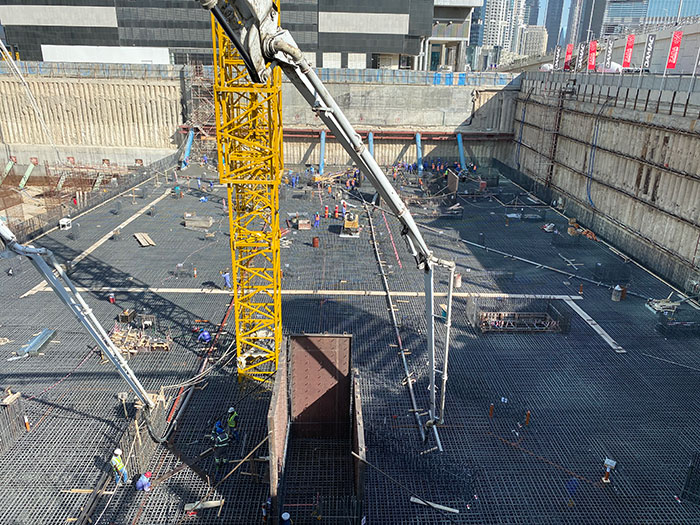 The UAE government's excellent handling of the pandemic has allowed businesses to open up due to the stringent health and safety measures put in place to curb the spread of Covid-19.

"The swift progress we are making on ZADA Tower is only possible because we take Covid-19 health measures very seriously. DAMAC has always taken decisive steps to adhere to proper health and safety protocols and the pandemic has only made us more stringent. In November, we logged more than 53 million safe man-hours across our ongoing projects in Dubai," McLoughlin said.

DAMAC has several measures in place on their construction sites to curb the spread of Covid-19 including daily temperature checks, 30% occupancy on bus transport, spreading out of worker shifts to ensure social distancing is maintained on sites and more rest areas on site to ensure that mingling is reduced during work breaks. Worker living spaces and toilets are cleaned and sanitized on a daily basis, and hand sanitizer is widely available on construction sites.

While DAMAC Properties Chairman Hussain Sajwani believes that it will take another 12-24 months for the real estate sector to see full recovery, he has voiced optimism about several recent government initiatives aimed at boosting investment in the UAE.

These initiatives include visas for expatriate retirees and the expansion of the 10-year golden visa scheme to attract foreign professionals to settle in the UAE.

The UAE also reformed its commercial companies' law last month and annulled the requirement for onshore companies to have an Emirati shareholder, which is also expected to boost foreign direct investment in the country.

And finally, with EXPO 2020 slated for the end of next year and a likely resumption of tourism after Covid-19 vaccines become more available, analysts predict an uptick in property transactions for 2021.

In a recent panel discussion with the US-UAE Business Council, Mr. Sajwani said he "was very positive" on Expo 2020 Dubai, saying that "they had done a great job" and that the event "would push Dubai forward".
@DAMACOfficial #DAMACOfficial
Website:
https://www.damacproperties.com/en/