Four Simple Tips to Experience Water in a more Sustainable Way
In celebration of World Water Day 2015, and to encourage people across the UAE to conserve more water as part of their day-to-day routines, Delta Faucet Company has shared four easy ways to experience water more sustainably. A pioneer in kitchen and bathroom faucets, Delta Faucet Company are recognized by Estidama, Abu Dhabi's sustainable buildings and communities program, for supporting sustainable design in the UAE.

Ross Jackson, General Manager at Delta Faucet Company in the UAE explains, "We believe that every drop of water counts and we place a high priority on developing products that address today's water conservation concerns. At Delta Faucet Company, we are committed to providing smart water delivery solutions that maximize water savings without compromising on the comfort and convenience of the end-user's experience or the durability and life span of our products."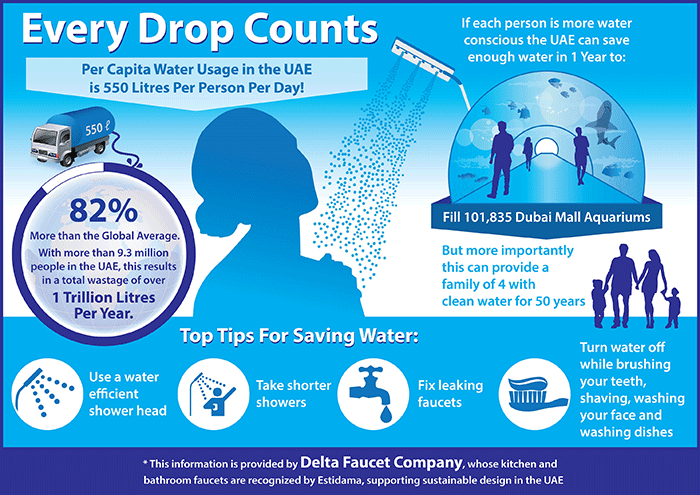 Four simple tips to save water;
Do not leave the water running while you are shaving, brushing your teeth or washing your face
Many of us have the habit of leaving the water running while carrying out tasks/activities that form part of our daily routine, which leads to the wastage of a very large amount of water. By installing a Hands-Free Technology option such as a Delta Faucet product with Touch 2O.xt™ Technology, you can conserve water whilst carrying out repetitive tasks. The Touch2O.xt™ Technology faucet acts as a sensor so the water starts flowing instantly and effortlessly. It senses your presence within 4" and automatically shuts off within seconds once you remove your hands.


Change your shower head to a more sustainable one
By switching your shower-head to a low-flow shower head, you can reduce your shower water consumption by up to half. The Delta Faucets H2Okinetic Technology® shower-heads allow you to conserve water without sacrificing your shower experience. This technology creates larger water droplets which not only retain heat better, but also creates a more luxurious spray that blankets the body. The H2Okinetic Technology delivers 5.7 litres of water per minute that actually feels like 9.5 litres per minute, resulting in a 36% decrease in water usage compared to a high flow system. It's also proven that this technology saves equivalent to 385 bottles of water or 50 days of drinking water in just one week.


Take shorter showers
Showering for five minutes or less using a low-flow showerhead is the most water efficient way to bathe.


Fix leaking faucets
A single drop from a leaking faucet can waste 75 litres of water per day. Technologies such as the DIAMOND Seal Technology engineered by Delta Faucet Company, provides faucets that are leak free, lead free (once inside the faucet, water is not in contact with potential metal contaminants), easy to install and longer lasting, with a lifespan 10 times longer than the industry standard.
Categories: