French companies to support the global energy transformation at the WFES 2018
Business France, the national agency supporting the international development of the French economy will once again be organizing the French Pavilion at the World Future Energy Summit from January 15-18, 2018, in partnership with Club ADEME International and Syndicat des énergies renouvelables.

As the GCC hold real potential for French energy companies, the regional markets, in the field of transformation, are turning the corner into the energy transition, with large-scale projects and structured institutions. The Abu Dhabi Sustainability Week offers a prime showcase for French know-how, it is an opportunity for exhibitors to meet with decision-makers and contractors in the region, introducing their work and paving the way for future participation in projects. The event is thus a key inroad to thoses.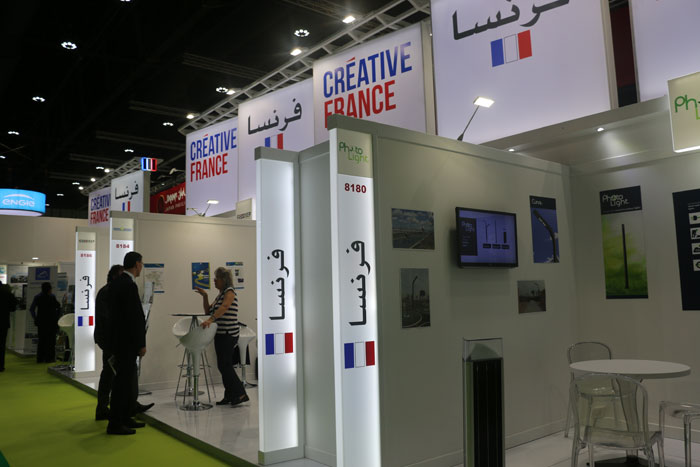 The figures for the renewable energies sector in France speak volumes about how the sector is positioned in Europe and across the world. With 21.4 million tonnes of oil equivalent produced in 2015, France is the third-largest producer of RWEs (Renewable Energies) in Europe, behind Germany (38.8 Mt) and Italy (23.5 Mt). In France, the proportion of RWEs in final energy consumption amounts to 15%, the target being to reach 23% by 2020.

The Number 2 source of wind energy in France and Number 5 when it comes to sunshine, France also boasts Europe's largest hydraulic potential and is fourth in total forest land.
In the field of photovoltaic solar energy, France ranks in the Top 10 best-equipped countries world-wide. France has 11 million square kilometers of sea, representing among the largest potential sources of energy in the world.

ARTS Energy is one of the world's leading battery manufacturers, will be presenting its new generation of nickel-metal hydride (Ni-MH) batteries for professional autonomous solar energy solutions and backup applications at the WFES & IWS trade fair in Abu Dhabi (French Pavilion).

ARTS Energy's latest generation of Ni-MH batteries are exceptionally robust in very warm environments (up to 85°C) and boast a 10-year lifetime when used in outdoor applications in the Middle East. Ni-MH is particularly well suited to autonomous solar applications in the Middle East (Solar Street Lights, Road and Urban Signage, etc..), which are very demanding. But this new generation of batteries also performs extremely well in backup applications (e.g.: Telecom), as well as applications involving a high number of cycles (e.g.: daily battery use to reduce main grid electricity bills, data-centres back up).

Come and meet the French experts in Hall 7