French solar streetlights manufacturer equipped Mohammed Bin Rashid City with its 74w LED
The French company Photolight delivered around 350 solar power led lights to MBR City last December, through its local distribtutor Al Ghandi Electronics. Located next to Meydan Race track, it was developed by Meydan Shoba Inc. and inaugurated by Saeed Humaid Al Tayer, Chairman and CEO of Meydan Group, and P.N.C. Menon, Chairman of the Shoba Group.

In the era of researches for the renewable energy sources, the city of Dubai recently builded a 9km cycling and jogging track which contains a wide cycling and a jogging track with special running floor material. To ensure good visibility when cycling or running at night and to minimize energy consumption, the track is illuminated by solar-powered lights, making this an eco-friendly facility.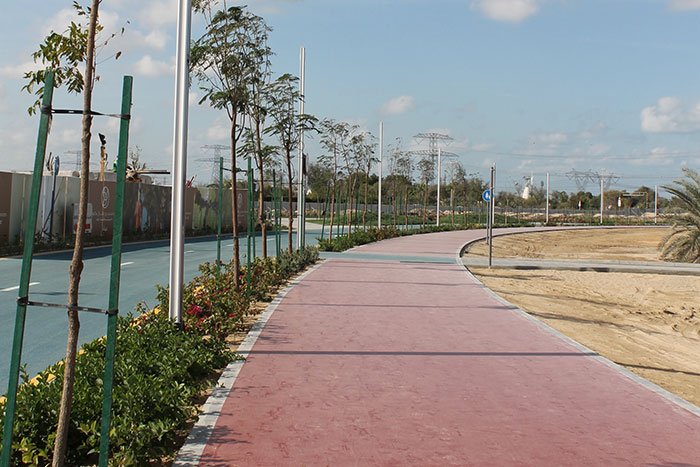 Equipped with 74w LEDs in accordance to RTA lux level standards and vertically mounted photovoltaic panels specially conceived for dusty climate, these lights don't require any cleaning maintenance which can be very costly.

In his opening speech, Al Tayer said: "About 340 of these lights have been imported from France, and unlike the bigger, lumpy solar-powered LED lights, these posts have embedded solar panels, making it sleeker and less space consuming".

"When we started discussing this project with the consultant, they were looking for a 15m spacing light with 4.5m height poles. Then we proposed our 6m pole Straight lights reducing drastically the investment which enabled us to create 25m spacing lights fully respecting the lighting level requirements of an average of 10lux", added Mr. Guillaume Dumont, Photolight MEA Sales Manager.

Manufactured in France and distributed by Photo-Me group, the solar streetlights highlight the awareness of environmental issues faced in the region. Photo-Me group has made solar energy a major diversification axis, dedicating a large part of its R&D investments to this project. The Photolight products insure an economical lighting thanks to an innovative concept in line with the new environmental legislation: no need for electricity supply due to solar cells, no CO2 emissions and simple installation (no cables, therefore no trenches necessary).

Designed for urban or residential environments and suitable for corporate or private events, the Photolight solar lights are totally autonomous and adapted to all types of locations. They offer intelligent lighting through their light intensity programming and time settings. Equipped with a light & motion detector, programmable via Wi-Fi from a smartphone or computer, the Photolight lights are fitted with lithium batteries integrated in the pole, free of maintenance, and an anodized aluminium body pole treated for anti-corrosion and salt.

Today several resting areas have been set up along the track around Mohammed Bin Rachid Al Maktoum City, also called District one. The cyclists and joggers who are already numerous to greet with fervor the new track, can access it for free. The track will be extended to 41km as part of phase 2 of the project in the years to come.