GE unveils white paper at WFES 2016 with strategies for improved energy and water resource management
GE (NYSE: GE) will unveil an insightful white paper on the opportunities and risks associated with the energy and water landscape of the Middle East and North Africa (MENA) region at the World Future Energy Summit 2016 to be held from January 18 to 21 at the Abu Dhabi National Exhibition Center.
GE has partnered with the World Resources Institute (WRI) to prepare the report titled, 'Water, Energy, Risks & Rewards - Challenges Opportunities and Ideas for Innovation at the Water-Energy Nexus' will be distributed to visitors at the Summit at GE's pavilion in Hall No 5, Stand No. 5420, and is available online.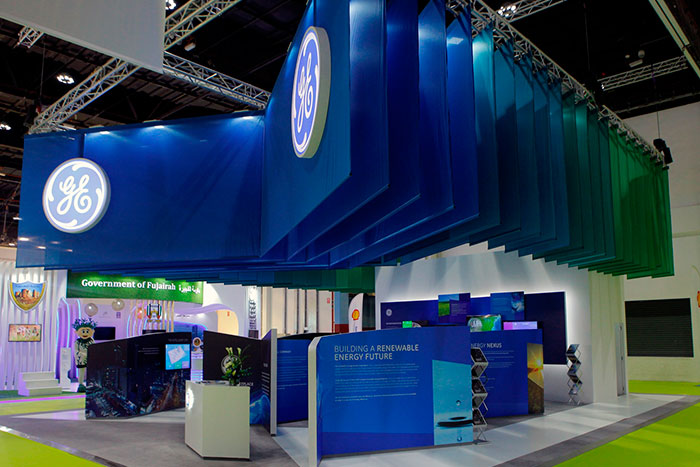 The report specifically addresses the questions of "Where are companies facing risks at the nexus of water and energy resource challenges?" and "What are the opportunities for companies to reduce exposure to these risks and meet customers' needs in tomorrow's markets?"

Focused on business solutions and customer outcomes, it underlines the region's significant role in driving a global wave of renewable power investments and capacity addition to address the energy and water resource challenges. It also aims to drive a culture of localized research through its in-depth analysis of the challenges, opportunities and ideas on promoting water and energy use efficiency.

Nabil Habayeb, GE's President & CEO for the Middle East, North Africa and Turkey (MENAT), said: "Our white paper is a significant investment to evaluating the existing risks and opportunities to strengthen the energy and water landscape in the region. Its findings will give all stakeholders actionable insights on how we can work together to identify bold and innovative solutions that help strengthen the energy mix, which in turn also helps address water scarcity concerns.

"The UAE has taken significant strides in promoting sustainable development and energy use efficiency, and as a long-term partner of the nation, we will work with the local community of researchers to support the nation in achieving its clean energy goals."

Deb Frodl, Global Executive Director – ecomagination of GE, said: "The shared nature of water and energy resources means that no individual company, industry, country, or even a region, can ensure access to clean energy and clean water on its own. The report underlines the need to promote collaborative innovation that will help bring energy costs down and provide new water service models. This can be further supported through advanced technologies that help in doubling energy productivity, scaling distributed clean energy, and building smart infrastructure. All these are 'win-win' opportunities for water and energy."

The landscape
As population increases in MENA, meeting basic water needs becomes increasingly challenging and costly. MENA is one of the most water-scarce regions in the world and many of its countries already use desalination to address a growing gap between water supply and demand.

According to the Food and Agriculture Organization of the United Nations, renewable water availability in MENA is under 2,000 m3 per capita per year, only a fraction of the world average of 7,240 m3 per capita per year. This is expected to drop below the World Health Organization's water poverty line of 1,000 m3 per capita per year by 2030.

Countries in MENA are using energy resources to fill the growing demand for fresh water through desalination for industrial, agricultural and domestic use. The energy-intensive desalination process in turn adds to the power deficit, especially as demand for electricity is also growing.

Current desalination technologies require considerable energy inputs, with desalination accounting for 75.2 TWh of electricity globally every year. International Renewable Energy Agency estimates that more than 99 percent of this energy comes from fossil fuels.

Key findings
The report underlines that improved water management will be critical to reducing MENA's water gap. In addition, unconventional water sources like desalination and wastewater will be needed as well.

Water and energy use efficiency can be further streamlined through support to research on energy recovery, and by evaluating and prioritizing water-efficient cooling technologies. GE's Industrial Internet technologies which mark the integration of heavy machinery with big data and analytics can also increase the water efficiency of industrial operations.

GE is already taking concerted action in this direction. As part of GE's $10 billion Ecomagination technology research commitment, GE is focused on advancing innovation around the water-energy nexus.

GE and Masdar will work together to implement the first energy-neutral wastewater treatment process employing GE's portfolio of energy neutral products in the Middle East. Further, GE will also join hands with Goldman Sachs to identify new opportunities to deploy capital and develop innovative financing models for water projects around the world.

In another key initiative, GE and MWH Global, a leading engineering, consulting and construction firm, will work together to develop new water reuse and energy-neutral wastewater projects using innovative business models.

Industries can test and prove new distributed generation models that produce clean energy or clean water at the customers' sites. Innovations and high ambition can address energy end-use and scale distributed generation and smart electric power infrastructure to provide win-win solutions for energy and water risks.
The report also calls for promoting energy efficiency, end-use efficiency, and a comprehensive strategy for water and energy resource management. Continued efforts will help overcome today's barriers, address tomorrow's risks, and achieve 2030's Sustainable Development Goals at the water-energy nexus, says the white paper.

GE is showcasing its advanced suite of digital industrial technologies that help promote energy sector efficiency and productivity at the Summit. Deb Frodl, Global Executive Director – Ecomagination of GE, will also present insights on leveraging the renewable energy potential of the country at a dedicated Egypt Energy Forum to be held as part of the Summit.

Website:
http://invent.ge/1OpSA1T