About GEZE Ventilation Systems and RWA
GEZE Ventilation Systems and RWA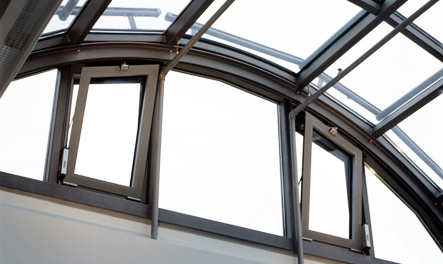 GEZE window technology: Ventilation technology, as well as smoke and heat extraction systems (RWA)
GEZE provides solutions for different requirements for all aspects of window opening and closing. The product range is diversified and ranges from fanlight opening systems, fitting solutions for large windows and drive systems for daily airing and ventilating, to complete supply and exhaust air solutions for safe and fast natural smoke extraction ('SHEV') in the event of fire.
The ventilation systems are used for comfortable daily ventilation. Their area of application includes bottom or top hung windows opening inwards and top hung windows opening outwards. Solutions for special shapes are also offered, e.g. angular, triangular, semi-circular and segmental arch windows opening inwards.
The most important task of preventative fire protection is to keep emergency exits smoke-free, to enable people to find their way to safety on their own, if possible. Smoke and heat extraction systems (RWA) divert the smoke efficiently from the building after automatic or manual triggering.
07 72 00 - Roof Accessories
08 75 00 - Window Hardware
08 95 00 - Vents