GEZE MSW Comfort: New Locking Mechanism for Manual Sliding Wall Systems
Large and mobile glass sliding wall systems are ideal for designing high -quality shop and office spaces. The new GEZE MSW Comfort locking mechanism makes building and disassembling shop and system fronts particularly simple and safe. The particular design advantage for you is that the control units are hidden on the front side. Nothing disrupts the overall architectural impression. The new GEZE Comfort locking mechanism for mobile, all-glass sliding wall systems is available from now on.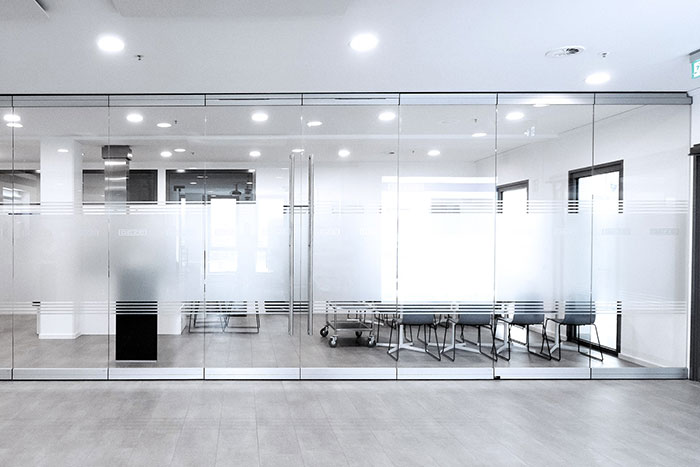 Moving the panel activates the automatic panel locking mechanism

This innovative GEZE solution makes operating manual sliding wall systems faster, safer and much more convenient. GEZE MSW Comfort is a mechanical, automatic panel locking mechanism for mobile shop fronts. When the system is opened and closed, the glass panels are moved mechanically and automatically lock into the floor as well as to each other due to the activator unit integrated into the element profile. The user does not need to bend down for this, because no manual operation is necessary in the lower panel profile.

Smooth running and convenient use

A self -centering locking mechanism further streamlines the locking and unlocking of systems. An axial off set of +/- 5 mm is automatically compensated when moving the glass fronts. Smooth running and bend guided roller carriages make the operation very simple, particularly in segmented glass fronts with a change of direction of up to 15 degrees from panel to panel.

Clear, consistent design for high visual needs

The new locking concept from GEZE is characterized by a clear and consistent design. In linear and slightly segmented shop fronts, no locking elements are visible on the front of the sliding wall. This also reduces the risk of the locking mechanism being tampered with from outside and of stacked panels damaging blinds. GEZE now offers the Comfort locking mechanism as a standard locking mechanism in the MSW all-glass portfolio. It replaces the front and in many cases the face side panel locking mechanism and is integrated into the Pureline and Classic line designs.

Comprehensive digital service and planning tools

Depending on the application, the individual components of the Comfort locking mechanism can be combined in the convenient GEZE configuration tool. GEZE supports architects and planners – with only a little information – in the creation of manual sliding wall systems. Automatically generated layout and detailed drawings as well as a newly developed marking and drilling template make installation quick and easy.

@GEZE_GmbH #GEZE