Green concrete, smart information management, solar powered city unveiled by Municipality boss at The Big 5
Keynote speaker at the opening of the two-day Sustainable Design and Construction Conference at The Big 5, HE Hussain Nasser Lootah, Director General of Dubai Municipality, unveiled details of a tough new smart checking system; an emirate-wide move to using 'green concrete', and brief details of 'Desert Rose', the new AED20 billion Emirati housing development built around sustainable principles.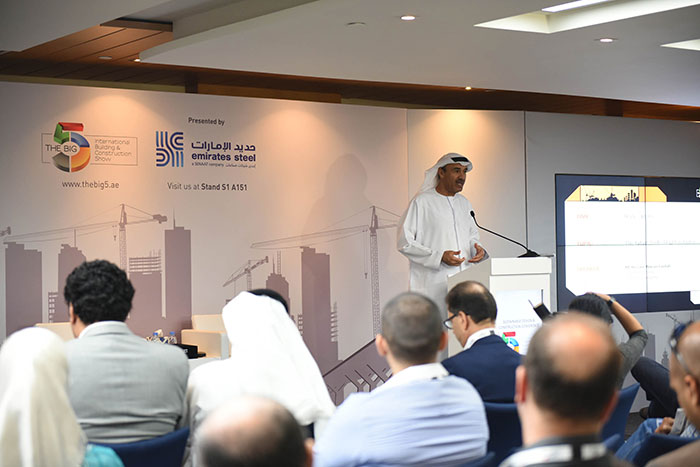 Lootah said Dubai is one of the world's fastest growing cities, with many people simply noting the rapid rate of building. "But it's about a lot more than just buildings, there's a lot more projects going on, in order to fulfil the needs of the growing city."

"We already have the best standard of construction and materials in the region. Our Green Building Regulations Guide has 79 chapters, and we are working through these chapters to implement all of the directives," he said.

HE Lootah said three years ago, the Municipality decided to implement green concrete – produced without releasing or creating CO2 - after examining a number of materials in the market, and now will insist all buildings are constructed using 'green' concrete by early 2015.

He said the Municipality has implemented three 'quick-fix' sustainable solutions in buildings; insulation, solar heating and installing LED lighting. Now, he says, his department is concentrating more on the issues surrounding electricity, water and waste.

Another initiative His Excellency discussed is the launch of a 'smart' online checking system for project proposals. "Consultants are busy people, so we are launching a new Business Information Management (BIM) system to come between the end user and the Municipality via the internet. Quite often we will reject a proposal due to it not fulfilling the sustainability criteria, and the consultants often simply blame the Municipality rather than revealing to clients it was down to their own omissions."

Now, consultants must log-in and virtually 'tick off' a number of criteria before a proposal is submitted to the Municipality for approval. "We had to find a better system, so now consultants cannot log their project details unless everything is correct. This makes the process easier for the Municipality; streamlining applications, and will stop consultants from incorrectly apportioning blame," Lootah said.

With the expected pre-Expo 2020 construction boom, the Municipality chief expects to see a huge influx of new materials and technologies in Dubai. But he says his department is prepared.

"We have the largest laboratory in the region, ready to check new materials and technologies are sustainable. We are open to check any material, and happy to check it fulfils our sustainability criteria."

19 November, Abdulla Rafia, Assistant Director General, Planning and Engineering at Dubai Municipality will present the latest updates on the Green Building Codes. The session will include an announcement of the timeline of regulation implementation, as well as what is required to ensure compliance.

The Sustainable Design & Construction conference will conclude on 19 November. The Big 5 runs until 20 November.