GROHE Opens New Dubai Showroom
GROHE, the world's leading single-brand manufacturer and supplier of sanitary fittings, is bringing their latest technology and quality designs to their new aesthetically unique Dubai showroom. The industry leader opened their new Showroom in Media One Hotel, Media City on May 13th, 2018.

GROHE's Dubai showroom will be the first one to open in the Middle East by their Regional Headquarters and will showcase some of their latest and most innovative product offerings to cater to GROHE's Middle East, Africa and East Mediterranean markets.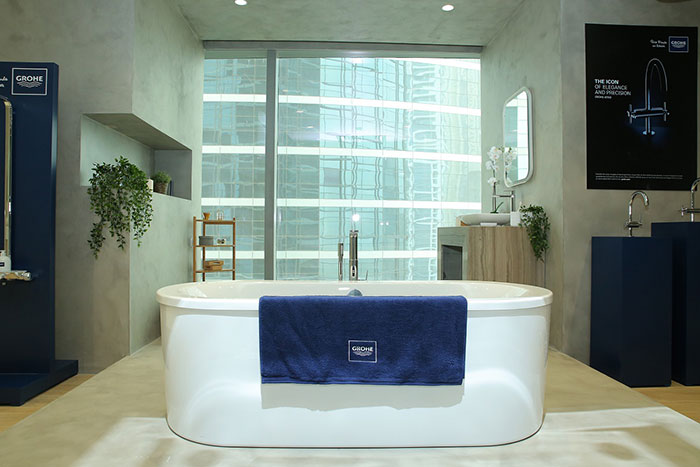 For many decades, GROHE has been committed to the brand values of technology, quality, design and sustainability that all illustrate GROHE's commitment to creating exceptional experiences. All plants of the GROHE manufacturing network make use of high-precision production engineering to ensure compliance with consistently high GROHE standards. This way GROHE ensures that its products live up to the most uncompromising demands in terms of workmanship and functionality.

Much like the quality and standard of their technical plants, GROHE's new showroom reflects the brand's aesthetic and mantra, "Pure Freude an Wasser" which means "The real joy of water".

Renu Misra, GROHE President of Middle East, Africa and East Mediterranean markets said: "We are proud to have opened our very first showroom of the Middle East, Africa and East Mediterranean market right here in Dubai and hope to be a part of creating exceptional experiences for all our consumers in the region. The opening of the GROHE Dubai Showroom is a testament to GROHE's regional presence, in the hub of the GCC. "

"The new showroom is a reflection of our brand values Quality, technology, design and sustainability. We set our standards extremely high to ensure that every time you turn on a GROHE faucet or step into a GROHE shower you can feel the difference and we aim to have the same effect on consumers when they take a step into our new showroom." Misra continued.

Over the past ten years alone, the success of GROHE has been confirmed by more than 240 design and innovation awards as well as a top three placement among "Germany's most sustainable major companies of 2015". Numerous high-profile projects around the globe are fitted with GROHE products, testifying to architects', designers' and developers' preference for the brand.