Groundbreaking luxury water homes float in on time for Cityscape Global 2017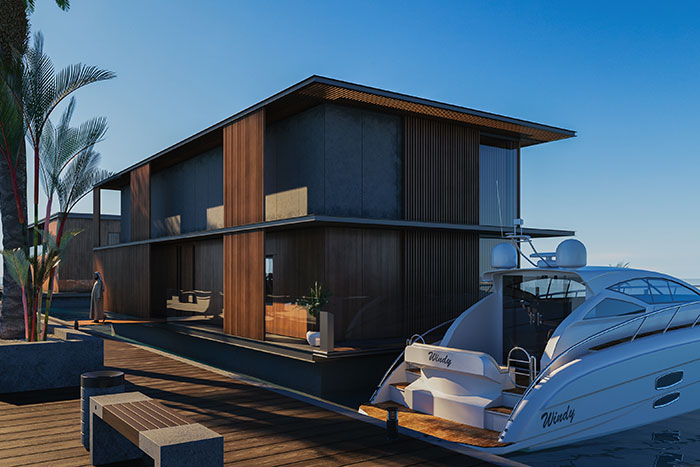 The Finnish Admares, a world leader in innovative real estate, was awarded phase one of the Marasi Business Bay development by Dubai Properties, a leading real estate master developer, and delivered the first batch of water homes ahead of schedule. With home after home anchoring in the up-and-coming marina, two of them are currently open for Cityscape Global visitors and have received a great response.

A turnkey project for Dubai Properties, the water homes will soon be surrounded by floating restaurants, all of which exclusively manufactured by Admares S in the purpose-build facilities located in Rauma, Finland before transported to Dubai and finally towed at Marasi Business Bay. As a leader in innovative floating construction, Admares has made a splash in Dubai earlier this year following the completion of the pioneering Burj Al Arab Terrace.

Equipped with the latest technology, the state-of-the-art buildings are the UAE's first water homes that will feature both pedestrian and boat access, are located at the heart of the marina taking shape at Marasi Business Bay and set to become the development's main architectural trait. From the project start in Q4 last year, Admares and Dubai Properties established a close collaboration that enabled the milestone achievement more than a month ahead of time. The finished products combine centuries of ship building heritage with cutting-edge design that will forever transform waterfront living in the emirate.

Admares commenced the construction of the floating homes in October 2016. The entire technical design, management and manufacturing were completed in Finland at Admares' purpose-built production facility with a workforce that specializes in construction of floating real estate, in order to ensure highest quality. Admares's unique construction technique and use of innovative technologies allows the delivery of high quality products worldwide.