Grundfos Gulf Distribution Opens Studio Miyah in Dubai
In an effort to reaffirm its sustainable innovation and environment-friendly practices, Grundfos Gulf Distribution, the world leading pump manufacturer, opened today Monday its new showroom Studio Miyah in Dubai's Jebel Ali Freezone. The new showroom is the latest initiative by the industry leader that takes visitors on an interactive journey to discover pump manufacturing.

The grand opening ceremony was attended by Her Excellency Merete Juhl, Danish Ambassador to the UAE; alongside a number of high level dignitaries and guests. Her Excellency the Ambassador delivered a speech during the event by which she congratulated Grundfos and wished the company further success.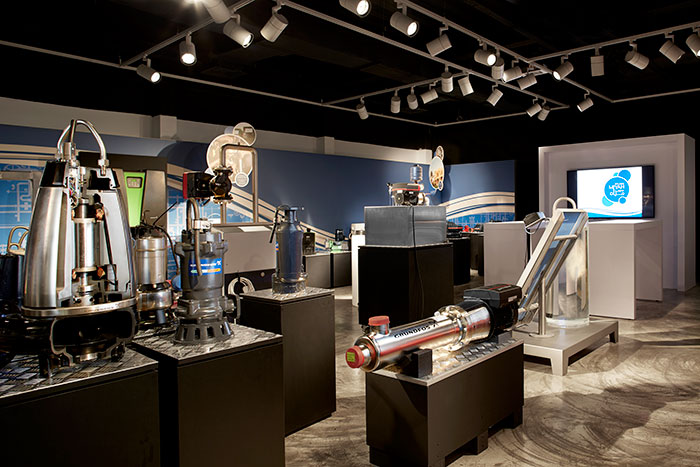 Named 'Miyah', the Arabic word for water, the new showroom resembles a laboratory, with pump solutions displays exhibited against blue walls decorated with piping motifs. Spacious, with a fresh feel filled with air-conditioned breezes, the showroom embodies the essence of water, the world's most precious resource. The Nordic roots of the company are evident in this multifunctional, inspirational and educational space that reflects the spirit and excellence of Grundfos, whose commitment to curb carbon emissions is core to the company's brand values and DNA.

Commenting on the occasion, Henning Sandager Andersen, Area Managing Director of Grundfos Middle East and Turkey said: "We contribute to global sustainability by pioneering technologies that improve the quality of life for people and demonstrate the care we extend to the planet. Through the 'Miyah' Studio, we are excited to share how we do this with our customers and visitors. We take visitors on a journey to discover water, educate them on pump solutions and smart control systems and inspire them to start conversations on what they have seen and experienced."

The intricacy of pump manufacturing is explained at Studio Miyah through speech bubbles, visual aids, presentations, and videos. These interactive tools give visitors insight into pump solutions and the environment in which they operate. Visitors' interactive journey will go through seven different islands, featuring daily processes in which Grundfos' pumps play a role. These islands include: the HVAC station explains pumps used in heating, air conditioning and district energy applications, while the water supply station illustrates optimized water intake and distribution. Additional stations discuss pumps needed in fire-fighting and pressure boosting systems. The wastewater treatment station explains non-clogging pumps, while the domestic building service station shows the pumps needed for domestic utilities. Finally, the dosing and disinfection station addresses the precision and effectiveness of chemical dosing.

Grundfos' story began with Poul Due Jensen. His founding vision and values laid the foundation for the Grundfos brand. He believed in the power of innovation, the value of thinking ahead and the importance of being responsible. He said in 1952: "The world is full of problems that can be solved in a better way." Due to his natural curiosity and strong will, he always wanted to do more for his company, and believed in social responsibility towards employees and local societies. The legacy of Poul Due Jensen was continued by his son Niels Due Jensen who formalized the brand's promise: "Be, think, innovate". He said: "I believe that we all want to deliver the world to the next generation in a better state than we inherited it."