Grundfos Launches Its First CRN Pumps Assembly Line in the Middle East
Grundfos, the award-winning world leader in advanced pump solutions, recently launched its first assembly line for CRN pumps in the Middle East. The opening of the assembly line located at the company's facilities in Jebel Ali in Dubai comes following an extensive feasibility study that examined numerous product types.

In his remarks on the launch of the assembly line; Stewart Procter, Grundfos Senior Director Operations & Customer Service, Middle East noted: "Exceeding our client's expectations is a main component of Grundfos philosophy. Therefore, and in order to maintain the maximum flexibility for our 13 countries, we recommended that the CRN pumps should be assembled in Grundfos facilities in the UAE rather than keeping finished stock units. The recommendations were approved by the Group's headquarters."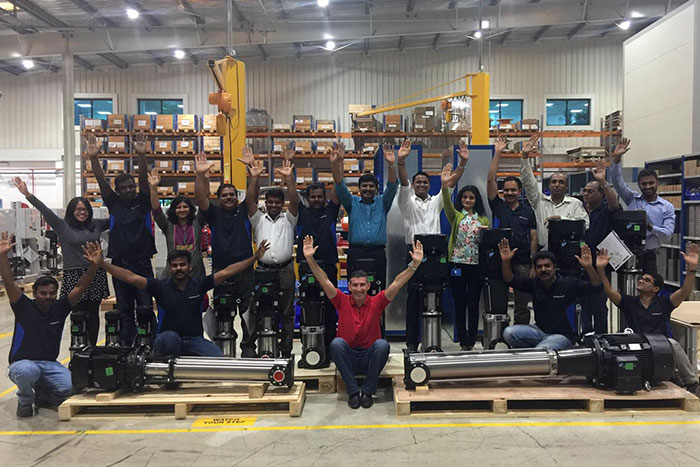 He continued: "The study we undertook concluded that we can increase sales of our CRN1-45 by 350 units in the first year alone. In case we applied further improvements and adhered to the set plans, this number could remarkably rise to an extra 2600 units by the fifth year."

Notably, the approval for the assembly line was received at the end of August and the execution phase began through the VPC (Verification of product conformity) process immediately after. A small team in Grundfos was formed and included several departments such as the Product Management, Engineering, CSU (customer support unit), Quality and Production, along with several colleagues from the Group who provided help, guidance and the ultimate approval of the VPC.

The optimum mix of components had to be determined, ordered and shipped which takes six weeks transit time from Europe to Grundfos facilities in Jebel Ali. Various improvements to the test bed were made; lots of SAP data were entered; training sessions were organized; and production tools, printers, shelves and lifting tables were ordered as well.

"Whilst I would like to say it was a smooth process throughout the VPC. We did have several minor hiccups that were easily dealt with by our expert teams, and the first 14 pumps were ready by mid-December, and we were able to take some along to our Christmas party on 22nd December. "We can say now that we're all set to start selling, 2017 started off with the first official GGD-assembled CRN order for one of our OEM customers," concluded Procter.