Grundfos Launches its Innovative Solar Inverter (RSI)
With today's global urbanization and increasing population, the demand for electricity is increasing day by day. For any nation to cope with the demand, renewable energy needs to be utilized. The award-winning world leader in advanced pump solutions, Grundfos, has successfully launched a new state-of-the-art solar inverter, designed to meet the challenges in regards to the availability of power and increased costs of irrigating the crops.

The Dubai Electricity and Water Authority is in charge of developing renewables in the emirate and aims to have 7 percent of Dubais generation from renewables by 2020.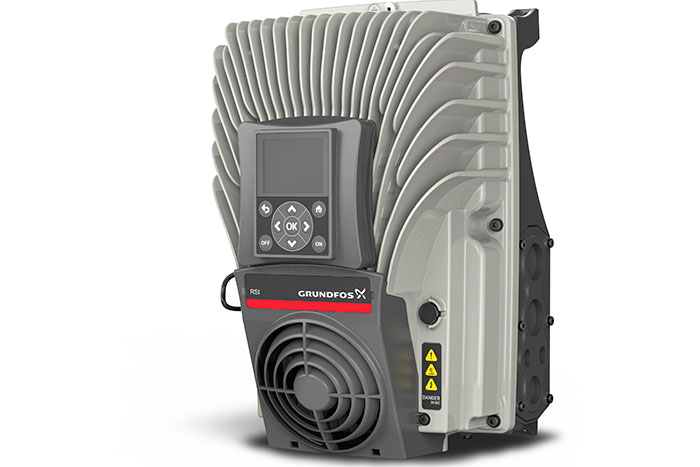 The new off-grid IP66 Solar Inverter (RSI) introduced by Grundfos converts traditionally powered SP submersible pump irrigation systems into modern solar powered installations, not only making the water supply system self-reliant and independent, but also cut operating cost substantially in a sector where profitability is a key factor.

With the unique combination of the high efficiency Grundfos pumps and the new RSI invertors, more water per watt of solar panels is the guaranty from Grundfos. Henning Sandager, Grundfos Area Managing Director, Middle East and Turkey explains: "There is an increasing focus on getting as much as possible out of irrigation systems – 'more crop per drop'. The needs of current and future generations cannot be met unless the world changes the way it uses energy and water. As technology gets smarter and more innovative, huge gains, both for the environment and operating costs, can result from replacing or upgrading one simple, integral component found in every type of agricultural operation - irrigation pumps." The IP 66 rating allows the invertor to be installed outdoor. Also the invertors can withstand ambient temperature upto 60 Deg C which makes it an appropriate product for the Middle East region.

"The Solar Inverter (RSI) is designed to be suitable for retrofitting a solar energy source to SP pumps and is a simple way to irrigate land in a more environmentally-friendly way, with immediate cost benefits for a rapid return on investment. This fact makes the WETEX 2016 the ideal platform for launching the product and introducing the wide international audience attending the event to our latest innovations," concluded Henning Sandager.