About PE-X Piping System
PE-X Piping System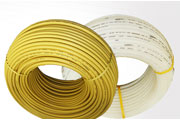 PE-X (cross-linked – X; Polyethylene – PE) is a modified and condensed structure of the polyethylene molecule developed especially to improve the material's physical properties. PE-X systems can be used independently or can complement the equally wide range of PP-R system, produced and supplied by RAKtherm.
Cross linked polyethylene (PE-X) results from chemically adjoining polyethylene molecules in order to improve their properties, especially at high temperatures. This results in a structure that does not soften when high temperature is applied, thus raising the thermal stability of the material under load, which greatly increases the environmental stress crack resistance and the resistance to slow crack growth due to deterioration of the material under continuous temperature use.

Categories: pex piping system.