Hansgrohe Celebrates the Colourful Diversity of The Family with New Brand Campaign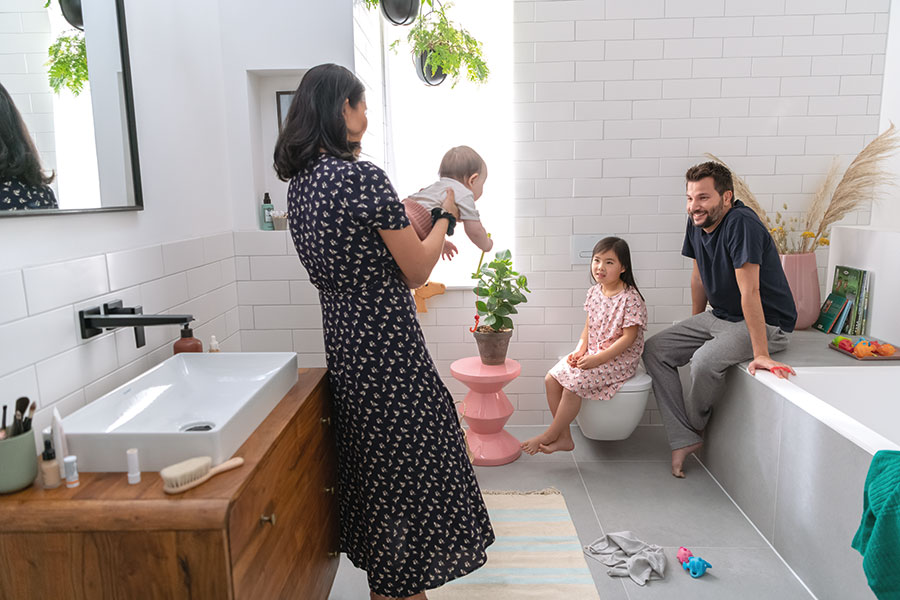 Despite the differences between families, we have one thing in common: we start and end the day in the bathroom. Whether it is in a small rented apartment in the city, or in our own home, the bathroom is a place of retreat for all of us.

Hansgrohe's new international campaign emotionally fills this place with life through realistic storytelling and authentic imagery in various videos and images. Because it is the place where real life happens every day. With this lead campaign, Hansgrohe puts people, diversity and individuality at the centre of bathroom design in various bathroom planning scenarios, styles and functions of the washing area.
Flexibility for all of life`s circumstances
In several storylines, the campaign looks behind the scenes of various everyday situations in the bathroom and portrays a wide variety of characters in their own little life realities. The campaign shows a young family facing up to the chaos of the morning and working together to get the day off to a good start.

Additionally, two young teens are dancing through the bathroom in a particularly exuberant mood, getting dressed up for an exciting evening. The bathroom is also a place where different generations meet: A grandmother smiles gratefully as her grandson dyes her hair, and a mum shows her son how to shave.

"I associate Hansgrohe with unforgettable experiences and emotions around people and their daily routines with water. With the new campaign #CreateAsYouAre, I am happy that we are putting diversity and the individual lifestyle at the centre of the bathroom. For bathroom design as colourful as life itself", says Marc André Palm, Head of Global Brand Marketing at Hansgrohe.

Starting in the bathroom - we also arm ourselves for the most diverse challenges. In the campaign, for example, the cycling pros of the BORA - Hansgrohe team also support each other like brothers in preparing for a race. With a simultaneous roll-out in almost 40 countries, the lead campaign is Hansgrohe's largest international brand campaign to date. Aimed at reinforcing the importance of diversity and multifaceted variety, and also the brand's new strategic direction, it includes activations at the point of sale, as well as, Hansgrohe's international websites and all of its own (social media) channels, in addition to the emotional trailer and visuals. The 360-degree campaign was conceived and implemented in cooperation with the RAPP agency, based in Berlin, Germany.
Venture towards more design and individuality with FinishPlus
The bathroom is also a place where we want to live our personal sense of style, thereby creating bathroom ambiences that reflect our own character and fit into our everyday lives. With FinishPlus, the premium brand Hansgrohe offers popular faucet series, showers and accessories in six different surface designs for an individual bathroom design. This diversity is also reflected by #CreateAsYouAre, as Hansgrohe provides emotional insights into different family forms and their individual needs and requirements for bathroom design.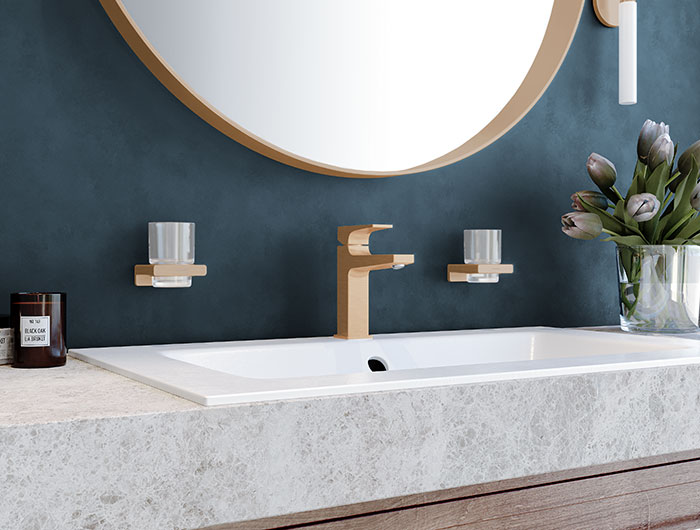 With the high-quality FinishPlus surface program, Hansgrohe offers a variety of design options for the whole bathroom. The metallic optics Brushed Black Chrome, Brushed Bronze and Polished Gold Optic are the perfect alternative to chrome. The noble metallic colours skillfully combine elegance and modernity and set attractive contrasts in combination with both dark and light bathroom furnishings. With the current trend colours Matt White and Matt Black, lovers of modern architecture and deliberate contrasts will be happy.

The exclusive surfaces also impress with their durability, as they are resistant to scratches and cleaning agents. This means that the colours are also suitable for bathrooms where, for example, there is more hustle and bustle due to children, guests, or even one's own dog. The warm feel of the surfaces, which receive their special finish through a high-tech process for high-quality coating (PVD), makes them particularly pleasant to use and touch.

To create a stylish ambience and a functional retreat that meets individual requirements, the FinishPlus surfaces are available not only with various faucet lines, but also with a variety of additions to other Hansgrohe product lines for the washbasin or shower area. Colourful accents can also be set in the kitchen with Hansgrohe faucets in the FinishPlus surface designs. With various planning scenarios, different ambiences and individual design options, FinishPlus by Hansgrohe is putting people and their individuality at the centre of bathroom and kitchen design.
@Hansgrohe_PR #Hansgrohe #Hansgrohe