Hansgrohe Rainfinity: Creating Bathrooms That Are Oases of Well-Being
The bathroom is the place to get off to a fresh start in the morning or wind down after a busy day. Although bathrooms should be inviting and comfortable, many still exist whose design is purely functional. Most people, however, are keen on having a bathroom that is an oasis of well-being. When remodeling, they often choose an interior design that transforms the bathroom into a center of wellness and relaxation.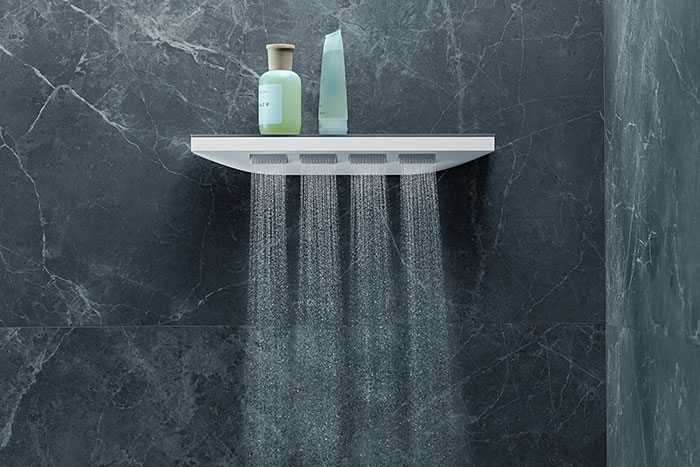 An ideal shower to unwind and recharge
That means that for many people the bathroom isn't just a room, it is their own personal feel-good space – a living space that is laid out and equipped entirely in line with their needs – maybe even a comfortable sitting area with cozy throws and cushions to make it more inviting.
The bathroom is the place where ultimate relaxation takes centre stage. This special retreat also includes a shower that is perfectly tailored to individual needs. A unique kind of shower that allows you to let go and enjoy a deeply relaxing experience. Thanks to its innovative and slightly concave spray surface, the shower doesn't just wet your head and shoulders from above as usual, but cascades softly over your entire body like a cloak made up of a thousand of droplets.
And what's best about Rainfinity is that it lets you to keep your hair from getting wet if you so wish: The tilt of the shower head can be adjusted to between 10° and 30° degrees, ensuring a comfortable showering position that allows you to keep your hair and face dry if you like. The showering experience is made even better by the slightly concave spray surface and the dispersed distribution of the nozzles in the spray plate. This ensures that the shower spray gently envelops all parts of the body, not just your head and shoulders.
Award-winning design
Rainfinity's design is also a visual delight. Its large overhead and hand showers with their contemporary surface finish colors and discreetly structured spray plates make the bathroom more welcoming. The matte white of the shower heads is an elegant contrast to their graphite-colored spray discs. The new showerpipe is another stand-out piece of design. Its overhead shower, hand shower, shelves and concealed controls give bathrooms a modern touch.
This was confirmed by international design juries who have distinguished the Rainfinity shower collection with coveted design awards: the iF gold award, the 2019 Red Dot Award "Best of the Best" and the 2019 Best of Best ICONIC AWARD Innovative Architecture.
@Hansgrohe_PR #Hansgrohe_PR #hansgrohe #Rainfinity #Shower #Bathroom