Healthcare Workers and Hospitals Amongst the First to Benefit From CapaCare Protect
Caparol Arabia, the leading manufacturer of German-quality paint solutions in the UAE, has announced it will be prioritising healthcare facilities and their staff with the first supplies of new CapaCare Protect, an innovative paint product that helps to fight microbes. Since launching the range, Caparol Arabia has received strong interest from across the region and aims to ensure those at the frontline of medical care are able to benefit from the enhanced technology.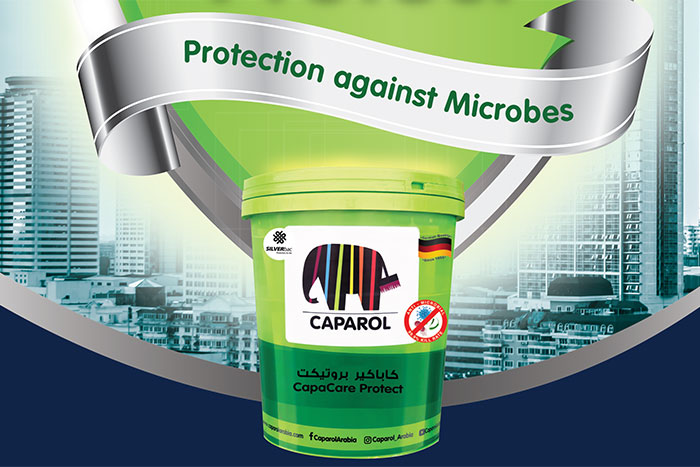 The approach will include offering special discounts for front-line Covid-19 workers. All hospital staff, nurses, doctors and caregivers will receive 35% off on the premium Anti-Microbial paint CapaCare Protect along with other Caparol products as part of Caparol Arabia's initiative to give back to the community during the coronavirus pandemic. The discount will be available at Caparol Arabia showrooms in Al Quoz, Sharjah and factory in Dubai Industrial City.

The offer is available immediately and will continue throughout Ramadan and Eid-al-Fitr, until the end of July. Front-line workers looking to avail the discount will simply need to present identification upon purchase. The campaign comes as the World Health Organisation asked the public to shine a light to recognise healthcare workers globally, in line with the bicentennial of the founder of modern nursing, Florence Nightingale, affectionately known as the 'Lady of the Lamp'.

Speaking about the campaign initiative, Caparol Arabia's Commercial Director, Mowaffaq Balish said: "CapaCare Protect is a premium anti-microbial paint best-suited for hospitals, clinics, day-care centers and pharmacies. Along with its anti-bacterial and anti-fungal properties it is also found effective to stop growth of certain types of virus. Currently, the SILVERbac® technology which makes the product different from other similar products available in the market is being tested against the various strains of coronavirus as well. This is a path-breaking development and we are eagerly awaiting the reports. Through our expert solutions team, we are keen to support frontline Covid-19 workers with CapaCare protect which secures and protects the walls. While we cannot control the difficulties our healthcare teams are facing on a daily basis, we can help to provide a place which is safe. We have reserved the first batches of CapaCare Protect for these communities. This is our way of shining a light in these dark times for our valued healthcare workers."

The manufacturer, Caparol, has over 125 years of global experience, and has been family-owned for five generations. The brand was founded in Germany when they invented emulsion paint technology, which transformed the way people painted buildings and homes. Caparol Arabia was established in 1998 in Dubai, and is part of global company DAW which has 6000 employees and is present in over 40 countries.
Website:
https://caparolarabia.com/