HH Sheikh Ahmed bin Saeed Al Maktoum Inaugurates 18th WETEX and First Dubai Solar Show
Under the directives of HH Sheikh Mohammed bin Rashid Al Maktoum, Vice President and Prime Minister of the UAE and Ruler of Dubai, and under the patronage of HH Sheikh Hamdan bin Rashid Al Maktoum, Deputy Ruler of Dubai, Minister of Finance and President of DEWA, the 18th Water, Energy, Technology, and Environment Exhibition (WETEX) 2016, has begun today and will take place from 4-6 October at the Dubai International Convention and Exhibition Centre, under the theme 'At the Forefront of Sustainability.'

Organised under the umbrella of the third Green Week, DEWA also commenced the first Dubai Solar Show, where HH Sheikh Ahmed bin Saeed Al Maktoum, Chairman of Dubai Supreme Council of Energy, inaugurated both shows along with HE Saeed Mohammed Al Tayer, MD & CEO of DEWA, and Founder and Chairman of WETEX.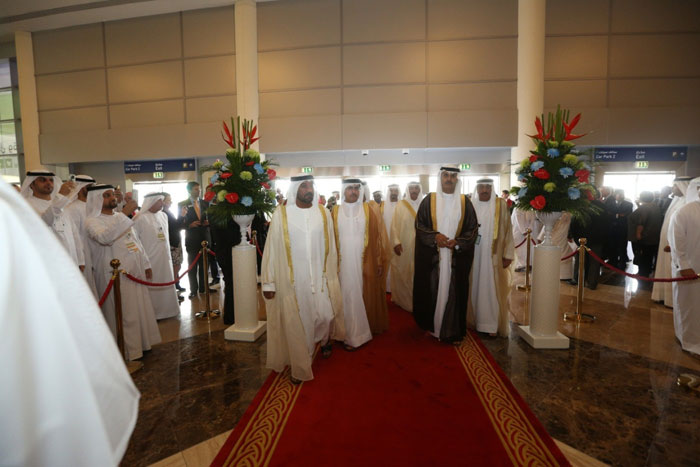 The opening ceremony was also attended by HE Dr. Thani Al Zeyoudi, Minister of Climate Change and Environment of the UAE, HE Matar Humaid Al Tayer, Chairman of DEWA, HE Dr. Matar Neyadi, Undersecretary of the Ministry of Energy, HE Helal Al Marri, Director General of the Department of Tourism and Commerce Marketing in Dubai, HE Khaled Al Kamda, Director General of the Community Development Authority, Fahad H. Al Mohannadi, General Manager and Managing Director of Qatar Electricity and Water Corporation, HE Ahmed Buti Al Muhairbi, Secretary General of the Supreme Council of Energy, HE Saif Humaid Al Falasi, CEO of ENOC, HE Mohamed Jameel Ramahi, CEO of Masdar, HE Ali Rashid Lootah, Chairman of Nakheel, HE Ahmed Bin Shafar, CEO of Empower, HE Abdulnasser Bin Kalban, CEO of DUBAL Holding, Frode Mauring, UNDP Special Representative, and a number of ambassadors and Consul Generals, economic and trade delegates, officials, experts, and senior members of DEWA and the Supreme Council of Energy, and the media.

HH Sheikh Ahmed bin Saeed Al Maktoum, Al Tayer, and the officials toured the exhibition where His Highness was briefed by exhibitors from over 46 countries on their featured products and solutions. The show hosted 18 national pavilions and attracted the participation of 29 government bodies.

At its pavilion, DEWA was explaining its journey of achievements over many years through a large television screen. Also, it highlighted Al Namoos, a bespoke service to provide consultants and contractors with electricity connections of up to 150 kilowatts (kW) within 10 days. This service supports DEWA's efforts to achieve its vision to become a sustainable innovative world-class utility by updating consultants and contractors on DEWA's latest initiatives for continuous improvement, and identify recommendations to streamline and accelerate services to get electricity, according to world-class practices.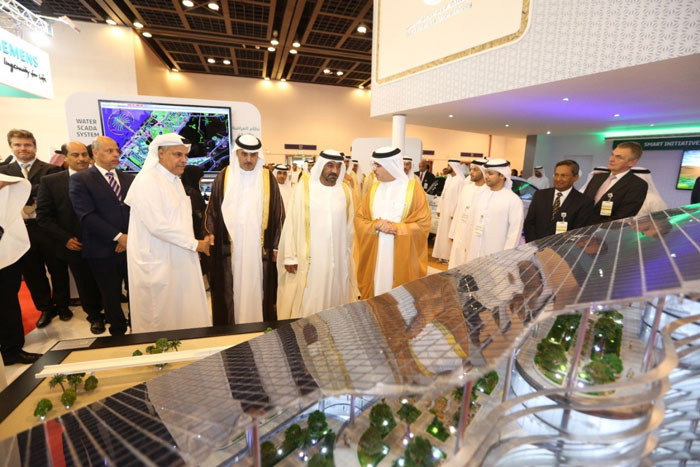 DEWA is also displaying through its smart model its latest achievements and projects in renewable and clean energy as well as clean coal technologies and smart networks to spread the concepts of sustainability in energy, water and environment. It is making strong strides in green economy and sustainable development, smart cities, and other relevant areas.

DEWA is also displaying the Mohammed bin Rashid Al Maktoum Solar Park, the largest single-site solar park in the world with a capacity up to 1,000 megawatts (MW) by 2020, and 5,000(MW) by 2030, with investments reaching AED 50 billion. This project will help transform Dubai into a world centre for clean energy and green economy. It also supports the Dubai Clean Energy Strategy 2050 to provide 7% of Dubai's power from clean energy by 2020, and 25% by 2030, and 75% by 2050.

The Smart Dubai initiative, launched by HH Sheikh Mohammed bin Rashid Al Maktoum, Vice President and Prime Minister of the UAE and Ruler of Dubai, to turn Dubai into the smartest city in the world, occupied a special corner in DEWA's pavilion. The first initiative is Shams Dubai to connect solar energy in buildings by installing photovoltaic panels to produce electricity where electricity is used in the building and the surplus is exported to DEWA grid. Also, Dubai aims to put solar panels on all the buildings by 2030. DEWA also highlighted the Green Charger, which creates the infrastructure for electric vehicle charging stations, to reduce air pollution and protect the environment from the effects of the transport sector in the Emirate.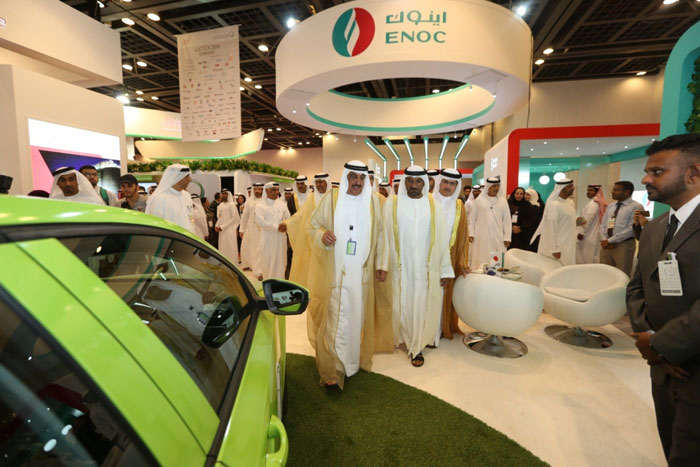 In order to achieve its strategy for the establishment of an intelligent and effective infrastructure and adopt best practices with a focus mainly on improving customer service, DEWA is displaying at WETEX its Supervisory Control and Data Acquisition (SCADA) that is used in the Sustainable Building at Al Quoz, monitors and controls water distribution networks in Dubai, covering a distance of over 2,500 km as well as several pumping stations and reservoirs. This also has a wireless communications network that links over 450 Remote Terminal Units (RTU) with the SCADA system enabling the measurement of various data in the network.

Also on display is a new model for the new headquarters of DEWA, called Shiraa, as well as the Hassyan clean coal power plant that is based on the IPP model and will generate 2,400 megawatts (MW). This plant will be operational by 2020 and it is the first project of its kind in the region according to the highest international standards. Al Tayer said that the project is key to DEWA's future plans as it promotes renewable sources of energy that are environmentally-friendly.

"We are very pleased to celebrate success with our partners and stakeholders and all segments through WETEX, so we invite everyone to visit our stand at the exhibition and communicate with our team over the next three days," said Al Tayer.

Al Tayer added that the display of services and innovative projects and initiatives at WETEX supports the directives of the wise leadership to consolidate the competitive position of UAE to become one of the best countries in the world by achieving the objectives of the UAE Vision 2021 and Dubai Plan 2021 to make Dubai a smart and sustainable city, to achieve the happiness and well-being of its citizens and residents.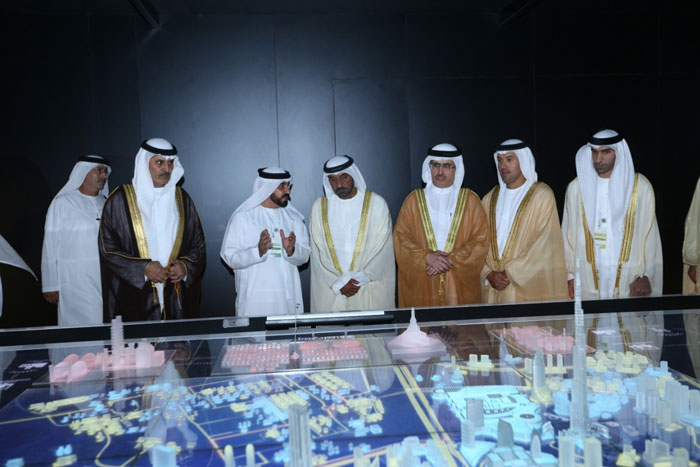 Following that, HH Sheikh Ahmed bin Saeed Al Maktoum, visited the first Dubai Solar Show, organised by DEWA, which is the largest of its kind in the region. This forms with WETEX a single integrated platform with a wide range of clean and renewable energy on display. Dubai Solar Show 2016 is highlighting the latest solar energy technologies and their important role in supporting sustainable development, particularly in the region. The show is displaying the latest technologies of this sector as it is gathering experts, manufacturers and vendors in one location to discuss the needs of solar energy initiatives, solutions and technologies. The show also acts as a catalyst for the establishment of solar power plants in many places around the world and complements WETEX's role by displaying renewable energy solutions in an integrated manner and in one place.

HH Sheikh Ahmed bin Saeed Al Maktoum was also briefed on projects and solar technologies at the exhibition and visited different pavilions. His Highness visited the stands at Dubai Police, the Roads and Traffic Authority and the Jebel Ali Free Zone Authority, and was briefed on a series of innovative projects by Carbon ambassadors that support Suqia, under the umbrella of the Mohammed bin Rashid Al Maktoum Global Initiatives. DEWA launched the carbon ambassadors' programme with the support of the United Nations Development Programme, in collaboration with Dubai Carbon. The UAE Water Aid Foundation (Suqia) managed to turn an disused 20-foot cargo container into a solar desalination unit using reverse osmosis technology.

"The vision of HH Mohammed bin Rashid Al Maktoum, Vice President and Prime Minister of the UAE and Ruler of Dubai, is a road map for us to implement our projects and initiatives to enhance Dubai's position as a leading role model in the world to achieve the highest standards in energy efficiency and increase the contribution of renewable energy to the energy mix. We seek to achieve the Green Economy for Sustainable Development initiative launched by HH Sheikh Mohammed bin Rashid Al Maktoum, to build a green economy in the UAE and achieve sustainable development. This is why we are organising the first Dubai Solar Show, the largest event of its kind in the region, which extends over 13,000 square metres, and has attracted 90 exhibitors and 28 sponsors from around the world. The show is a leading event specialised in solar-energy to review best practices and latest solar technologies, distribution and storage. It represents an ideal platform to develop the solar energy industry locally and internationally, in line with the directives of the leadership and as part of DEWA's efforts to take advantage of the latest innovations reached by pioneers of solar technologies in the UAE and the world and to review the preparedness of the solar energy sector to cater to the development and growth," said Al Tayer.

HH Sheikh Ahmed bin Saeed Al Maktoum was briefed on various initiatives and projects by pioneering companies from the private and public sectors participating at the show, such as Emirates National Oil Company (ENOC), ACWA Power, Siemens, Masdar, DF Energy, ENG, Ducab, Ghantoot Group, Jazeera Emirates Power, Gulf Eternit Industries, ABB, and Dubai Supreme Council of Energy.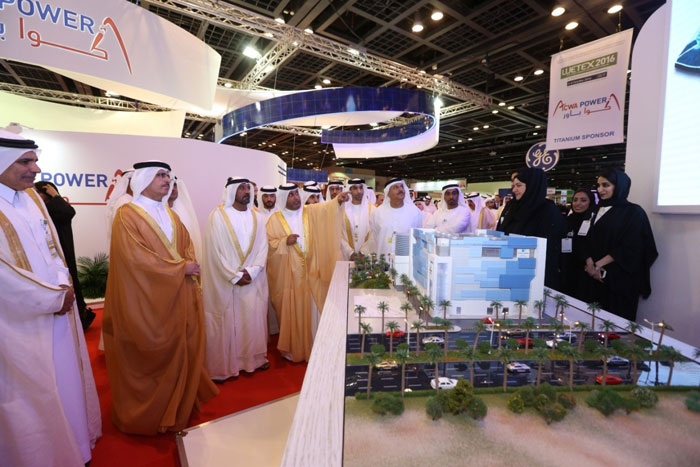 Also, His Highness was briefed about various aspects of the exhibition, which attracted over 1,900 exhibitors, an increase of 12% compared to last year.

HH Sheikh Ahmed bin Saeed Al Maktoum concluded his tour by launching the third Green Week to raise social awareness about the importance of the rationalisation of water and electricity, and to provide effective workshops and initiatives to different segments by creating awareness on the importance of green practices and rational energy consumption to achieve sustainable development, which, according Al Tayer, will not come about without the cooperation all society to the principles of energy conservation for the benefit of generations to come.

Al Tayer confirmed that the rationalisation of electricity and water consumption is not only the responsibility of individuals but also the responsibility of utilities and companies which should disseminate technologies and tools that contribute to the rationalisation of electricity and water consumption, conserving natural resources for generations to come. Green Week features many activities to create awareness and highlight green solutions and technologies that are environmentally-friendly. The importance of Green Week is that it opens up channels of dialogue with segments of society who are consumers of water and electricity to enhance their responsibility to conserve energy and its use," added Al Tayer.

A large number of specialised companies in electricity, water and environment are participating in Green Week to offer to their customers access to the best green solutions.
"Green Week aims to spread a culture of sustainability throughout society including school and university students for their influential role in society. Green Week updates participants on the latest solar energy technologies through Dubai Solar Show. Solar energy is considered to be the backbone of renewable energy production in the Gulf. Green Week also updates visitors on the latest water, electricity and environmental solutions at WETEX," added Al Tayer.

"Green Week forms a platform to display smart solutions combining theoretical knowledge with practical experiences to accelerate the shift of society towards a green and sustainable economy by increasing interactivity between individuals, businessmen, decision-makers and everyone else," added Al Tayer.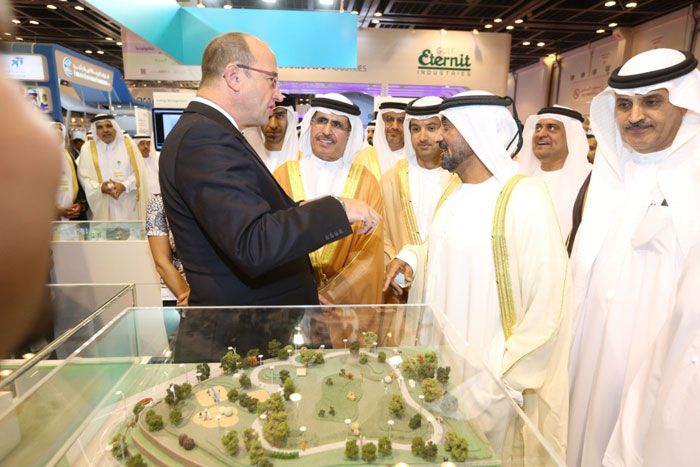 Students from universities and schools are participating in Green Corner during WETEX, where students are reviewing the latest innovations and sustainable environmental technologies over the three days. DEWA is also organising a number of awareness workshops, entitled "One drop makes the difference" and "Let's be green", to promote green practices.

The Green Corner platform is focusing on the issue of climate change, which promotes awareness of the importance of this issue facing the world today. Students and participants are participating in scientific workshops and lectures to gain new and advanced skills that can be implemented in very simple ways. Green Week is also highlighting ways to save energy and water. It also highlights the latest Green Building concepts, the latest thermal and electrical power generation systems, solar water heaters and solar panels.

DEWA is also running the Green Ribbon Pledge to conserve energy for a secure future. It is expected that this activity will see great demand by all society during Green Week. Green Ribbon Pledge aims to raise environmental awareness, promote best environmental practices, and encourage members of the community on energy conservation practices to create a sustainable future for generations to come. Over 27,000 people have taken part in the Green Ribbon Pledge in the past two years, where they vowed to be friends of the environment by adopting behaviour that contributes to energy conservation.
Green Week is keen to educate students who are the future of society, where there are many workshops targeting them to implant a spirit of entrepreneurship and innovation and motivate them to apply green practices in their daily lives. Green Week also focuses on young talent who will help achieve a sustainable future.

The development model adopted by Dubai is unique as it combines establishing and creating huge investments and preserving the environmental resources at the same time. DEWA has reduced electricity consumption over the past seven years by 1,344 GWh, and 5.6 billion gallons of water, equivalent to AED 841 million, and over 714,000 tonnes of carbon dioxide emissions.

DEWA allocated space on its pavilion to display the Amazon/Antarctica Experience to show the public about DEWA's expedition to Peru in 2016, and DEWA's expedition to Antarctica in 2015, through activities that imitate those that the expedition teams experienced while abroad. This aims to raise awareness about the importance of climate change and protecting the environment.

Earlier in the year, DEWA sent a group of employees on an expedition to the Peruvian Rainforest on 9 May 2016. The expedition lasted for 12 days, and focused on 3 specific areas in Peru. These included the desert coast, the cloud forests of the Andes, and the lowland rainforest. The expedition was part of efforts to highlight the effects of global warming.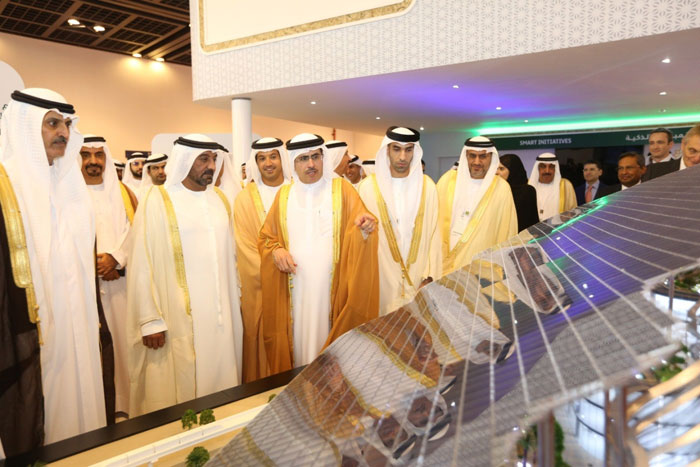 "As part of efforts to achieve sustainable development, based on knowledge, innovation, and sustainable green growth, DEWA annually sends employees to participate in climate change programmes around the world. DEWA cooperates with the international community to face climate change, highlight our role to adopt and implement the best standards of sustainability, and launch new renewable energy projects. We are pleased to launch the Amazon/Antarctica Experience today, and create a platform by which the Climate Change Ambassadors can share their skills and expertise with the audience and other DEWA employees. This will raise awareness about the importance of protecting the environment and our natural resources, for generations to come," said Al Tayer.

The audience was able to gain insights into the experiences of the Climate Change Ambassadors, as well the skills they acquired during their visit to Ushuaia, Argentina.

The audience was also able to experience the adventures had by the Climate Change Ambassadors during their visit to Puerto Maldonado, in the Madre de Dios region of south-eastern Peru. Considered the most biologically-diverse place on the planet, the region is a microcosm of the Amazon.

The ambassadors also briefed the audience about the Tambopata national reserve, the Posada Amazonas reserve, the Refugio lodge reserve, the depths of the rainforest, and the village of Infierno, a community of native Ese'eja people.

DEWA has also allocated a hall for innovation during WETEX that is part of DEWA's continuous efforts to boost innovation in the UAE to support the National Innovation Strategy, launched by HH Sheikh Mohammed bin Rashid Al Maktoum, Vice President and Prime Minister of the UAE, and Ruler of Dubai; and the Dubai Innovation Strategy, launched by HH Sheikh Hamdan bin Mohammed bin Rashid Al Maktoum, Crown Prince of Dubai and Chairman of the Executive Council of Dubai, to make Dubai the most innovative city in the world.

The innovation hall has attracted creative minds and innovative companies to showcase their inventions ad innovations side by side with leading global companies in innovation. This step supports the youth of today as well as boost energy, water, environment, and green development.

WETEX has at least 60 titanium, strategic, platinum, and gold sponsors. These sponsors have shown great confidence in WETEX as they are contributing to the success of the 18th WETEX, as well as offering the best solutions and expertise to visitors and attendees of the show. The exhibition will continue until Thursday 6 October 2016 on a display area of 64,000 square metres, spread over 9 halls at the Dubai International Convention and Exhibition Centre.