HH Sheikh Hamdan Bin Rashid Al Maktoum Inaugurates 6th World Green Economy Summit
Under the patronage of HH Sheikh Mohammed bin Rashid Al Maktoum, Vice President and Prime Minister of the UAE and Ruler of Dubai, HH Sheikh Hamdan bin Rashid Al Maktoum, Deputy Ruler of Dubai, Minister of Finance and President of Dubai Electricity and Water Authority (DEWA) inaugurated today the 6th World Green Economy Summit (WGES 2019) at Dubai International Convention and Exhibition Centre. WGES is organised by DEWA and World Green Economy Organisation (WGEO).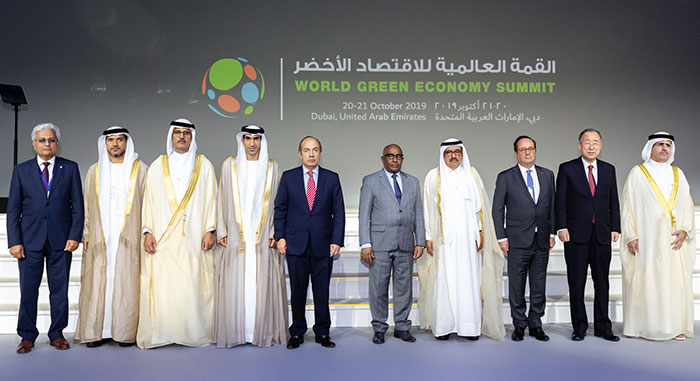 The opening ceremony was attended by HE Azali Assoumani, President of the Comoros, HE Saeed Mohammed Al Tayer, Vice Chairman of the Dubai Supreme Council of Energy and Chairman of WGES, Ban Ki-moon, Former Secretary-General of the United Nations; François Hollande, Former President of France; Felipe Calderón, Former President of Mexico; Julia Gillard, Former Prime Minister of Australia, HE Ovais Sarmad, Deputy Executive Secretary of the United Nations Framework Convention on Climate Change (UNFCCC).

Locally, the summit was attended by HE Dr. Thani bin Ahmed Al Zeyoudi, UAE Minister of Climate Change and Environment; HE Mariam bint Mohammed Saeed Hareb Almheiri, UAE Minister of State for Food Security; HE Matar Humaid Al Tayer, Chairman of DEWA, HE Humaid Al Qatami, Director General of Dubai Health Authority; HE Awaidha Murshed Al Marar, Chairman, Abu Dhabi Department of Energy; HE Major General Abdullah Khalifa Al Marri, Commander-in-Chief of Dubai Police; HE Dawood Al Hajri, Director General of Dubai Municipality; HE Hilal Saeed Al Marri, General Manager of Department of Tourism and Commercial Marketing in Dubai; HE Dr. Hamad Bin Sheikh Ahmed Al-Shaibani, Director General of the Department of Dubai Islamic Affairs and Charitable Activities; HE Ahmed Buti Al Muhairbi, Secretary General of the Dubai Supreme Council of Energy, HE Dr. Aisha Bint Butti Bin Bishr, Director General, Smart Dubai Office; HE Ahmed Bin Shafar, CEO of Emirates Central Cooling Systems Corporation (Empower), and officials from both government and private sectors around the world.

"The sixth World Green Economy Summit (WGES), is held under the wise leadership of His Highness Sheikh Khalifa bin Zayed Al Nahyan, President of the UAE, and under the patronage and insightful directives of His Highness Sheikh Mohammed bin Rashid Al Maktoum Vice President and Prime Minister of the UAE and Ruler of Dubai. The sixth World Green Economy Summit's theme is 'Innovative Technologies for a Sustainable Economy,' and derives its agenda from His Highness Sheikh Mohammed bin Rashid Al Maktoum forward-thinking directives to balance economic growth with the sustainability of natural and environmental resources. This supports the UN Sustainable Development Goals 2030, UAE Centennial 2071, UAE Vision 2021, UAE Green Agenda 2030, Dubai Plan 2021, and Dubai Clean Energy Strategy 2050. Within this framework, our achievements, projects and initiatives continue to strengthen the UAE's pioneering position in the use of clean and renewable energy globally," said HE Saeed Al Tayer in his keynote speech.

"The UAE has succeeded in taking effective measures to address environmental challenges and climate change, by launching pioneering clean energy projects, especially solar power. Recently, the world's biggest solar photovoltaic plant of 1,177MW Noor Abu Dhabi at Sweihan in Abu Dhabi was commissioned on the Independent Power Producer (IPP) model," he added. "Dubai continues its work by building the Mohammed bin Rashid Al Maktoum Solar Park to achieve the Dubai Clean Energy Strategy 2050. This will be the largest single-site solar park in the world, which will have a capacity of 5,000 megawatts by 2030, generated from a range of photovoltaic and concentrated solar power technologies."

"This year's summit will focus on three key pillars: Sustainable Development Mechanisms; International Cooperation to support the Green Economy System; and Adoption of Green Innovative Solutions," HE Al Tayer added. "Under the guidance of our wise leadership, we are sparing no effort to make Dubai a global hub for green economy and a sustainable economy, a role model in clean energy by leveraging on the Fourth Industrial Revolution to use innovative disruptive technologies."

"To ensure the availability of clean solar power around the clock, we are keeping pace with the global growth in energy storage. According to the Wood Mackenzie Energy Storage 2019 report, the global energy storage market will expand 13-fold in six years to reach 158 GWh by 2024. Dubai supports this comprehensive approach through innovative energy and sustainability projects. We are building the largest single-site Concentrated Solar Power (CSP) investment project in the world within the Mohammed bin Rashid Al Maktoum Solar Park. Based on the IPP model, the project will include the construction of the world's tallest 260-metre solar tower and the world's largest global thermal storage capacity of 15 hours; allowing for energy availability round the clock."

HE Al Tayer added: "We are also constructing the first in the GCC region Pumped-Storage hydroelectric power plant on Hatta Dam, using solar power for pumping and storage. The plant will store up to 1500 megawatt hours. This is in addition to the Green Hydrogen Project, the first solar-powered green hydrogen electrolysis facility in the Middle East and North Africa (MENA) region. This project uses clean energy to produce green hydrogen that will be stored and deployed for different uses."

HE Al Tayer added: "His Highness Sheikh Mohammed bin Rashid Al Maktoum launched the World Green Economy Organisation (WGEO) in 2016 with the United Nations Development Programme (UNDP) during the third edition of the World Green Economy Summit (WGES) to move the transition towards a green economy and to support its projects across the world. It also aims to back countries and organisations to help them achieve their green strategies and plans. We are confidently moving forward in accordance with key strategies to establish the green transformation, and this year has been packed with numerous achievements. Today we announce the inauguration with the United Nations Framework Convention on Climate Change (UNFCCC) Secretariat, of the Regional Collaboration Centre (RCC) dedicated to provide technical and knowledge direct support to governments, non-government organizations and the private sector in the MENA region."

"Since its inception, the World Green Economy Summit has succeeded in establishing global platform that brings together world leaders, entrepreneurs, decision makers, experts and specialists in green economy, and has contributed to close partnerships between the public and private sectors, and the launch of environmentally friendly initiatives that benefit the whole world," HE Al Tayer pointed out.

"The journey to a truly green economy is a long and continuous one, but the unstinting commitment of individuals, academia, and the private and public sectors, along with the support of the wise leadership, will enable us to succeed, marking our milestones as we move forward. Organising forums and conferences such as the World Green Economy Summit will help us to better coordinate our efforts and helps everyone present to gather the key insights to make good on our global common ambitions for a green future while addressing the climate change," HE Al Tayer said.

Al Tayer added: "I take this opportunity to reiterate my gratitude to Your Highness for Your presence at the sixth edition of WGES and I highly appreciate the contribution and efforts of all participants in this summit that made it reach this pioneering international rank. Also, I thank all delegates who will take part in our sessions and important discussions throughout the coming two days. I am confident that these sessions and discussions will bear fruit in reinforcing the journey of green economy regionally and internationally."

HE Azali Assoumani, President of the Comoros, said: "The systemic crises that all of us face today cannot be addressed in isolation because one is related to another. If our problems are interconnected, it must be then, that solutions also require us to connect with each other and collaborate. As an archipelago, the Comoros Government recognizes that safeguarding our diverse ecosystem is essential to our survival and is an efficient and effective way to address food and water security for our people. About 80% of our rural population relies on rain-fed agriculture. With climate model predictions depicting huge negative impacts on Comoros such as reduction of the dry season and increased wet season, as well as extreme cyclones, it is in our interest to protect the balance of nature for us to move forward sustainably. Creating jobs and sustaining livelihoods must be within the parameters of environmental protection, and thereby investments must be wisely directed to activities that promote social inclusion and sustainable growth. Comoros has committed to increasing its protected areas estate tenfold from our current base."

Former Secretary-General of the United Nations - Ban Ki Moon said, "In the past five years, the world leaders have come together to sustain the crisis and solve it. I extend my gratitude to WGES for advancement of innovative technologies and synergising the green growth of the international community. We have always strived towards sustainable growth which has been our top agenda and forums as WGES help energise, address and maximise the multi stake holder partnership. The rock of the forum this year is to discuss sustainable issues, which will serve as an important step in securing sustainable security for generations to come. So now is the time for action."

Former President of France - François Hollande said, 'The Paris Agreement was aimed to not just limited to create awareness about climate change, but it was an agreement to bring to focus certain commitment needed to fight climate change and global warming. The climate change issues taking place around the world are having large repercussion on the planet. We cannot work on our own without support, that's why we need to meet in forums as these to extend our expertise and knowledge. These not only serve as a base, but also helps arrive to common including the green finance, which is the need of the hour,"

Felipe Calderon, Former President Mexico said, "In recent years, we have witnessed various events one after the other like draughts, hurricanes, floods which have taken many human lives and affected the lives of people in many countries which is leading to a global economic damage. However, if we continue to open up new opportunities for transformative change in coming years, then it is possible to make some smart choices and some brave decisions. In this regard, we need to change at least 3 key systems in the world. Firstly, we need to change the cities we built. We need to make space for over 1 billion people who will come to live in the cities in the next 12 years. Second, regulate the lands and stimulate the new green agricultural revolution. By doing so, we will be able to provide income, food and better quality of life for the poorest families in the world. Thirdly, we must produce energy with cleaner technologies and to use that energy in a more efficient way, create new business opportunities and jobs."

HE Ovais Sarmad, Deputy Executive Secretary UNFCC said, "What we are talking about is changing climate which is transforming the way we live. The pattern of climate change has the power to devastate the lives and civilization. The areas where we grow our food, our water resources and ecosystems are all attacked. Climate change is defining the existence of our time and it a defining moment, as such, we must decide what kind of world we would pass to our future generations. It is the question for the present future and the legacy we leave behind to our future generations. It is a question, which must be answered with actions. While the government's framework for actions is in place, it is time for citizens to work together as well."

"Since its inception in 1971, the UAE has spared no effort to protect its environment and natural resources. As part of this priority and in line with its overarching efforts to establish the UAE among the best countries in the world across sectors, our wise leadership is driving the transition to a green economy through devising multiple legislative frameworks. These include the UAE Green Agenda 2030, the National Climate Change Plan of the UAE 2017-2050, the UAE Energy Strategy 2050, the UAE Vision 2021, and the UAE Centennial 2071. Furthermore, over the past several years, the country has implemented a wide range of sustainability-focused projects in various sectors that have opened up promising opportunities for economic growth. 2018, in particular, witnessed the establishment of several public and private ventures that support the transition to a green economy in energy, agriculture, water, infrastructure, and housing," said Dr. Al Zeyoudi.

His Excellency Eng. Awaidha Al Marar said: "In the midst of rapid urban development, population growth and economic diversification, the UAE has recognized that combatting environmental problems and preserving natural resources are key constituents in the process of achieving sustainable growth and ensuring prosperity for all….This has inspired the government to work tirelessly to maintain the highest sustainability and green economy standards across all sectors and stages of planning and developmental projects' implementation. At the Abu Dhabi Department of Energy, we are proud to participate in these efforts and to contribute to the success of local and global efforts to protect the environment and sustain natural resources by setting policies, systems and strategies that aim to leverage the energy sector's strengths to build a green economy. Our strategies, programs and initiatives in Abu Dhabi and the UAE are testament to our commitment and recognition of the need to modernize the energy sector by capitalizing on innovation- and sustainability-based solutions, research and technologies."

HE Saeed Mohammed Al Tayer, Vice Chairman of the Dubai Supreme Council of Energy in Dubai and Chairman of WGES was a key speaker at the first day of the Summit which include a session for Youth Dialogue entitled: 'Youth Circle: Youth contribution to localising the SDGs and harnessing technologies to achieve them'.

WGES concludes Monday, 21 October 2019 that will include the 6th Dubai Declaration.

@WGESummit #WGESummit