Himoinsa Containered Generators Are Among the Most Competitive Gensets On the Market
HIMOINSA designs and manufactures generator sets, and for the container version of greater power gensets, the company offers soundproofed containers with ISO and CSC certification for maritime transport, from 10 to 40 feet long, with flexible and customised designs to perfectly meet the requirements of each client.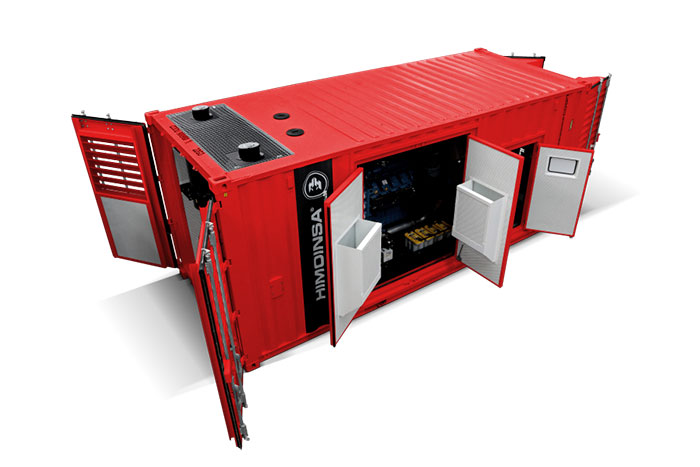 This is something the market needs. When we are developing a new project in which we require power we know we can rely on, we need to be sure that our power solutions offer maximum performance with the greatest reliability, wherever it is required. Solutions that meet existing regulatory requirements and adapt to the needs of each project.

Design and manufacture

HIMOINSA generator sets housed in containers incorporate high-resistance locks with stainless steel bolts and hinges, quality welding carried out by qualified personnel, non-slip floors, electrical pre-installations on the inner wall of the container or interior lighting, among other features. In addition, they are designed to withstand high environmental temperatures and to be resistant to rain, thanks to a special treatment with polyurethane paint.

Their carefully studied arrangement of accesses, ventilation and security systems, guarantees easy, quick and safe handling of all the elements inside the container: pedestrian side doors, easy access to the control panel and display of the control unit, openings for cable outlets, an external cover for coolant, an external emergency stop button, 4 grounding points and air outlets with noise traps on the sides and top to facilitate indoor ventilation even in confined spaces, and to prevent water and particulates from entering.

HIMOINSA containers are designed and manufactured in facilities equipped with the latest technology: laser cutting, bending and automated welding machinery. This efficient system guarantees the best finishes and greater material durability, avoiding unnecessary welds and cuts, optimising all the processes to the maximum.

In addition, the company's modern paint system makes it one of the highest quality products on the market with a high level of resistance finish.

Resistance to extreme temperatures

As an option, HIMOINSA containers can include heaters in the cabin of the box-alternator and special "snow-hood" outlets to shield them from adverse weather conditions due to low temperatures. They can also include sand traps, motorised blades at the air inlets and outlets, or a painting process with a special finish for corrosion resistance C5M EN ISO 12944; very useful for keeping the container in perfect condition in high temperature environments and where suspended and/or corrosive elements are present.

Safety, watertightness and extra soundproofing

HIMOINSA containers offer several security options. They may include an indoor smoke detection system as well as a fire extinction system. If there is a need for protection against fluid leakage, an option is available to make the floor of the container watertight in the engine-alternator area. If the project requires an extra soundproofing, 100mm rock wool, polyurethane foam on the floor, radiators with variable speed electro-fans to reduce fuel consumption, and a critical degree silencer providing exhaust attenuation of more than 40 dB, which can be installed outdoors, are available as options.

Vertical Manufacturer

One of HIMOINSA's strong points is its ability to act as a vertical manufacturer, which allows it to manufacture all the components of its generator sets. All parts integrate seamlessly, and the final product is always tested before it is delivered to the customer. In addition, it puts all the know-how of its engineering team at the disposal of each project, offering technical advice, feasibility studies and certifications.

Its production capacity provides the company with a high degree of manufacturing flexibility as it allows it to make tailor-made products in a very agile manner for a global market.

@himoinsa_global #himoinsa_global #himoinsa #generator #gensets