About Generators
Generators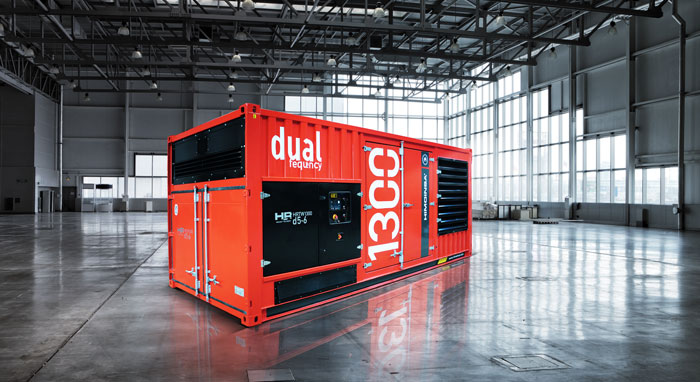 HEAVY RANGE GENERATORS 670 – 2600KVA
The heavy line is characterised by a high-capacity power supply. It stands out due to its simple installation, its transportation-ready design, and its capacity to adapt to specific requirements in both power distribution and electronic management.
This family of electrical generators is used in the public works, industry, construction, and communications sectors, as well as in airports and hospitals, amongst others.
INDUSTRIAL RANGE GENERATORS 4 – 755KVA
The industrial line has been conceived to offer the maximum performance and accessibility during maintenance operations, at both the professional and individual levels. The products in this line stand out for their high effectiveness and for guaranteeing a reliable and efficient supply. They can be used in residential, tourism, industrial, agricultural, and civil protection areas, amongst others.
Our professional product range with diesel engines is capable of optimizing its consumption extending its product range from 3,8 to 750kVA in both single and three phases as well as frequencies from 50 to 60Hz.
RENTAL RANGE GENERATORS 20 – 1300KVA
The Rental Line is designed to work in tough environmental conditions and stands out for its versatility, standardisation and innovation. It contains equipment with high structural resistance which works on any surface. They may be used in sectors such as construction, civil works, and mining industry, amongst others. This line may incorporate latest-generation switchboards, offering the customer multiple options for controlling and adapting the machine to each task. The machines offer an alarm registry, GPS programming, quick access to the external fuel tank, and an IP67 protection rating, amongst other advantages.
APOLO 4000 LIGHTING TOWER
The Apolo 4000 is the latest addition to the HIMOINSA lighting towers family. It stands out for its innovative design, its functionality and its response to strict standards of security, portability, maintenance and versatility.
The tower has dimensions of 4.34 x 1.89 x 1.45 metres and at 834 kilograms it is perfect for any application in the construction industry, events, civil defence, emergency services among others. Its mast of 9 metres height with spotlights of 4000W offers a capacity of lighting of 30.000m2, five times a football field.
MEDIUM VOLTAGE POWER PLANTS
Power Plants are containerised units, versatile, easy to adapt, transport and install and commission in situ. These containers are built in a 40' HC ISO container with isolated walls and roofs sound proof through rock wool and are designed to be connected either in island mode or synchronised to any grid supply. All the materials that used in the container are water resistant and the metal structure is iodized and coated with anti-corrosion paint.
The Power Plant is designed to supply energy wherever it is required, be this in remote regions of the developing world or isolated regions of the industrial world. They can be used to supply power for small towns and villages without access to a larger grid or for industrial clients with critical processes that demand security of supply for their production. They can synchronised with the grid or run separately in a stand alone mode.
Other applications such as Sport stadiums, health facilities, datacentres, oil production plants or simply backup supply for urban areas or anywhere that demands uninterruptable supply.

Source: www.himoinsa.com
01 51 00 - Temporary Utilities
01 51 13 - Temporary Electricity
01 51 16 - Temporary Fire Protection
01 51 19 - Temporary Fuel Oil
01 51 23 - Temporary Heating, Cooling, and Ventilating
01 51 26 - Temporary Lighting
01 51 29 - Temporary Natural-Gas
01 51 33 - Temporary Telecommunications
01 51 36 - Temporary Water
33 71 73 - Electrical Utility Services
01 51 00 - Temporary Utilities
33 71 00 - Electrical Utility Transmission and Distribution