About Power Solutions
Power Solutions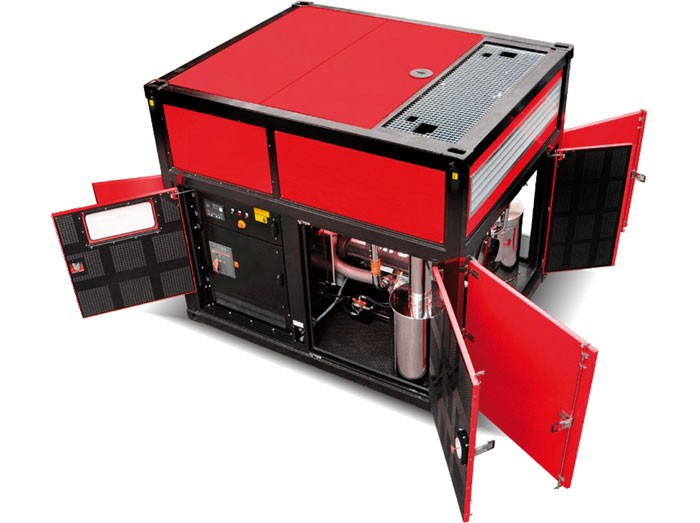 MV_POWER PLANT
The MV_Power Plant is designed to offer a medium-voltage power supply as both a primary and an emergency source. It incorporates high-technology control systems with broad functionalities, an increased interfacing capacity for both local and remote systems, management systems, and monitoring of the effectiveness of the energy, amongst other advantages.
The MV_Power Plant can be used in remote locations and even in urban areas, to sanitation complexes, refineries, antenna and data processing centres, facilities, and institutional complexes. These machines can be connected to the grid quickly and immediately.
The MV_Power Plant includes two types of products: Indoor Stations and Outdoor Stations.
TELECOM
The telecommunications sector is one of those fields which are in constant evolution and which demands an uninterrupted and instant connectivity in real time and high-quality services.
Our machines can work remotely, providing efficient and reliable power. Our products incorporate functionalities such as:

Incorporation of a GPS system, making it possible to locate the machine at any time
Monitoring the fuel levels of the group
Remote management and remote control of the group for gathering and recording data in real time, establishing alarm notifications, and generating reports on the entire power system
MEDIUM VOLTAGE
HIMOINSA power generators are designed to cover medium voltage electricity needs. This type of configuration is a profitable and trusted solution in critical sectors such as hospitals, refineries, petrochemical plants, the steel industry and similar areas.
The multinational's medium voltage equipment are reliable and durable, in contrast to equipment that has been adapted after the fact, a process which certain companies often carry out, and which entails converting low voltage generators into medium voltage generators using transformers. In these cases, the response time from the load impact does not represent a solution that is recommendable from the technological standpoint. That is why it is important to offer medium voltage electricity generators that feature a wide array of voltages and outputs, which can be adjusted to each project and to market needs.
POWER CUBE GENERATOR
500kW in 10 feet, with 50kW power/foot, a considerable power density which allows extreme optimisation of logistics and unit handling. The set is prepared to be synchronised and give extra power, always in ISO sizes of 20' for 1000kw, 30' for 1500kw, 40' for 2000kw, etc.
The objective behind designing the Power Cube Generation was to achieve a compact machine that can be easily transported; this is of great value in the rental sector, where the work tools are constantly changing according to the project needs.
If we analyse the standard measurements of all the 500kw generators in the market, we notice the following: (Length X Width X Height) 5 m X 2 m X 2.3 m = 23 m3. However, Power Cube has reduced its size by 35% in cubic metres and by 50% in body length, with regards to the standard measurements of the rest of generators with these characteristics in the market. Its dimensions are 2.991 m X 2.43 m X 5.59 m= 15.95 m3.
The smaller size has been achieved with a V engine and a remote refrigeration system has been designed on top of the engine compartment; its length can be shortened by up to 3 m.
The Power Cube Generator is robust and easy to transport, using a 10 ft container with a connection system that enables shipping of 2 units with just one standard 20 ft container.
For this, the machine has been provided with a control unit that enables up to 32 units to be connected in parallel, enabling a rental company to be able to undertake projects from 500kw to 16MW with a single machine model.
POWER GEN – IPP
HIMOINSA has extensive experience in the manufacture of generators, which allows it to offer a wide array of configurations for provisional electricity generators.
The R&D&i engineering team have developed a Plug and Play product that allows the modules of the unit to be added or subtracted so as to increase or decrease the power output, depending on the needs of the client, without technical complications. This technology also allows the generation plant to be divided into modules without losing control over the equipment or affecting the autonomy of its functioning.
The IPP help improve the electricity network, guaranteeing continuous energy to industries in which an interruption in the electricity flow is unviable, and to regions that are affected by electricity rationing. As a guarantee of its reliability, the owner of the IPP will receive the Know How borne of the multinational's over 30 years of experience, and its commitment to tailor-made solutions.
DEFENSE
There are solutions adapted to the defence sector within the broad range of HIMOINSA products. We have production centres specialised in manufacturing and designing specific products for the military.
We manufacture products in compliance with rigorous standards and according to the customer's specifications. We handle each project commissioned with complete confidentiality, providing all of the technical information correctly encoded and referenced, thus guaranteeing its optimal execution.
Source: www.himoinsa.com
01 51 00 - Temporary Utilities
01 51 13 - Temporary Electricity
01 51 16 - Temporary Fire Protection
01 51 19 - Temporary Fuel Oil
01 51 23 - Temporary Heating, Cooling, and Ventilating
01 51 26 - Temporary Lighting
01 51 29 - Temporary Natural-Gas
01 51 33 - Temporary Telecommunications
01 51 36 - Temporary Water
33 71 73 - Electrical Utility Services
01 51 00 - Temporary Utilities
33 71 00 - Electrical Utility Transmission and Distribution