Honeywell Introduces Inncom Elements - Designer Guestroom Controls
In line with its commitment to deliver connected technology solutions to the hospitality industry, Honeywell has introduced its new Inncom Elements line of guestroom controls and wired devices in the Middle East. Elements' beautifully styled thermostats, switches, sockets and modular products showcase designer-inspired colors, materials and finishes to complement a wide range of possible guestroom designs.

The distinctive Inncom Elements collection is inspired by natural materials such as wood, leather, and stone. Each Elements switch may be tailored to specific design requirements with 16 high-quality finish materials and a range of guestroom functions with intuitive icons. The Elements line of touch controls delivers an attractive harmonized appearance for Honeywell's Inncom guestroom controls and MK Electric units fit for the Middle East region. These two types of attractive wall-mounted Elements interface plates complement guestroom design as stylish accessories and make them a perfect companion for any interior, while also providing control of guestroom automation and comfort systems.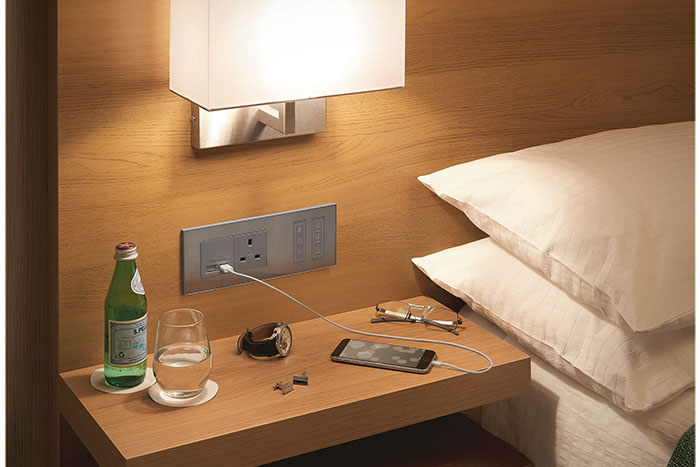 Honeywell's I Inncom Elements system is part of the most collaborative room automation platform in the world. Honeywell offers integration capabilities with multiple electronic lock manufacturers, dozens of HVAC equipment manufacturers, in-room guest services providers, hallway signage and wall plate designers, drape and shade controllers, and much more. Honeywell understands that making the systems work together seamlessly is the foundation that enables forward-looking hoteliers in the GCC to deliver memorable guest experiences while running their property efficiently.

"At Honeywell, we understand that guestroom automation is about more than being able to turn lights on and off and open or close a drape – it's about making the Middle East's hotels more sustainable, safe and productive," said Dilip Sinha, general manager for Honeywell Environmental and Energy Solutions in the Middle East, Turkey and Africa. "Elements lighting, drape control and thermostats encompass everything from basic energy savings to creating a memorable guest experience with elegant predesigned room scenes at the touch of a button. Given the business benefits of smart buildings, hotels are often ahead of the curve with the adoption rate of smart and connected technologies that ultimately enable a more seamless and enjoyable stay for hotel guests."

Elements Thermostat
The Elements Thermostat has a sleek and stylish intuitive design with a user-friendly platform. Its large backlit display gently glows when not in use, but instantly illuminates upon being touched to show room temperature, set temperature, fan speeds and other information. The display has a smooth, straightforward interface that can be set to various languages including Arabic, English and other international languages mostly used in the Middle East. With its ancillary sensor capability, this intelligent device is capable of serving as an information gateway to multiple systems. When coupled with the X47 HVAC controller, a euro module or ceiling mounted motion sensor or other devices like the Elements Key Card Reader, the Elements Thermostat becomes part of an intelligent room automation system capable of providing energy management and reducing utility expenses.

Elements Switches
Elements Switches are beautifully designed with a sophisticated system that controls lighting, drapes, and other amenities. They are available with an up to six button keypad or with two or more dimmers in combination plates that provide AC power, USB charging, and audio/video connectivity with guestroom controls. Elements Switches have a stylish, responsive structure that caters to a guestroom's integrated functionality.

Guestroom Automation and Energy Management
The Elements system may also be connected to INNcontrol3 energy management via Inncom's Deep Mesh Network (DMN) as part of a centrally controlled energy management system (EMS). Elements enables property managers to view real-time room status information, room and property energy trend data, alarm reports for malfunctioning equipment, instant control of temperature setback parameters, and other online diagnostic and preventative maintenance functions. The Elements system can communicate with other hotel server-based systems, such as Property Management Systems, Building Automation Systems, Central Electronic Locking systems and many others through the DMN.