Honeywell provides next-generation insulation solutions
Honeywell has announced the availability of next-generation solutions for thermal insulation that can help Middle Eastern countries meet energy efficiency requirements.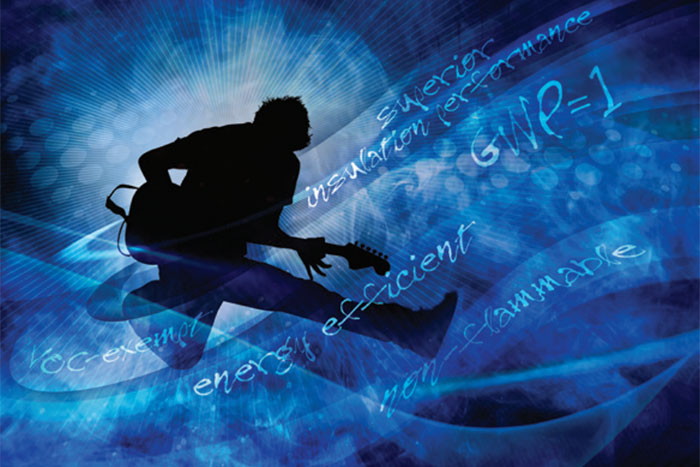 To meet its Montreal Protocol commitments, the region's foam industry is phasing out the use of polyurethane foam containing hydrochlorofluorocarbons (HCFCs), chemicals that are ozone-depleting and have high global-warming-potential (GWP). Further, in mid-October, more than 150 countries, including many from the Middle East, met in Rwanda and expanded the Montreal Protocol to phase out hydrofluorocarbons (HFCs), which are non-ozone-depleting but have high GWPs. Honeywell has commercialized a new hydrofluoroolefin (HFO) blowing agent that is both non-ozone-depleting and also low GWP.

Honeywell gathered regulators, contractors, foam insulation manufacturers, regional stakeholders and global industry experts in an exclusive workshop to review how environmentally preferable foam-blowing agents like Honeywell's Solstice® Liquid Blowing Agent (LBA) can help the Middle East meet its Montreal Protocol commitments and also energy efficiency requirements. Solstice LBA is non-ozone-depleting and has a GWP of 1, which is 99.9 percent lower than the HCFC and HFC blowing agents it replaces, and equal to carbon dioxide.

"The Middle East is making tremendous effort to meet its energy efficiency and Montreal Protocol commitments, including phasing out HCFC-141b in the polyurethane foam sector," said Khaled Klaly, Program Officer, United Nations Environment Program. "The UNEP is working with these countries to help them successfully transition to more low-GWP blowing agent technology that reduces emissions and achieves energy goals as required under the Montreal Protocol and in close partnership with other implementing agencies like UNIDO."

Solstice LBA is a critical ingredient in closed-cell foam used for spray foam, panels and appliances, allowing it to expand and providing much of its excellent insulating properties. It increases the thermal performance of conventionally-processed polyurethane (PUR) and polyisocyanurate (PIR) foam in both continuous and discontinuous panel operations.

"We use the most innovative blowing agent technology available to provide our customers with building materials that make their homes and offices as energy-efficient as possible," said Muhammad Asghar, managing director, Water Seal. "Solstice LBA meets the standards set by regional and global environmental policies, and is a top choice for a cost-effective, near drop-in replacement to previous-generation blowing agents."

Solstice LBA is being adopted by rigid insulation manufacturers worldwide to reduce their environmental footprint and comply with environmental and energy efficiency regulations.

"The recent amendment to the Montreal Protocol in Kigali, Rwanda in mid-October, accelerates demand for low-GWP solutions like our fourth-generation blowing agent technology," Amir Naqvi, regional marketing manager, Honeywell. "Solstice LBA requires little to no retrofitting of existing equipment, making it an important solution for regions like the Middle East that seek to smoothly adapt to new environmental regulations."

Worldwide adoption of Solstice has resulted in the reduction of more than 32 million metric tons of greenhouse gases to-date, equal to eliminating emissions from more than six million cars.

Solstice LBA is nonflammable (ASTM E-681) and is not a volatile organic compound per U.S. Environmental Protection Agency (EPA). It is listed under the U.S. EPA's Significant New Alternatives Policy (SNAP) Program and is also registered under the European Union's REACH program. Honeywell's new world-scale production capacity manufacturing plant for Solstice LBA started up in May 2014.