Hormann Introduces PortaMatic door operator for barrier-free convenient living
Providing effortless operation of doors and added convenience, Hormann Middle East has introduced its unique PortaMatic door operator that allows for automatic opening and closing of timber and steel internal doors via hand transmitter or button. Whether the user is physically disabled or would simply like more convenience, this technology will make everyday life easier.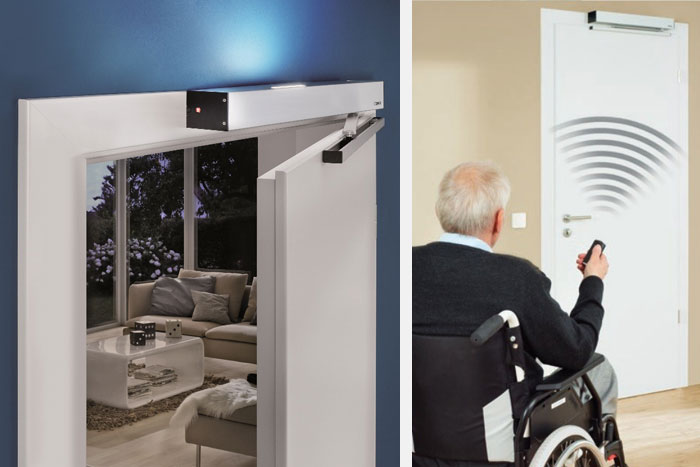 Being particularly useful for senior-friendly residences, the PortaMatic operator for internal doors improves the quality of life by helping people move about their home unaided. Offering convenient living, users can now carry full trays, heavy crates of beverages or shopping bags into their rooms unhindered.

Barrier-free working already plays an important role and will continue to gain importance in the future. The PortaMatic door operator can be integrated into all non-public areas at workplace thus ensuring more convenience. In combination with a non-contact switch, the PortaMatic door operator provides reliable protection from germs and bacteria, giving a sense of security and hygienic door operation.

Darius Khanloo, managing director at Hormann Middle East & Africa says, "At Hormann, safety and convenience are our priority. This is why we have equipped our PortaMatic door operator with features for easy and safe living. For example, an acoustic signal and the integrated LED illumination indicate door movement before the door opens or closes. More importantly, the illumination ensures safety in the entire passage area, particularly in the dark and in inadequately lit doorways."

The PortaMatic operator opens and closes the doors with soft start and soft stop and is extremely quiet. The door is moved with a minimum of force, offering a high level of safety. Even a light touch is enough to stop the door from moving.

"Our innovative BiSecur radio system allows the user to control the operator securely via a hand transmitter or radio internal push button and even to find out whether the door is open or closed. And because we always have the user's convenience in mind, the hand transmitter or radio internal push button can be used to not only open and close doors, but also to operate the integrated LED illumination,"Khanloo adds.

Door operator PortaMatic features not only an array of functions and settings, but also a minimal power consumption with energy-efficient components and LED illumination. In addition, the PortaMatic is up to 25 % more cost-effective than similar door operators.
Categories: