Hormann Introduces Tubular Frame Fire-Rated and Smoke-Tight Doors
For secure planning in construction projects, Hormann Middle East, the market leading industrial, commercial and residential door manufacturer has introduced Tubular Frame Fire-Rated quality doors designed to be used in construction sites, factories and shops. Fire-rated / smoke-tight doors and glazing are available in models of T30, T60 and T90 which assure a high level of safety, ideal functionality and 100% compatible appearance.

"Reliable fire protection calls for adequate new developments and improvements to each and every detail," says Darius Khanloo, managing director at Hormann Middle East. "This is where our qualified development teams demonstrate their expertise time and again. Hormann has continually extended its fire protection programme. Today, as a result, we can offer a complete and fully developed range."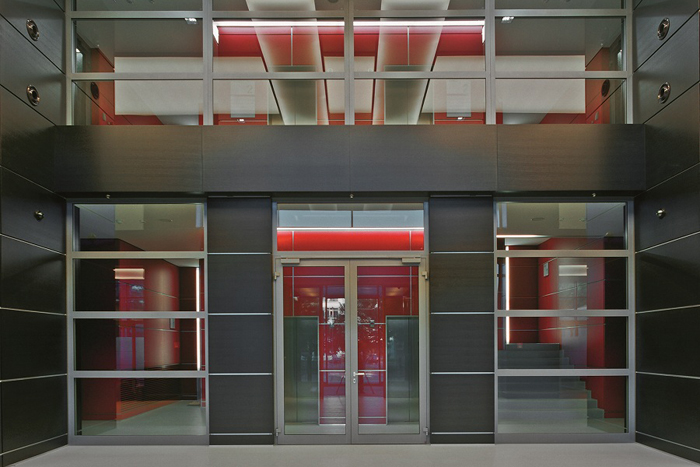 Wide range of reliable fire protection products in the fire-proof programme includes: fully glazed smoke-tight, T30 and T90 tubular frame parts in steel and aluminium, flush-fitting steel fire doors, and sturdy doors made of steel and stainless steel.

As standard, all fire-rated and smoke-tight doors are equipped with a slide rail overhead door closer on the hinge side, with an integrated door leaf selector for double-leaf doors. The fire testing centre conducts in-house fire test to examine the required fire resistance and smoke-tightness for buildings.

Fire protection classes are available in T30, T60 and T90 depending on the functions the projects require. In fire tests, these doors must resist temperatures according to the temperature/time curve for at least 30 minutes (T30), 60 minutes (T60) or 90 minutes (T90).

An overall harmonious look is created by a matching appearance independent of the functions of the door. Different options, for example the thickness of the rebate type, the surface or the closing devices can be chosen individually.

Hormann aluminium fire-rated doors are available either as a coupling construction for simple connection on location, or as complete elements with a vertical/horizontal profile construction. Thus they can be easily matched to the fitting situation at the construction site. With the Hormann plug-in system, the slim vertical/horizontal profile construction can also be assembled into walls of any size.
Categories: