HVAC R Innovation Coined as Pivotal for Greening Region's Cities
The HVAC R Pioneers' Summit was launched on the sidelines of HVAC R Expo today, gathering industry leaders from across the region to confer over the latest technologies, deliberate on industry challenges and to develop strategies for driving the sector forward.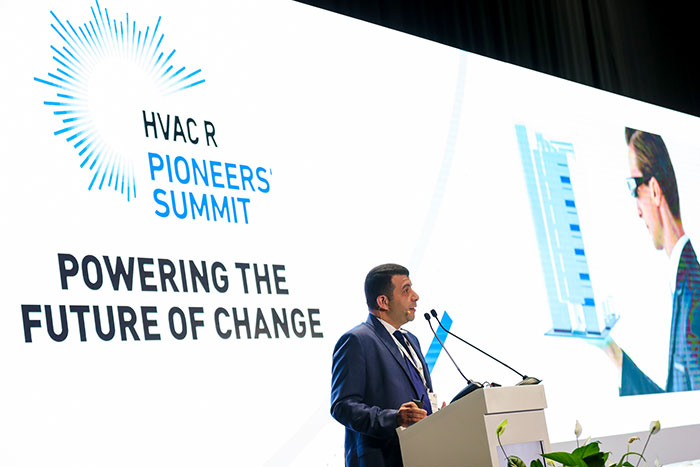 Under the theme 'Powering the Future of Change', speakers have discussed the massive potential for HVAC R solutions to aid in meeting government visions of improved living, be it through better connectedness, improving health standards or reducing energy emissions.

Chairperson of the Summit, Azmi S. Aboul-Hoda, Managing Director, EMergy Consultancy said: "The HVACR Pioneers' Summit has established a strong platform for the leaders in this industry to gather and exchange vital information and experiences. It has been a great opportunity for us to share some of the challenges that we are facing as we strive to bring our industry to the forefront of the smart building, human wellbeing and energy optimization revolution. The visitors and speakers have all left with a better understanding of today's definition of green cities, and the powerful role of HVAC R towards that standard."

Seated at the summit, were some of the biggest names in the HVAC R sector, including Hassan Younes, President Elect for ASHRAE Falcon Chapter, Rob Gregory, MEP Technical Director at Aurecon International, Suhas Inamdar, Head of Technical Support and Planning at Wasl Properties, and more.

Topics on the agenda have covered important trends that are becoming ever more prevalent in the Middle East's HVAC R sector such as, the Significance of Indoor Air Quality, HVAC R Design of a Super High Rise Building, Sustainable HVAC R Strategies and Design for a Greener Future, and more.

Hassan Younes, President Elect ASHRAE Falcon Chapter has presented a huge wealth of solutions to help tackle the environmental impact of HVAC R systems in the Gulf, he reported: "A big step toward improvement would be to retrofit the existing building stock with more efficient systems. Further, at a legislative level, we would benefit from the widespread implementation of policies banning harmful refrigerants. At a regulatory level we should keep updating the minimum energy performance standards for air conditioners. Improving regulation on building envelope would also reduce the cooling load demanded of HVAC systems. Finally, increasing utility tariff rates in places where they remain low would drive owners to select more energy efficient equipment for their assets."

In addition to the summit, HVAC R Expo hosts over 190 global exhibitors until 28 November at Dubai World Trade Centre. Companies are presenting smarter, cleaner, and more energy efficient HVAC R solutions that will help project owners keep up with the latest regional expectations.

HVAC R Expo runs alongside The Big 5, The Big 5 Heavy, Middle East Concrete, Middle East Stone, The Big 5 Solar, and Urban Design & Landscape Expo transforming Dubai World Trade Centre into the global hub for the construction industry from 25 -28 November 2019. The total offering at Dubai World Trade Centre includes over 240 workshops, and 20,000 products from worldwide exhibitors.
@Big5Exhibition #Big5Exhibition #hvac #hvacr