Infrastructure And Investment Set to Spearhead Growth, New Report on Bahrain Reveals
A new report produced by the global research and advisory firm Oxford Business Group (OBG) shines a spotlight on Bahrain's far-reaching plans for economic expansion, which include attracting investment in high-potential industries and rolling out big-ticket infrastructure projects.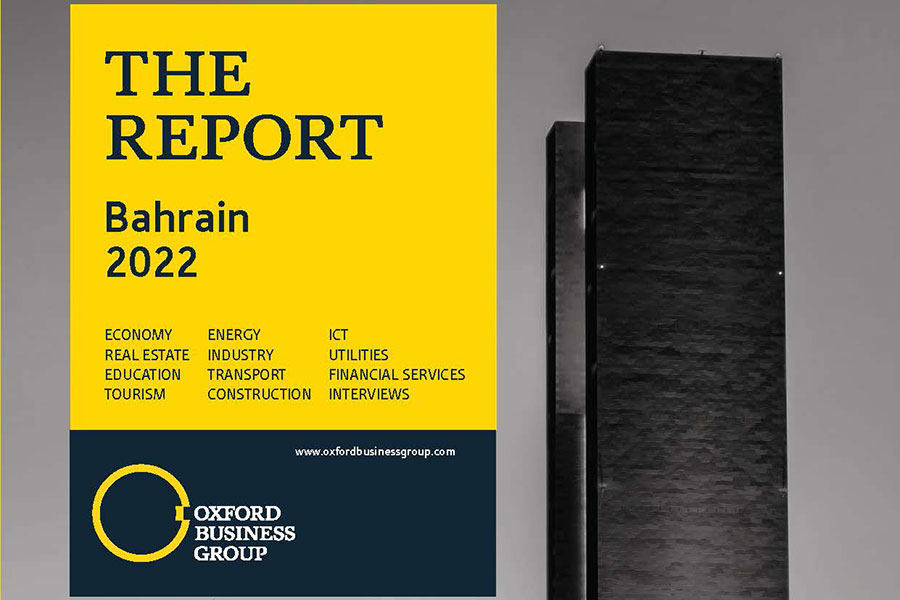 The Report: Bahrain 2022 provides details of a drive under way to bring the private sector on board for a $30bn pipeline of infrastructure projects that is expected to support growth in a number of sectors.

It shines a spotlight on the projects designed to facilitate the movement of both goods and people within and across the kingdom's borders and strengthen the country's position in the regional logistics industry.

It also explores planned developments to support Bahrain's tourism expansion efforts now that an easing of pandemic-related restrictions is reinvigorating the sector and increasing visitor numbers.

Elsewhere, OBG's report analyses the latest developments in the country's vibrant financial sector, which vies with oil and gas as the largest contributor to the economy. The emergence of the country as a leading financial technology centre is one of several topics examined.

The potential impact of Bahrain's new 2022-26 Industrial Sector Strategy is explored in detail, with a focus on how the kingdom can better generate downstream value-added to its natural resources and capitalise on the potential of the Fourth Industrial Revolution.

With oil and gas prices fully recovered from the lows of the pandemic, the report also tracks the latest developments in Bahrain's oil and gas industry, including ongoing efforts to commercialise a major shale discovery made in 2018. Efforts gaining pace to attract investment for the renewables segment are another focal point as the country aims to meet net-zero carbon emissions by 2060.

The Report: Bahrain 2022 contains a contribution by King Hamad bin Isa Al Khalifa, in which he shares his views on the kingdom's strategies for economic recovery and longer-term prosperity, together with a detailed sector-by-sector guide for investors.

It also features interviews with a broad range of high-profile political and business leaders, including: Mohamed bin Thamer Al Kaabi, the Minister of Transportation and Telecommunications; Jean-Christophe Durand, CEO, National Bank of Bahrain; Ali Al Baqali, CEO, Aluminium Bahrain; Mark Thomas, CEO, nogaholding; and Nasser Ali Qaedi, CEO, Bahrain Tourism and Exhibitions Authority.

Commenting after the launch, Oliver Cornock, OBG's Editor-in-Chief, said that high international oil prices and a robust project pipeline are helping Bahrain to rebound from the challenges of the pandemic.

"Bahrain's economy grew by 2.2% in 2021, buoyed by a recovery in energy and tourism income, with foreign direct investment also rising, by more than half, year-on-year, in the first three quarters of 2021," he said. "We expect large-scale projects to continue boosting infrastructure and investment, putting the country on track for a period of sustained growth."

Jana Treeck, Managing Director for the Middle East, OBG, added that well-developed finance and industrial sectors had enabled Bahrain to lay firm foundations for the next phase of its growth plans.

"Bahrain benefits from having one of the most diverse economies in the Gulf, which is now supporting an ambitious programme to attract $30bn in infrastructure investment alongside efforts to balance the budget by 2024," Treeck said. "Higher global oil prices should also help drive economic expansion and recovery, paving the way for Bahrain to achieve its Vision 2030 targets."

The Report: Bahrain 2022 has been produced in partnership with the National Bank of Bahrain, the Bahrain Bourse and KPMG Bahrain. It marks the culmination of more than six months of field research by a team of analysts from Oxford Business Group. The publication assesses trends and developments across the economy, including those in macroeconomics, infrastructure, banking and others.

The Report: Bahrain 2022 is available online and in print. It is one of several highly relevant, go-to research tools being produced by OBG, which include Future Readiness and ESG Intelligence reports, alongside a range of Growth and Recovery Outlook articles and interviews.

The Report: Bahrain 2022 is now available to view and download.
@OBGinsights #OBGinsights #OxfordBusinessGroup