Innovation and technology key to Farnek FM showcase
UAE-based and leading UAE facilities management (FM) company Farnek along with home maintenance firm Hitches & Glitches, showcased the latest innovative and technological advanced products, during FM Expo which concluded today (Wednesday 20 May) at the Dubai International Convention & Exhibition Centre (DICEC).

Multi-award-winning Farnek, has been established in the UAE for over 35 years and has grown into one of the leading FM companies in the Emirates, with offices in Abu Dhabi and Dubai and a skilled workforce of more than 2,200 employees, maintaining over 2,500 commercial properties.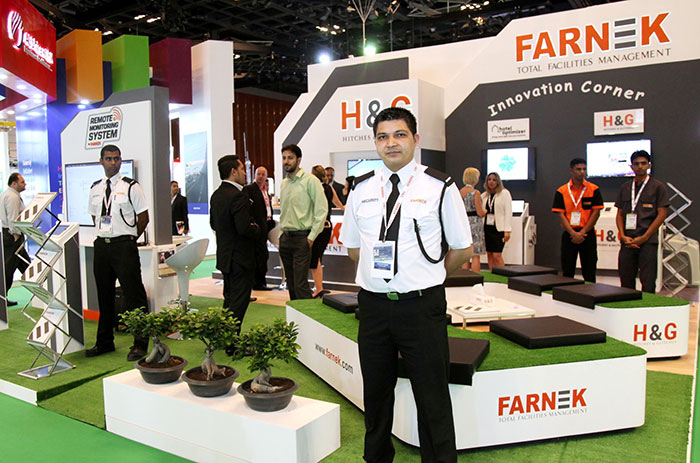 "Farnek is innovative by nature and always tries to create technological solutions to operational issues. As an example, we were the first FM company within the Middle East to create Hotel Optimizer, a specially designed internet-based software tool for the hotel industry which analyses the consumption and costs associated with energy, water and waste disposal," said Jennifer Peltenburg, Director of Business Development & Marketing, Farnek.

Underscoring Farnek's leadership credentials, CEO, Markus Oberlin, was invited to speak at the World FM Congress, which ran in parallel with the FM Expo. Oberlin along with other esteemed panel members were debating how to balance innovation, sustainability and operational efficiency to deliver real value for money in the FM sector.

Sandrine Le Biavant, Director Consultancy at Farnek, also delivered an in-depth presentation assessing the Middle East's retrofit market and the potential for new business opportunities for the FM sector, throughout the region.

Rounding off Farnek's impressive line-up of expert speakers, Julian Khalil, head of cleaning, was commenting on the cleaning and hygiene regulations in the MENA region and how they compare with international standards.

To broaden its service offering, Farnek has joined forces with one of the largest residential maintenance companies in the UAE, Hitches & Glitches, which provides home maintenance and lifestyle services to more than 10,000 customers across the UAE.

The FM Expo comes just weeks after the launch of Hitches & Glitches e-business solution, 'H&G Store', which offers a convenient online alternative to traditional call-based home maintenance. The Hitches & Glitches cloud-based platform has been designed specifically for delivering home maintenance services, as well as improving customer service, reducing operational cost and increasing revenue generating opportunities.

Essentially customers and prospective customers can choose from three options - an annual maintenance contract, emergency cover only or on a pay per visit basis.

"Customers can also manage orders, request quotations, make appointments, apply and pay for call outs, all online. During our soft launch period, we found that this was particularly convenient for landlords and homeowners who travelled extensively," said Lukas Eigenmann, Director, Hitches & Glitches.

"The fully automated system also benefits our technicians. They can manage their own appointments, follow checklists, process payments and close job cards. They can also have a customer's complete maintenance history at their fingertips, helping them to analyse and diagnose potential or recurring maintenance issues," added Eigenmann.