InSinkErator recognized for continued contribution to UAE State of Energy Report
InSinkErator, a business unit of Emerson (NYSE: EMR), the inventor and the world's largest manufacturer of food waste disposers for home and commercial use, was awarded by the UAE Ministry of Energy for the second year running, for its contribution to the UAE State of Energy Report. The award was presented during the release of the third edition of the report by H.E. Eng. Suhail Mohamed Faraj Al Mazrouei, UAE Minister of Energy, on the sidelines of the World Future Energy Summit held in Abu Dhabi.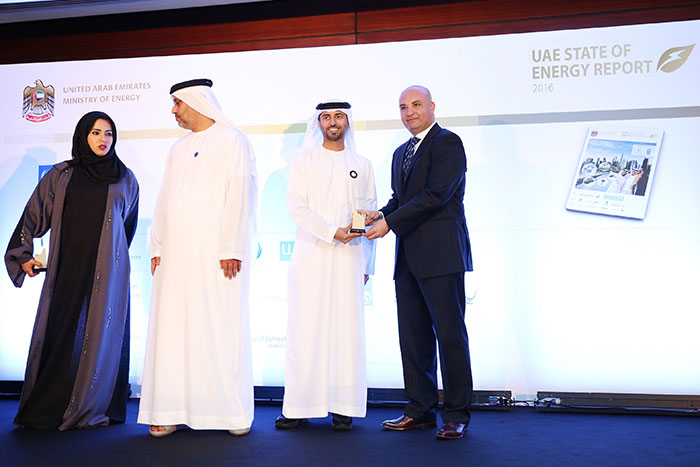 On receiving the award, Mohamed Karam, Senior Business Development Manager, for InSinkErator Middle East & Africa said, "This recognition is a testament of our innovation that directly contributes to targets set by the UAE Government of diverting waste from landfills by 75% by 2021. However, the UAE continues to have one of the largest rates of food wastage per capita. If we manage to reduce the amount of food wastage, we can reduce the waste reaching landfills. Food waste compounds release rather large quantities of methane gas that lead to an increase in greenhouse emissions. This waste can safely be converted to clean energy using the right technology and processes."

The Dubai Clean Energy Strategy 2050 aims for 75 per cent of the emirate's energy through clean energy sources by 2050. The 2016 UAE State of Energy Report includes InSinkErator research that has identified that when food waste was directly added to digesters at a wastewater treatment plant, amount of energy generated was almost 280 kWhe/MT. The research was modelled on three types plants treating to the tune of 10 million gallons per day, energy produced varied depending on the percentage of the population owning disposers. The research was contributed to the report in the form of an editorial piece submitted by Mohamed Karam.

According to a study by the Water Environment Research Foundation (WERF), using a food waste disposer with underground sewers and a modern waste water facility utilizing anaerobic digestion is the least costly option for food waste disposal, with a minimal carbon footprint.

Statistics from the Food and Agriculture Organization of the United Nations indicate that roughly one third of the food produced in the world for human consumption every year — approximately 1.3 billion tonnes — gets lost or wasted. Diverting waste from landfills also reduces groundwater contamination. Lowering domestic kitchen waste by approximately 30%, the InSinkErator Food Waste Disposer is an environmentally responsible alternative to sending food waste to landfills.