Intercoil launches the luxury 'Beautyrest Black' mattresses.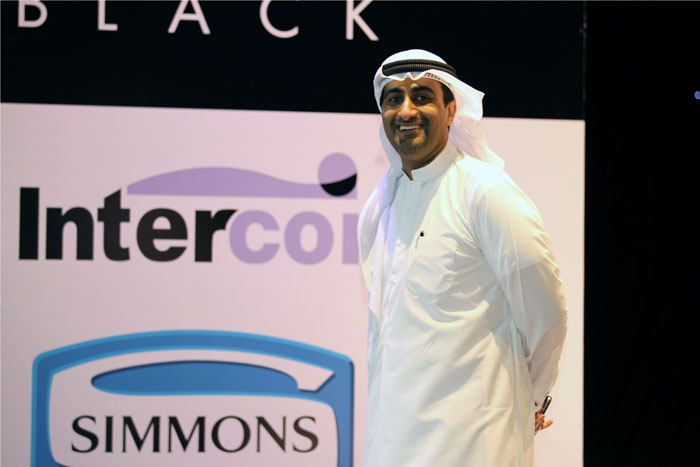 Intercoil International, the Dubai-based sleep products multinational, has teamed with world-renowned Simmons Bedding Company to officially launch the new mattress line – Beautyrest Black. The luxury mattress line was unveiled at a press conference today in Zabeel Saray Hotel, by Mr. Hassan Hazeem, Managing Director of Intercoil International and Mr. Todd Merker, Simmons director of Global Licensing.
The Beautyrest Black collection boasts world-class technology, with its Advanced Pocketed Coil Springs, which offers true seclusion with virtually zero partner disturbances, and Transflexion Comfort Technology designed to ensure consistent comfort.
In his comments at the launch, Mr. Hassan Hazeem said: "We partnered with Simmons in 2010 and introduced the Beautyrest mattress line across the region. The product has done extremely well. The new 'Beautyrest Black' line takes the exceptionally unique design of our popular Simmons Beautyrest mattresses and adds the finest material and superior pocketed coils together to provide an even more luxurious sleep experience."
"We've spent months redesigning the Beautyrest Black line before it launched in the US to ensure that the line makes a definite statement—both to retailers and consumers,"
said Todd Merker. "Our Beautyrest Black line features a distinctive look and feel that is unlike anything on the retail floor today and the models offer comfort benefits that surpass those of the competition. We're confident that the collection will perform extremely well for Intercoil."
The Beautyrest Black collection comprises of three types of mattresses. These include Firm - the firmest kind of mattresses which provides more resistance against pressure from the sleep surface. Plush, which creates a softer sleep surface by utilizing soothing comfort layers like latex and memory foam. And the Plush Pillow Top, possibly the softest mattress with soothing foams in its top upholstery.
The launch of Beautyrest Black mattresses comes amidst a wide range of achievements for Intercoil in 2012. In April, Intercoil was awarded the Dubai Quality Appreciation Certificate at the Business Excellence Awards. In February this year, Intercoil was ranked number 4 among the Dubai 100 SME rankings. The ranking identified the best performing Small and Medium-sized Enterprises, honored them for their innovation, and recognized them for their contribution to the economic landscape in the Emirate.