Interior Design Innovation Drives UAE's USD 820 Billion Construction Project Pipeline
Interior design innovation will drive the UAE's USD 820 billion construction pipeline, and transform visitor and resident experiences, industry experts announced today ahead of Cityscape Abu Dhabi, running from 17-19 April.

Boosted by mega-projects such as Expo 2020 Dubai, and a steady stream of homes, offices, and mixed-use developments, a recent report by MEED shows that the UAE has a massive USD 820 billion construction project pipeline. The wider Middle East and North Africa's project pipeline is worth USD 1.6 trillion, according to BMI Research.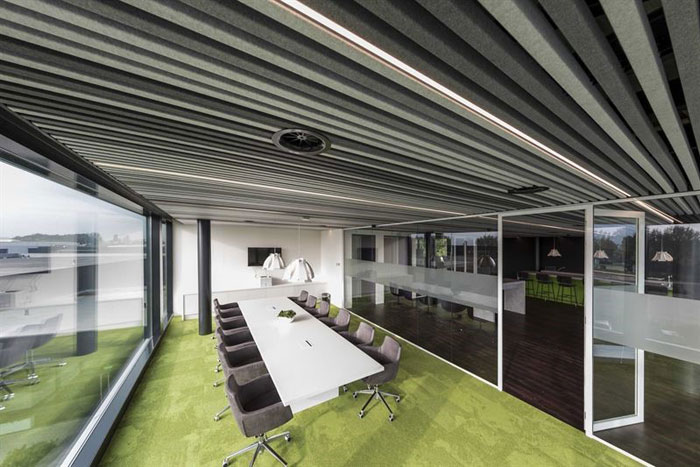 Increasingly, Middle East projects are integrating interior design from the beginning of the project design, with innovations serving as a key differentiator for enhancing daily lives, argues the global architecture and design consultancy Hunter Douglas.

"Interior designers across the UAE and the Middle East are pioneering the approach of integrating innovations, such as felt ceilings, from the design phase to transform the lived experience inside buildings. Cityscape Abu Dhabi is a key platform to educate the market how felt can provide a safe, cost-effective, attractive, and sustainable approach to ceilings," said Santhosh Vallil, Sales Manager for the Middle East at Hunter Douglas.

Ahead of Cityscape Abu Dhabi, Hunter Douglas is seeing strong Middle East interest in its HeartFelt innovative modular and linear felt ceiling system. HeartFelt recently won a prestigious Red Dot Award, and is 100 percent recyclable and certified cradle-to-cradle.

Showing the strong results of felt ceilings, Dutch confectionary company Brand Masters called on architecture firm, Van Oers Weijers Architecten BNA, to deliver a design and build of high quality, inside and outside the building. Brand Masters became one of the world's first companies to deploy HeartFelt in its entrance, hall, and showroom.

"Sometimes the architect's role is to take risks and contribute a new material or a new solution.," said Jeroen Weijers, Architect of Van Oers Weijers Architecten BNA. "This sense of quality is expressed in the building materials we used, the finishing on the inside and the clean lines of the whole design."

Weijers says that HeartFelt's sustainable and acoustic qualities also played a role in the choice for this ceiling system. "We applied HeartFelt mostly in the representative spaces, where customers and prospective clients are received, for example. Good acoustics are important in those spaces," added Jeroen Weijers.