Interior Designer Vick Vanlian's Eclectic Designs Take the Gulf by Storm
Armenian-Lebanese interior designer and design mogul Vick Vanlian's high-end designs are witnessing peek demand, with consumers from the Gulf region lining up to commission the multi disciplinary designer and his acclaimed firm.

His success has been spearheaded by high-profile clients, pop stars in addition to members of various royal families in the Middle East.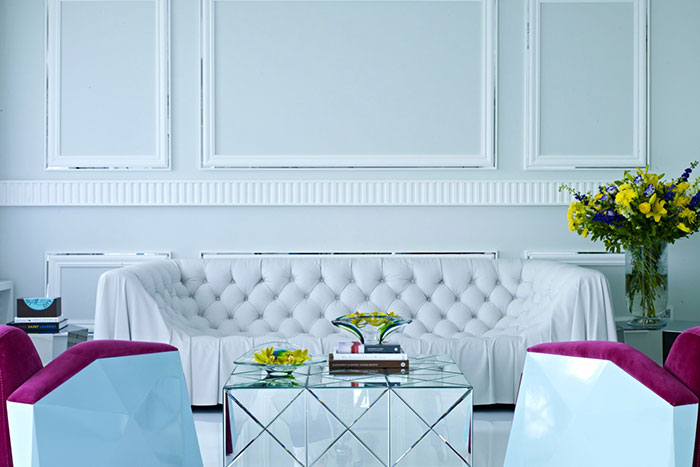 With a team of ten designers behind him, Vanlian's office and boutique in Saifi village Beirut, showcases the eponymous works of architecture, interiors, furniture design and accessories, continuing to craft and fulfill the increasing demand.

The design firm is famed for its treatment of each item as a challenge, one which should scream individuality and dare the viewer yet maintain a harmonious aesthetic.

The aesthetics of Vick's works are a melting point between eclectic and bold – targeting the global, high-end consumer who seeks both utility and refined taste. "Be Bold! Design without fear" is Vick Vanlian's moto, one which can be seen in his works. Unconventional materials make their way into his works, as well as geometric fusions, bold pop colors, complemented with vintage items.

"My design philosophy is to make the world a better place using four of the five senses: touch, smell, sight and sound, which are all part of experiencing a certain space, be it in interiors or architecture," says Vanlian.

With a dynamic upbringing between New York, Montreal and Beirut, Vanlian fused his explorations into his boutique, the diversity highly evident in the surprising nature of his items.

Vanlian is present at the Milan Furniture Fair each year – the largest fair of its kind – where his firm presents new collections every year.

With the increase in demand for Vick Vanlian's designs, the Beirut-born artist is expanding quickly becoming world renowned.