Intersec 2019 opens in Dubai, featuring 1,212 exhibitors from 54 countries
New Intersec Future Security Summit launches with 40-plus regional and international experts and government speakers

Dubai, UAE: Intersec 2019, the world's leading trade fair for security, safety, and fire protection, opened in Dubai today (20 January), featuring 1,212 exhibitors from 54 countries.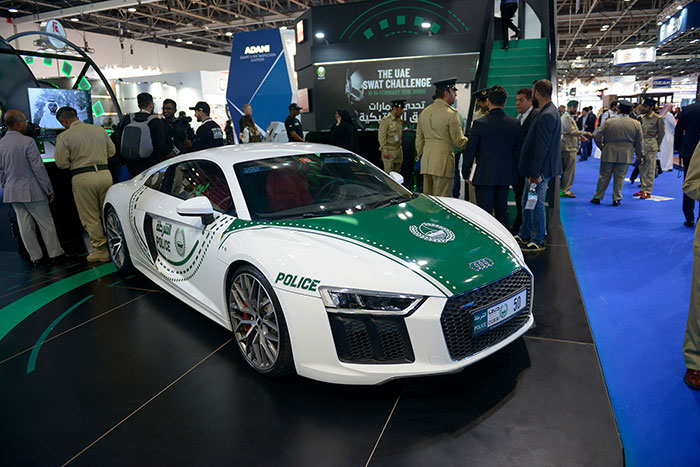 The annual three-day event, which runs until 22nd January at the Dubai International Convention and Exhibition Centre, is organised by Messe Frankfurt Middle East, and supported by the Dubai Police, Dubai Police Academy, Dubai Civil Defence, the Security Industry Regulatory Agency (SIRA), and the Dubai Municipality.

They're joined by a further 35 international government partners, trade associations, and non-profit institutions aimed at advancing the global security, safety, and fire protection landscape.

Highlights this year include the new Intersec Future Security Summit, featuring 40-plus regional and international experts and government speakers, while returning features include the Drone Zone, an Outdoor Demo Area for live firefighting and emergency rescue operations, along with workshops and seminars to keep an expected audience of 30,000-plus visitors informed about the latest market trends and technologies.

World Premier of TIGON specialty firefighting truck at Intersec 2019

Spanning 60,000sqm Intersec 2019 covers the six show sections Fire & Rescue (431 exhibitors), Commercial Security (375 exhibitors), Safety & Health (142 exhibitors), Information Security (120 exhibitors), Homeland Security & Policing (90 exhibitors), and Physical and Perimeter Security (54 exhibitors).

The dedicated showpiece event is often used as the annual platform for hundreds of exhibitors to launch their latest products and solutions for the global security, safety, and fire protection industries.

Rosenbauer from Austria, one of the world's leading manufacturers of systems for firefighting and disaster protection, was among these this week, and unveiled TIGON, dubbed as a 'radically designed, extraordinarily all-terrain specialty firefighting vehicle for industrial use.'

"The special vehicle combines proven off-road expertise from Tatra and optimally designed drive components with outstanding extinguishing technology from Rosenbauer," said Christian Mairzedt, Senior Vice President and Head of the Middle East and North Africa at Rosenbauer.

"The Rosenbauer TIGON is one of the most all-terrain, variable, and long-lasting industrial vehicles worldwide. Its powerful performance makes it one of the most extraordinary fire fighting vehicles of our time."

World's top fifty security solutions providers in the spotlight

Nearly two-thirds of the world's top 50 security manufacturers are also on-board Intersec 2019, including 17 of the top 20 incumbents comprising Hikvision, Dahua, ASSA ABLOY, Bosch Security Systems, Axis Communications, FLIR Systems, Hanwha Techwin, Tiandy Technologies, Avigilon, Infinova, Optex, VIVOTEK, CP Plus, Nedap, Raysharp, Milestone Systems, and Kedacom.

All are showcasing their latest solutions, from Artificial Intelligence (AI)-based safe city services and smart home security products, to the latest high definition IP-Network cameras and analytics software used across industry verticals from banking and retail to hospitality and oil & gas.

Avigilon is showcasing its newly released Avigilon Control Center (ACC) 6.14 software, with enhanced capabilities for Avigilon Appearance Search technology across ACC sites, increased security and enhanced performance. The Canadian-headquartered company is also shining the spotlight on its Avigilon Appearance Search technology, a deep learning AI search engine that sorts through hours of footage with ease.

Paul Such, Vice President of Sales for Avigilon in Europe, the Middle East, and Africa, said Avigilon's Appearance Search technology allows users to quickly locate a specific person or vehicle of interest across multiple sites that are connected to the same ACC client.

"We'll also feature Avigilon Unusual Motion Detection (UMD) technology, an advanced AI technology that will bring a new level of automation to surveillance," said Such. "UMD technology is designed to continuously learn what typical activity in the scene looks like and focus the operator's attention on atypical events needing further investigation."

"Such said a critical mass has been reached in the volume of video data captured and the limits of human attention to effectively search through that data, adding: "As such, the demand for video analytics is increasing globally. Through the power of AI, Avigilon is developing technologies and products that dramatically increase the effectiveness of security systems by focusing human attention on what matters most."

Artificial Intelligence and IoT in focus at Future Security Summit

The 21st edition of Intersec in 2019 also coincided with the launch of the three-day Intersec Future Security Summit, where Future Foresight on Security, Artificial Intelligence, along with the Internet of Things (IoT) and Intelligent Systems were among the central themes on the first day.

Martin Gren, Co-Founder of Axis Communications, and the inventor of the world's first IP-Network camera, was among the headline speakers today, offering his view on the future of the global security industry.

"We see security needs increasing and new applications are enabled by new and complementing technologies," said Gren, adding that while AI has shown tremendous improvements over the last few years, it's still at an early stage.

"Everyone expects to see industry disruption from AI and Deep Learning, and this is an area that Axis are heavily investing in, but I think the true benefits are still several years away. Instead you will see AI help with regular basic algorithms, and personally, I think the market for audio is going to move from analog to IP as it's still currently 98 percent analog."

Gren said the Middle East and the UAE in particular have always been an innovator in security and security technologies, on account of the region having limited exposure to traditional analog technologies.

"The Middle East was an early adopter of technology, and I think the UAE has shown a scale and willingness to invest that is much stronger than most other countries," continued Gren. "This has given a modern, and upgraded, network of smart and intelligent systems that is quite unique."

Middle East market on track for double-digit growth

Intersec 2019 takes place amid a Middle East market where demand for security, safety, and fire protection continues to climb. Andreas Rex, Intersec's show director, said: "The Middle East market for physical and perimeter security, commercial and information security, fire protection, and drones, is currently estimated to be worth US$14.5 billion. Analysts say this will grow at a compound annual growth rate of 13.5 percent over the next six years, valuing US$31 billion in 2024.

"Governments are taking a lead role in ensuring infrastructure, buildings, borders and societies are safe and secure, and the region continues to be an early adopter of smarter, integrated, and innovative solutions spanning both the public and private sectors – from banking, aviation, education and retail, to hospitality, healthcare, construction and energy.

"These solutions are course on show this week at Intersec, where more than 1,200 exhibitors from 54 countries are gracing the exhibition floor," added Rex.

With 83 percent international participation, Intersec 2019's 15 country pavilions are coming from Canada, China, Czech Republic, France, Germany, Hong Kong, India, Italy, Korea, Pakistan, Russia, Singapore, Taiwan, UK, and the USA.

Other conference highlights include the one-day Intersec Fire Conference on 21st January, which will provide insights into the changing global trends in fire protection and its implications on the Middle East, while Dubai's Security Industry Regulatory Agency (SIRA) Forum on 22nd January will also return with the latest updates in security law and industry regulations in Dubai.

Returning popular features include the Drone Zone, an Outdoor Demo Area, and the Safety Design in Buildings Pavilion. Intersec is held under the patronage of His Highness Sheikh Mansoor bin Mohammed bin Rashid Al Maktoum.
@IntersecExpo #Intersec #security, #safety #fireprotection #HealthAndSafety