Jotun aims for stronger MENA market presence with new 'Closer to Consumer' strategy.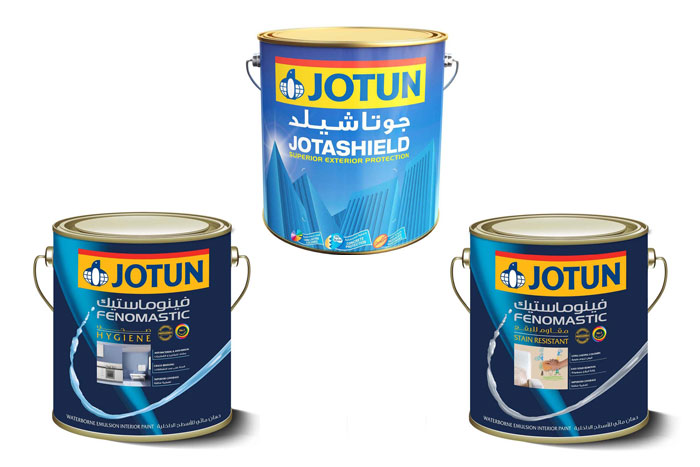 The UAE is reportedly poised towards driving in more growth for the country's thriving decorative paint segment with the introduction of key initiatives and programs. In line with this growth, Jotun Paints, one of the world's leading producers and distributors of paints and coatings, has revealed a new strategic initiative, 'Closer to Consumer,' which is focused on consolidating the company's market presence in the country. The announcement was accompanied with the launch of 'Fenomastic Stain Resistant' and 'Fenomastic Hygiene.' In addition, the company has also revealed a new design packaging for the 'Jotashield' line of paints. The dealer launch was successfully held recently at the Le Royal Meridian in Abu Dhabi while the professional launch is scheduled to be held on June 6, 2012 at the Hilton in Al Ain.
The launch of the new products and the newly packaged 'Jotashield' complements the company's move towards consolidating its UAE market leadership while at the same time reinforcing customer ties. Industry reports have revealed that the increasing number of construction projects across the UAE have become one of the key factors attributed to the continuous growth of the country's paint market. To complement this positive streak, Jotun has remained committed in meeting market needs through its development of innovative, high-quality products and maintaining its reputation for raising benchmarks in production techniques and products within the paint manufacturing industry.
"The launch of 'Fenomastic Stain Resistant' and 'Fenomastic Hygiene,' demonstrates our capability to innovate broadly, reliably, and successfully, year after year, in every part of our business. Our aim is to be able to come up with an innovative line of products that our customers can widely depend on," said Erik Aaberg, Group Executive Vice President, Jotun. "Innovation is not only the core target of our business model but also the primary track that drives us to meet the demands of our customers while also reinforcing retail partnerships—ultimately reaching the target growth that we have set to achieve. Over the years, we have been able to demonstrate our capability to innovate consistently, which has been a key cornerstone to our continued growth and success."
'Fenomastic Stain Resistant' is a premium interior wall paint that is being positioned to be the best in its class. The new product allows users to remove difficult stains, which includes fingerprints and shoe marks, without affecting the paint and making it still look like new.
Meanwhile, 'Fenomastic Hygiene' is a superior quality paint that offers resistance against bacteria and fungi growing on highly humid and wet areas like kitchens, bathrooms, hospitals, etc.
'Jotashield' range of paints is now presented in a newly-designed can, which offers end-users protection against harsh environment conditions in the region, concrete protection, longer lasting colors and reduced maintenance. 'Jotashield' is certified by industry renowned third party certification authorities as an anti-carbonation coating and has been widely used across key iconic structures within the Middle East and South East Asia.
"Jotun products are developed by utilizing the latest in a diverse range of technologies. Basically put, we deliver an unrelenting stream of innovation with systematic discipline. The new 'Fenomastic' line is a culmination of our extensive research and development. The innovations integrated into 'Fenomastic' reflect the strength of our commitment to leave a golden imprint in today's paint market," said Per Olav Ramstad, Regional Marketing Director, Jotun Paints.
"These are very exciting times for the UAE's paint markets with forecasts of continuous growth in the next few years. To help capitalize on this growth, we have launched new products utilizing the latest technology and innovations--giving us the confidence of maintaining our leadership in the region's thriving paint market. In addition, we have also launched our new 'Closer to Consumer' strategy, which reflects our goal of reinforcing our ties with both consumers and partners. All of these developments aim at providing added value while also giving us unique competitive advantages for our range of products," concluded Ramstad.