KALWALL Website Gets New Look: Site That Reflects Its Ability to Combine Beauty and Efficiency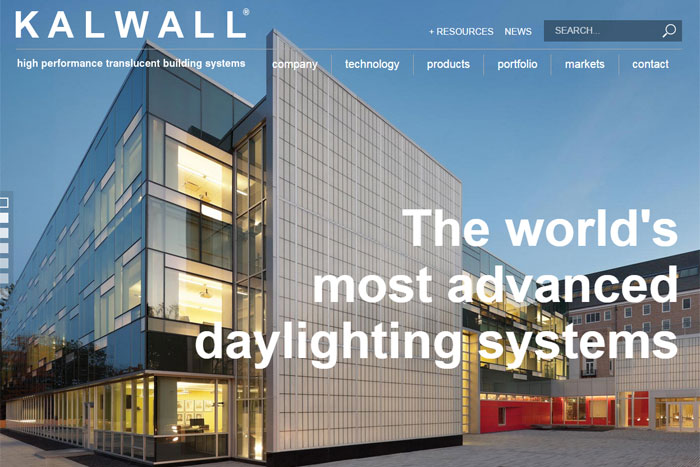 Clean, efficient and eye-catching. Kalwall has unveiled a new website (www.kalwall.com) featuring a full photo portfolio, expanded content and a searchable database of products.

"We thought it was time to give our website a fresh look that was highly functional," said Kalwall creative director Sam Keller. "This site achieves our goal of showcasing Kalwall and its design flexibility across many markets. We believe the aesthetics will inspire and inform future daylight designs."

Kalwall's museum-quality daylighting™ products have been an industry leader since the company first started producing translucent panels in 1955. The new site was unveiled in March and features bold and brilliant pictures highlighting the many applications of Kalwall products in a wide variety of projects.

The site was also designed to allow clients and distributors easy navigation to the technology that makes Kalwall the industry leader in daylighting, as well as the many products, projects and markets of Kalwall.

The site's scrolling locking panels are part of an intuitive navigation system, allowing viewers to see the impressive array of applications where Kalwall has been used. Sorting options include: product lines, market sector, panel grids, sustainable projects and specialty applications.

"We wanted to make it easy to find what you want," Keller said. "We wanted to showcase the beauty of the product by using photos and also provide in-depth technical resources to inform consumers about the many reasons to use Kalwall – to increase awareness about our incredible energy efficiency, product sustainability, structural composites technology and diffuse daylighting benefits."

About Kalwall®

Kalwall® has been setting the industry standard for diffuse natural lighting systems since it was introduced globally at the 1958 World's Fair in Brussels and, again, at the 1964 World's Fair in New York. Much has changed since then, but the beauty, efficiency and ruggedness of Kalwall systems have not. Neither has Kalwall's commitment to fine craftsmanship, custom work and continuing advances in technology. Kalwall is recognized for its innovations in window designs that provide a more predictable, better quality of usable natural light with superior thermal properties and best in industry solar heat gain control.
Categories: