Kansai Paint Launches New Store Franchise Program in the UAE
The program will support paint professionals to open new stores across the region
Kansai Paint, a global leader in the paint and coatings industry, launched its store franchise program for the UAE in a bid to enhance its presence and reach among consumers. The franchise program was launched at the region's largest construction event The Big 5 2015, being held until November 26, 2015 at the Dubai International Exhibition and Convention Center in Dubai, UAE.
To showcase the store offering and product portfolio, Kansai has built a replica of its store located in Satwa, Dubai at its stand in Hall 8 at The Big 5. The store replica outlines the entire look, feel and concept of the Kansai store while highlighting the quality and superior technology of Kansai's product range. It also highlights the various franchise benefits of partnering with Kansai Paint, Japans's leading coatings solutions provider with a strong growth story of nearly 100 years.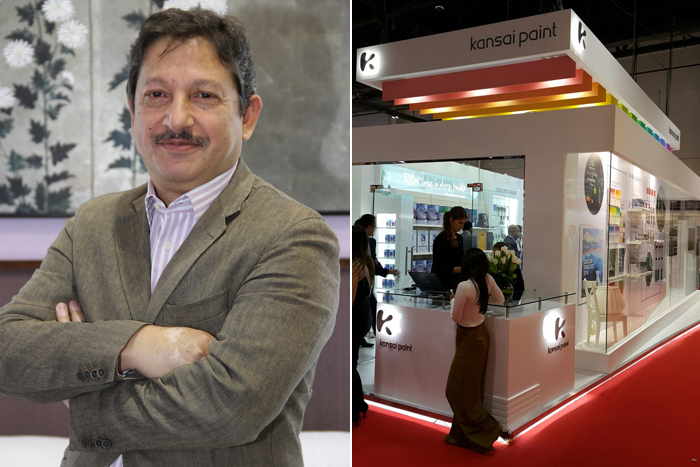 Left: Mr. Syed Ameer Hamza Hasan, CEO of Kansai Paint Middle East
The franchise program targets mainly the professional market segment such as the contractors, tradesmen, and building material stores in Dubai. "With the launch of our franchise program, we aim to interact with tradesmen, entrepreneurs and prospective investors at The Big 5 this year. As the region's largest construction industry event, The Big 5 offers us the ideal platform to engage with the decision makers and industry influences in the Middle East. Our aim is to increase our reach among the institutional corporate buyers such as property developers, major contracting companies, and corporates," Mr. Syed Ameer Hamza Hasan, CEO of Kansai Paint Middle East said.

"We believe the franchise concept will help strengthen this reach for the brand in the region. We are very positive about this as Kansai has a very strong business model based on quality, innovation and service. Kansai's product and service offerings for the B2B segment clearly differentiates the brand as a leader, given the quality standards it adheres to. We are certain that interested investors will find the right brand to make the most of in Kansai," he added.

"Kansai's stores are designed with minimalistic interiors to reflect the high quality standards we maintain in our products. The innovations in our paints are a result of in-depth industry research carried out by the industry's best in Japan. Our products offer ideal solutions for the construction industry in the region, given the harsh weathers and cultural mix," Mr. Hamza further added.

Kansai Paint is labeled as one of the most progressive manufacturers of Decorative, Automotive, Industrial, Protective and Marine Coatings. The company marked a global annual revenue of US$ 3.17 billion in 2013 and has over 10,000 employee base worldwide.

Kansai Paint has been at the forefront of providing the best in paint solutions and technology for 98 years. Its regional headquarters are based in Dubai, UAE and serves as the window company of Kansai Paint Japan with manufacturing sites, offices, warehousing and distribution across 18 countries.
Categories: