Kansai Paint Showcases Innovative Paint Textures at Middle East Coverings 2015
Kansai Paint, a global leader in the paint and coatings industry, is showcasing a wide array of innovative paints and design solutions at the Middle East Coverings Show (MEC) 2015, being held as part of the INDEX 2015 at Dubai International Exhibition and Convention Center, Dubai until May 21, 2015. The Kansai stand displays innovative wall art created by its team of experts using Kansai's latest Artscape range.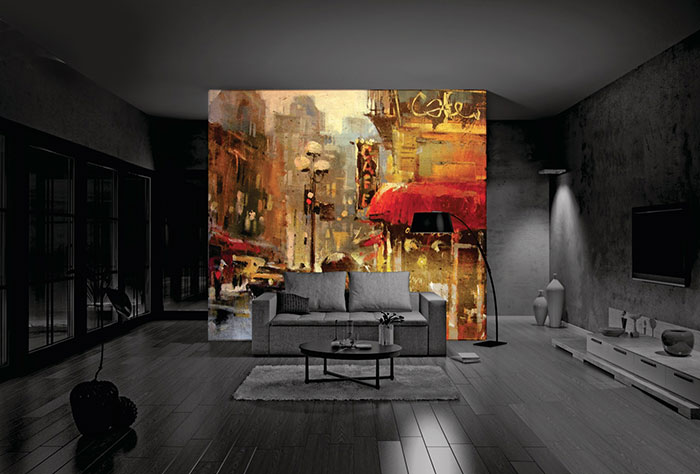 Using attention-grabbing murals, Kansai has revealed how walls can lend themselves as a canvas to transform home interiors. Kansai has created intriguing feature walls varying in themes to showcase how visually appealing wall art can be created within interiors.
Commenting on the participation at MEC 2015, Mr. Syed Ameer Hamza Hasan, CEO of Kansai Paint Middle East, said: "Kansai has, over its 100 year legacy, stood for quality and inspiration. Paints to us is not just about wall coatings, it is about all the various elements that make life better. Right from the process of innovation, where we follow sustainable practices, to the colours which aim to inspire, to the quality and the Active Benefits which make the products more durable and effective.

"We are pleased to be a part of this event which helps us leverage on our industry expertise and know-how to engage with the right people in the industry. Our stand here is designed to showcase the wide-range of paints that we offer and the element of inspirational art that can be achieved through a play of colours," he added.

Commenting on the colours and designs on display at the Kansai stand at MEC 2015, Ms. Anne Roselt, Global Colour Manager at Kansai, said: "At Kansai, we see each wall as an opportunity to express yourself. We have innumerable ideas on how any wall can be transformed to a work of art. Kansai's Artscapes, a new range of bespoke paintings crafted by our team of experts, showcase how paints can be expressive as well as bring an element of surprise and art into homes."

The murals display section is divided into 5 themes - Jour de Pluie, Tree of knowledge, Awakening, A Beautiful Mind and Dance of Life. The first theme, Jour de Pluie, celebrates the city of love – Paris. One of the most romantic cities in the world, Paris is synonymous with beauty. Tree of Knowledge revolves around the eternal conflict which stresses on the definition of wealth in society. The space depicts that knowledge blossoms despite of being overpowered by money. The next theme Awakening exposes darkness and secrecy infused with beauty, comfort and hope. It beautifully explores common society issues targeting women and looks at different facets of a woman's existence. A Beautiful Mind is a tribute to one of the truest mavericks of the modern world – Steve Jobs. Conceived in strongly chromatic tones against a backdrop of pure white, reminiscent of the creative mind of the man. Dance of Life lives true to its name with a focus on conceptual twists and turns of fluidity and impalpability of the body as a social and political concept.

The 2015 Colour forecast area displays the different themes that have been focussed on bringing innovative seasonal colours for the year. The colours follow different themes to match and suit desired patterns and designs. Themes in the Kansai Paint colour forecast 2015 focus entirely on the now, a unique combination of seasonal trends and personal likes they paint conglomerate has made sure every aspect of colour design is paid attention to. As the name suggests Urban Glow focusses on contemporary styles from layered colour – a la ombre flair to diffused shades, iridescence, geometric graphics and colour blocking. The Natural Balance theme revels in darker, greener tones with rugged forests inspiring the interiors. Weathered treatments, mottled pattern and watercolour effects all influence this trend's aesthetic. While on the other hand Vivid Expression provides a sensory overload with a clash of colours, artistic style, mix and match design and playful application. Delighting in the everyday, Tailor Made explores a quiet luxury where simple design is valued for its honest and thoughtful approach.

The next area explores practicality in Kansai's offerings. It explains Kansai application services which stresses on the importance of having Kansai do the application process instead of a non-certified applicator as Kansai provides specifically trained experts to complete the task. Kansai's training academy ensures all Kansai professional painters go through application, design, customer relation, operational as well as hygiene training on quarterly basis. The training ensures that all works carried out by Kansai's professional painters conform to the brands excellence and quality promise. Delivering utmost precision and impeccable craftsmanship in paint application. Kansai Paint also provides 24 hour product sample service to your doorstep. Lastly the area gives you the required information on ordering your desired paints and services from Kansai.

A brand with a legacy of nearly 100 years, Kansai Paint is Japan's largest and most progressive manufacturer of decorative paint and commits $60 million to coatings research each year. Kansai Paint has led the development of products that excel in both beauty and function, with a focus on creating good looking living spaces. Their extensive range of premium luxury coatings come to life through a full palette of colors and textures that have been introduced to transform any space in a welcoming haven.

Categories: