Karcher's Steam Cleaners Rids Uninvited Guests
Karcher, the world leader in innovative cleaning technology solutions recommends steam cleaning at least once a week as a resolution for those pesky hitchhikers that children bring home from school: germs! As children are going to school, they are met with a plethora of germs which are unintentionally brought home and inadvertently increase the germ profile with unwanted and unwelcome additions.

From the time children step outside their homes, they encounter germs on the bus, at various classrooms and facilities, and from simple transfers through interactions with friends. Whether its mould, bacteria, or viruses such as the common cold, or more vicious ones such as E-coli, Salmonella, children are unsuspecting transporters.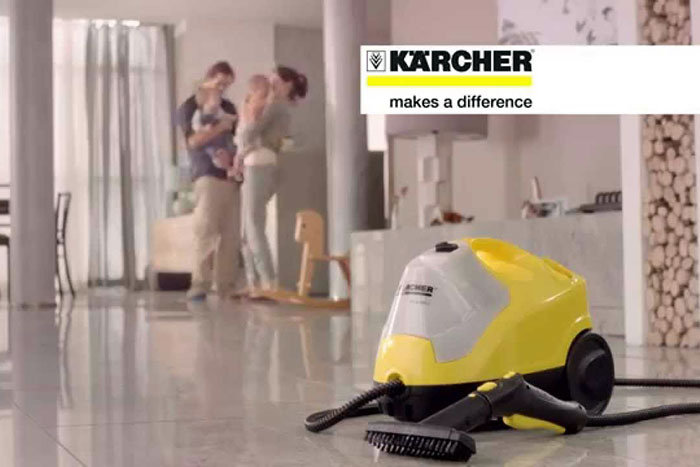 Guarding against these germs is a difficult task. However, steam cleaners that function by heating water into steam at 100°C, are all-purpose cleaners that can be used on a variety of surfaces to remove dirt, grime, and to sanitize. Some steam cleaning machines come equipped with vacuuming, cleaning, and drying functionalities too.

There are several steam cleaning solutions. From entry level products such as the SC1 which introduces and allows the consumer to try steam cleaning at low cost, to intermediate machines SC2 and SC3 for the consumer who is familiar with the steam cleaning process. The most advanced and best steam cleaner solution from Karcher is the SV7, which is an all-in-one machine offering a combination of steam cleaning and a water-filtered vacuum. The various steam cleaners are capable of removing encrusted dirt and effectively disinfecting surfaces while reducing the presence of germs by around 99.9 percent.

The multi-functionality and versatility of steam saves effort and time in cleaning as it is easy to transition between various living spaces and surfaces as there is no need to use different cleaning solutions or detergents. The temperature is the key cleaning component in steam cleaning as the surface tension of steam molecules is similar to a solution containing water and a cleaning agent or detergent. Because of this property steam machines do not require detergents to clean deeply and disinfect surfaces.

This feature of steam cleaning is highly advantageous because it does not add pollutants or irritants back into the atmosphere during the cleaning process, which could aggravate or trigger any allergies. Steam cleaners can be used from floors to carpets, upholstery, sinks, wall tiles, windows, mirrors, exhaust hoods, toys, and hobs.