Karcher to Introduce New Deep-Cleaning Carpet Machine
Karcher, the world leader in innovative cleaning technology solutions will introduce a new deep-cleaning and intermediate cleaning carpet machine, the BRC 40/22, to the Middle East market in September. The machine has been shortlisted for the International Sanitary Supply Association (ISSA) Innovation Award in the category 'Machines, Accessories & Components.'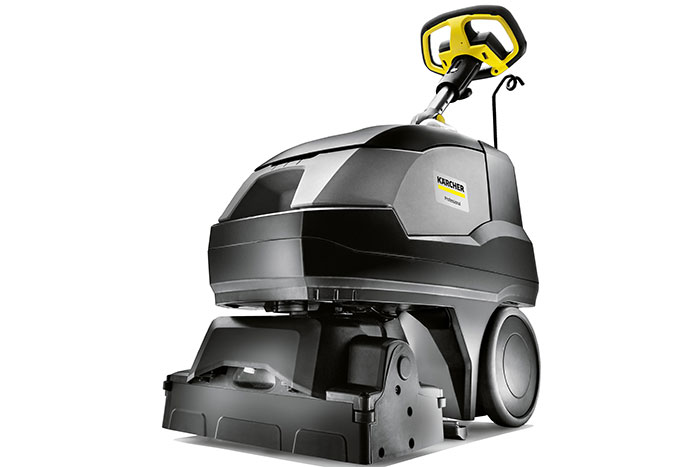 The Karcher carpet cleaner is a 3-in-1 machine with functionalities to dispense cleaning solutions, work the solution into the carpet, and finally to clean the solution and dirt from the carpet. The BRC 40/22 has spray nozzles on the front of the machine which supply the cleaning agent solution, rotating roller brushes that work the solution into the carpet helps the operator by providing an additional traction drive – both forwards and backwards, and a squeegee that wipes the dirt and solution away. These functionalities work together to provide overall increase in efficiency by cleaning carpets and reduce drying time effectively.

The BRC 40/22 is equipped with a head capable of rotating 200° to both sides which makes the machine extremely manoeuvrable. The increased manoeuvrability assists in navigating corners and obstacles, and ultimately results in reducing the time taken to clean by 30%, as many analyses have shown that up to 30% of the cleaning time is taken up by getting the machine back into its original in order to clean in parallel strips.

The machine is suitable for both intermediate and deep cleaning of carpets. When the machine is used for deep cleaning the area covered is 350 m2/h but on the intermediate setting, the area increases to 1,000 m2/h. Furthermore, emphasis on intuitive and ergonomic operation of the machine is a key feature in its design which includes a simple rotary switch for setting the operating mode, the function to change the roller brush and squeegees without tools, a separate cable guide and height-adjustable handlebars. These features contribute to its design and overall efficiency and effectiveness. The machine will be launched for the Middle East market in Dubai, UAE in September, 2016.