Kedry Prime, the new pergola by KE, suitable for every outdoor space
KE strengthens its worldwide presence proving to be one of the leading company in the solar shading scenario.

Innovation, tasteful design, wide and extensive product range, customized solutions. These are the strong points of GENNIUS pergola system, which adds to its range the brand new KEDRY PRIME, a louvre blades shading structure in aluminium that protects from sun rays, wind, humidity and – thanks to the new movable system that channels rainwater to dedicated gutters – water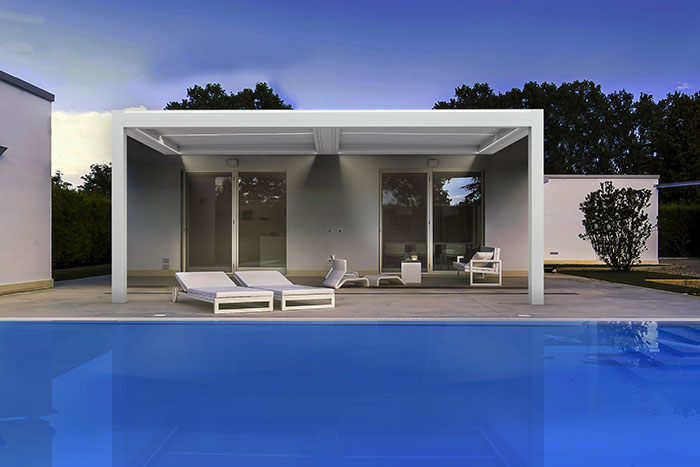 Extremely easy to install, Kedry Prime can be fit in any outdoor landscape: the pergola system has a special roof with adjustable blades which allows minimum height overall dimensions and enhances the structure linear design. Moreover an integrated perimetral led lighting kit offer high level of customization for each customer most specific need.

The structure can be closed with multiple door systems, designed as a protection to weathering. Due to the Vertika Gennius system, the pergola can be integrated with lateral and frontal drop-down awnings.
Vertika Gennius offers an extensive variety of fabrics (transparent, filtering and darkening) to meet any lighting requirement. Once the roll-down awning is closed, it disappears entirely within the structure frame.

In addition, the structure can be internally decorated with decorative drapes or curtains: a romantic and refined touch for those who really appreciated some privacy or a private space for their own.

Maximum comfort is ensured with the latest state-of-the-art automation technology: smartphone and tablet apps allow the remote control of Isola2, so the customer can close or open the roof at any weather variation.

As far as energy saving is concerned, KEDRY PRIME, as all other GENNIUS products, suits customer requirements all year round: during winter, it reduces heat dispersion and allows an ideal control of room temperature. During summer, the pergola protects from harmful UV rays and contributes to reduce overheating, cutting down air conditioning usage as well.

All Gennius products are tested and achieved the CE marking, as a guarantee of quality.

KE guarantees a highly reliable and technological product, 100% Made in Italy, designed to enjoy the outdoor all year round, enhancing each environment with style.

Website:
http://www.keoutdoordesign.com