KEF Infra One - World's First and Largest Fully Integrated Offsite Manufacturing Park
KEF Infra, the infrastructure subsidiary of KEF Holdings, the UAE-based multinational diversified group that specializes in innovative offsite manufacturing technology, today officially launched the KEF Infra One Industrial Park, the world's largest and first-of-its-kind fully integrated offsite manufacturing park in Krishnagiri, Tamil Nadu in India.

The launch event was headlined by Narayana Murthy, Founder of Infosys, in the presence of Faizal E Kottikollon, Founder and Chairman, KEF Holdings, Shabana Faizal, Vice Chairperson, KEF Holdings, Sumesh Sachar, CEO, KEF Infra and over 750 guests - including KEF Infra partners and industry leaders from India and across the world.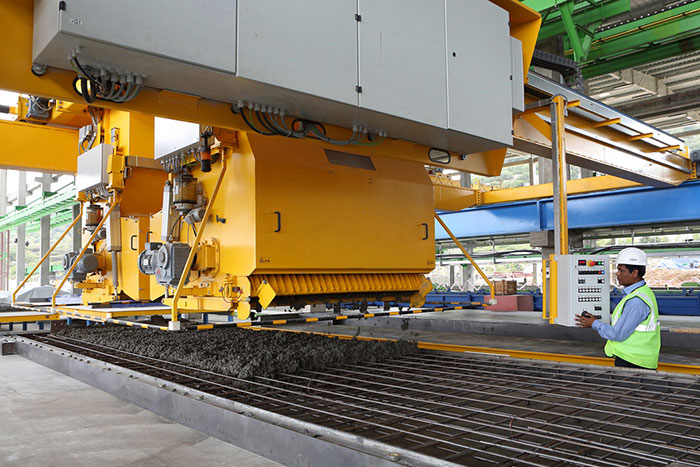 Valued at US$100 million, KEF Infra One spans one million square feet and features a diverse range of cutting-edge technology that can revolutionize manufacturing and delivery processes in the construction industry. With a vision to fast forward India into one of the world's leading hubs for sustainable construction, KEF Infra is at the forefront of Industry 4.0 and leverages world-class design and state-of-the-art manufacturing technology – providing high quality, meticulously engineered infrastructure solutions in a timely and cost-effective manner.

At KEF Infra One, automation and data exchange is integrated with manufacturing technologies, where a network of smart factories is driven by human endeavour and Cyber- Physical Systems, to create durable and sustainable products in an environment that is clearly differentiated through performance speed, efficiency and precision.

Speaking on the launch of KEF Infra One, Faizal E Kottikollon said: "Today, India is at the cusp of growth led by innovation. We are witnessing an age where technology is being effectively integrated into infrastructure for the first time - thereby heralding the Industrial Revolution 4.0. Our aim is to fast forward this progress through radically changing the infrastructure landscape in India. Offsite manufacturing of infrastructure reduces delivery time by up to two-thirds and considerably expedites the construction process.

"At KEF Infra, we challenge conventional building methods and move the industry towards an efficient, and automated platform. The launch of KEF Infra One is an important step towards achieving our vision of pushing forth the next phase of India's growth through world-class infrastructure. We are proud to introduce this revolutionary concept to the world."

For his part, Narayana Murthy said: "India has always been on the path of development, and with the arrival of technology, has witnessed exponential growth. However, every sector that contributes to India's progress is supported by infrastructure that is future-ready. This is where KEF Infra is a true pioneer and is helping shape the future of the infrastructure industry as well as that of the country as a whole."

Speaking on current and upcoming projects, Sumesh Sachar, said: "KEF Infra One is designed to deliver high-quality offsite manufacturing solutions for hospitals, schools, hotels and homes, covering the entire spectrum of building requirements - from design to structure, bathroom pods to façades and fit-outs. Through this integrated and technologically advanced industrial park, we are aiming to upskill workers and create a sustainable co-dependency between man and machine. This will also bridge the cost, time, resource and quality gaps for our customers - issues that presently constrain the Indian infrastructure sector at large."

With a strong pipeline of projects within India through 2017, KEF Infra also aims to export its global vision of innovation and technology-led development to various GCC markets, starting with the UAE, to specifically address the sustainable infrastructure demands in the region.

Website:
http://www.kefinfra.com