KOA announces the winner of the University Design Challenge
KOA, a unique real estate concept that aims to bring a new definition to residential living in the UAE, today announced the winner of its University Design Challenge. Held in collaboration with Canadian University of Dubai, the KOA Design Challenge is part of the brand's on-going commitment to contribute to the cultural development of the region and provide a platform to showcase the creative talent.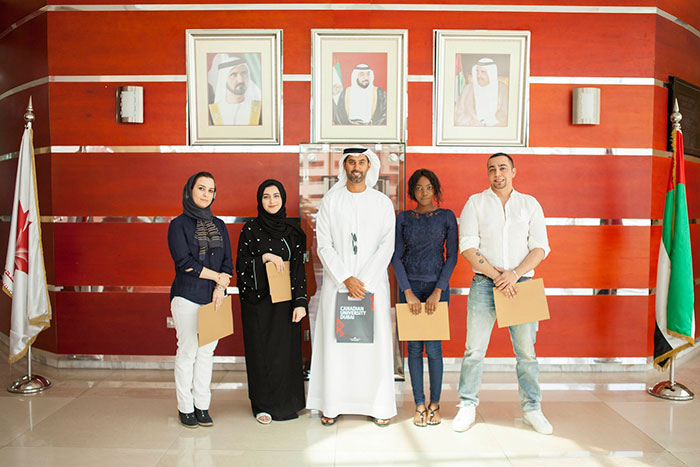 Hajar Chaharsoughi, Nesreen Shehada, CEO and Founder of KOA, Mohammed Bin Zaal, Aminot Ojikutu, Henrique Wagner.
35 students from Canadian University Dubai's (CUD) Design School took part to the competition to showcase their design talents and innovation solutions for KOA's first development, Canvas.
The students had two criteria options from which to choose. The first one was to design the co-working space in line with the design aesthetic of the brand in a way that would enhance collaboration between members. The second option required students to design the day care centre to enhance their learning and sensory experience.

One winner and one runner up from each category were awarded US$ 10,000 in total to further their design career and skill. The competition was judged by Tarik Zaharna, Founder and Director of Canvas's lead architect firm T.ZED Architects, Kamelia Zaal, internationally awarded landscape designer, and Mohammed Zaal, KOA's CEO and Founder.

Mohammed Bin Zaal, CEO and Founder of KOA, said: "The aim of the University Design Challenge was to provide a space to young and creative talents to demonstrate their design skills. We have been thrilled by the final work of CUD's students; they set the bar very high. Their innovative solutions clearly reflected Canvas' unique concept."

Serkan Gunay, CUD's Interior Design Chair, said: "We are very proud of all of the students who submitted projects to this competition. Submitting a design to a team of professional architects is a wonderful educational experience for our students, as the feedback they receive will certainly colour all of their projects moving forward in their academic careers. I'm very impressed with the work put forward and I think our students did an excellent job presenting mature and innovative designs that stood out in both quality and creativity."