KONE - top class in energy-efficiency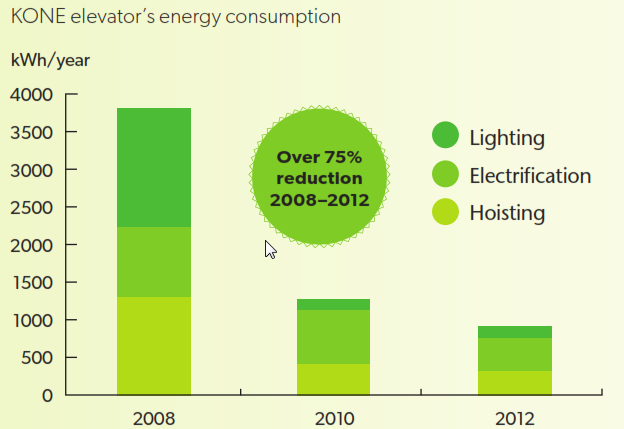 Energy measurements and calculations are a way to support eco-efficient building. KONE elevators have achieved excellent A-class energy efficiency ratings performed by independent third parties. We at KONE follow the latest in green building through our involvement in several associations around the world.
A number of KONE solutions ranging from low- and mid-rise to high-rise elevators in Europe and Asia have received the 'A label' as defined by VDI 4707, a guideline published by the Association of German Engineers (Verein Deutscher Ingenieure), which classifies elevators based on their energy consumption. The VDI classified cation ranges from A to G, from the most to the least energy efficient system, and it is commonly used by the elevator industry. All the A-class VDI certifications have been achieved in customer reference locations and measured by third parties.
KONE has an active role in developing sustainable building. We work as an active member of several codes and standards committees such as the ISO committee for ISO 25745 series of standards. There KONE focuses on developing requirements for the energy efficiency of elevators and escalators.
KONE has also developed tools to calculate the energy consumption of customer-specific solutions in the design phase. We participate in the development of parts two and three of the VDI 4707 guidelines. KONE also drives environmental sustainability forward as an active member of the WBCSD (World Business Council for Sustainable Development), the ERT (European Round Table of Industrialists' Energy and Climate Change Working Group) and other Green Building Councils.
Categories: