Konecranes extensive range of cranes for Middle East
Konecranes provides an extensive range of cranes, from light-duty applications to demanding processes. Konecranes standard offering includes high-quality basic equipment, while the advanced offering includes the latest high-tech features.

Should the standard offering not be enough, products can also be tailored to specific customer requirements. The product range comprises Workstation lifting systems for lighter loads and overhead cranes with lifting capacities of up to 500 t.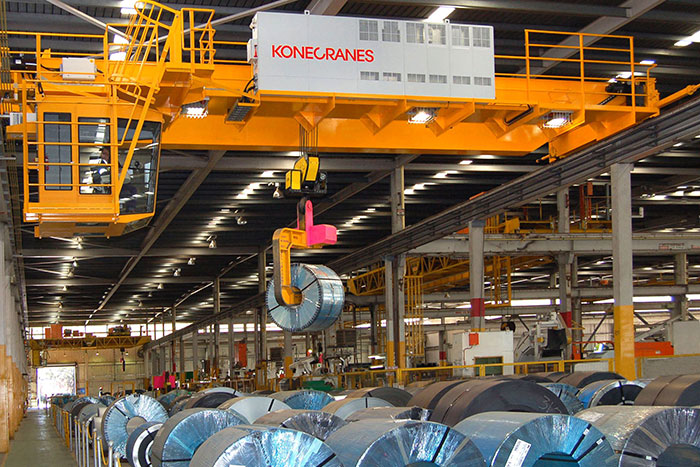 A 20-ton SMARTON crane operating in the coil storage area of a steel mill. © Konecranes
Ergonomy and Safety with Workstation Lifting Systems

Workstation lifting systems represent a wide scope of expertise. The products are particularly designed for lighter loads and are flexible and versatile in their use. Products range from hand-held lifting tools to robust hoists with up to 20-ton capacity.

Konecranes chain hoists are ideal for demanding workstation use and cover lifting capacities of up to 5,000 kg with the CLX chain hoist and up to 2,500 kg with the SLX chain hoist, which includes stepless hoisting speeds. The chain hoist is not only convincing with its reliability but also with its appearance, having received the prestigious Red Dot award for Industrial Design in 2013 and a special mention in the German Design Award competition for design quality in 2015.

Busy workstations can benefit from light and durable XA Aluminium and modular XM Workstation cranes, with lifting capacities of up to 2,000 kg, while Jib Cranes are adaptable to various processes. For lifting processes which require a fast pick-and-place operation, Konecranes ATB AirBalancer, with up-down control of up to 350kg, enables accurate positioning and balancing control. Other products include a telescopic lifting device called the ATL vertical lifter, which is able to lift loads up to 250kg outside the center of gravity. In addition, manual products are available for environments in which electricity is impractical or unavailable.

Overhead Cranes with the latest technology features

Konecranes industrial overhead cranes represent a high-quality product which includes the latest technology features to help increase safety and productivity. Konecranes Smart features represent the most advanced crane functionality on the market today. The latest features are Snag Prevention, Hook Centering, and Active Sway Control, which can aid to improve speed, accuracy, and the safety of customers' lifting processes.

Konecranes industrial overhead crane product portfolio is wide, starting from the CLX chain hoist cranes, with lifting capacities of up to 5 tons. The robust design and smooth controls of the CLX crane make it suitable for various manufacturing processes, while easy service access and self-adjusting magnetic breaks keep maintenance downtime at a minimum.

The CXT wire rope hoist cranes can lift up to 80 tons with one hoist and can be scalable for various lifting requirements. One of the benefits of utilizing a CXT wire rope hoist crane is the efficiency of space used under the crane and the excellent hook approaches which make the CXT crane suitable for nearly any industrial setting.

For lifting capacities of 500 t, Konecranes provides open-winch cranes, SMARTON and UNITON, which are strong links in production processes and for demanding uses.

Konecranes standard offering already includes a wide range of options but can also provide tailor-made cranes for processes that require customization.

Cranes for hazardous environments

Konecranes product portfolio is also available in explosion-proof applications and includes industrial cranes, jib cranes, and manual cranes, as well as electric and manual hoists, with lifting capacities from 125 kg to 160 tons. Konecranes follows strict quality and safety regulations, which is substantiated by multiple certifications of IECEx and ATEX

Industry knowledge built into every product

Every industry requires something different. For instance, steel manufacturing needs protection from heat and dust. Fuel and energy production often require specialized grabs, and the automotive industry uses special cranes for coil handling, stamping, and assembly, while mining and primary metal processing often occur in special environments, with special requirements for cranes. By working on the production frontline of industrial customers on every continent, Konecranes experience is reflected in a deep industry knowledge that is built into every Konecranes product. All key crane components are manufactured and designed in-house, in order to function flawlessly in various lifting applications and industries.

Extensive service network

Through its global service network, Konecranes offers specialized maintenance and modernization services for all types of industrial cranes. These services can be applied to a single piece of equipment or across the entire operation, boosting the productivity and safety of industrial processes. Excellent, proactive, and real-time service is one of Konecranes strategic priorities. With over 600 service locations in almost 50 countries, the company has the largest service network in the industry and provides high-quality service 24/7.