Laticrete RAK at Project Qatar 2012.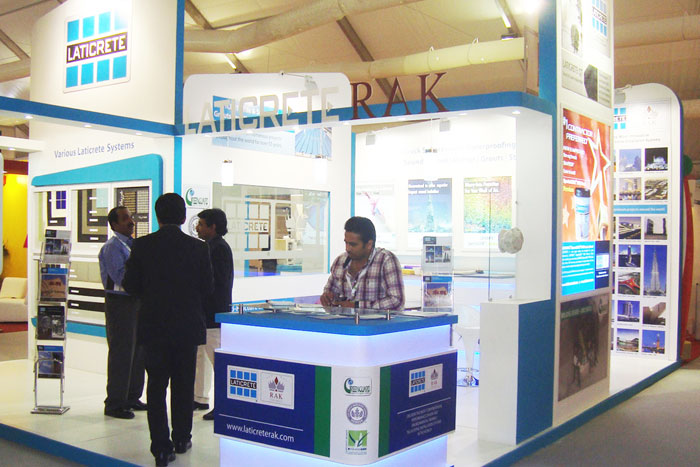 Laticrete RAK Co. LLC, a Ras Al Khaima based UAE company, has immense pleasure in participating in the Project Qatar Exhibition. Laticrete RAK expresses their thanks to Government of Qatar and the concerned Ministries for arranging trade shows of such great magnitude.
Laticrete International Inc, USA the pioneers in the field of producing excellent tile and installation system since 1956 has about 15 manufacturing units all over the world. The joint venture with RAK ceramics, Ras Al Khaimah, presently world's largest ceramic, porcelain tiles and sanitary ware producers started since 2003. The operations of Laticrete RAK are focused for the production and service of high quality tile and stone installation systems for construction field of Middle East and Africa region.
Laticrete RAK has got the most innovative products and systems for:

Surface preparation for tile and stone installations
Self leveling mortars
Sound Control Underlayments
Waterproofing systems for wet areas, swimming pools, water features, etc;
Epoxy and cementitious adhesives for tile & stone installations
Epoxy and cementitious grouts.
Silicone Sealants and penetrating sealers for stones and tiles.
All the systems are meeting or exceeding international Standards like ANSI, BS EN, etc; Laticrete has displayed these systems at their stand E 93 in Hall 3 and cordially welcomes all visitors.
Laticrete RAK has trained sales personnel, stock points at all major locations in Middle East and African countries.
Laticrete RAK understands the requirements of right tile and stone installation systems in the changing construction technologies, advancement in the tile technologies and take their responsibility for meeting this challenge with suitable solutions and servicing the Architects and Designers right from the project design stage, helping the construction contractors and applicators with right product selection and right method of application.
Laticrete RAK feels the importance of Project Qatar as the right meeting place of leading architects and contractors of the region and has immense pleasure of updating them the new and user friendly excellent quality systems from Laticrete range of products.
Laticrete RAK wishes government of Qatar for their innovative and challenging visions, the participants, visitors and the exhibition organizers all success.