About Waterproofing
Brochures

Waterproofing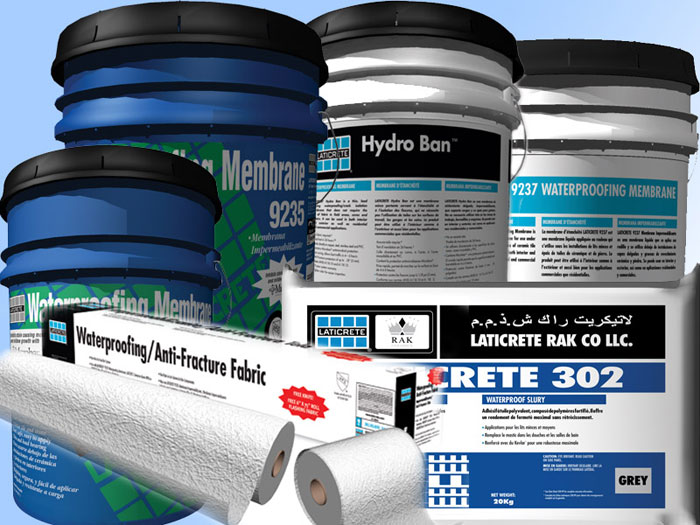 LATICRETE® Hydro BanTM
A thin, load bearing waterproofing/crack isolation membrane that DOES NOT require the use of fabric in the field, coves or corners. LATICRETE Hydro Ban is a single component self curing liquid rubber polymer that forms a flexible, seamless waterproofing membrane. LATICRETE Hydro Ban bonds directly to a wide variety of substrates.
LATICRETE® 9237 Waterproofing
A liquid rubber waterproofing designed for use under ceramic tile and stone in intermittent wet areas such as bathrooms spas and kitchens. Watertight is specifically designed for residential applications to protect the substrate behind the tile or stone from water damage which could lead to costly repairs and the growth mold and mildew.
Whether over cement board, plywood or gypsum wall board, Watertight applies like paint and is installed easily, ready for tile in just two hours after installation. Available in two packaging sizes and equipped with antimicrobial product protection, LATICRETE 9237 offers protection and insurance for just pennies per square foot.
LATICRETE® 302 Waterproof Slurry
LATICRETE® 302 Waterproof membrane is a high quality; Polymer fortified cementitious waterproofing slurry. This product meets & exceeds requirements for ZDB-Merkblatt/ DIN 18156-2 IBH.
LATICRETE® 9235 Waterproofing Membrane
"The Industry Standard" for wet areas and continuous water submersion applications. Applies with a paint roller or brush, cures in just hours and provides a permanent waterproofing base for tile, glass mosaic and stone in pools, showers and spas.
LATICRETE 9235 Waterproofing Membrane is accepted by IAPMO and ICC for shower pans, meets ANSI A118.10 and ANSI A118.12, is non-hazardous and meets all VOC requirements. When anti-fracture treatment is required in wet areas, LATICRETE 9235 Waterproofing Membrane provides the complete package.
You only need one product to protect your floor from water damage and substrate cracks. Inhibits the growth of stain-causing mold and mildew in membranes with antimicrobial product protection. "Extra Heavy" service rating per ASTM C627.

07 10 00 - Dampproofing and Waterproofing
07 14 00 - Fluid-Applied Waterproofing
09 30 00 - Tiling