Leaders in Mena Solar Industry Celebrated at The Big 5 Solar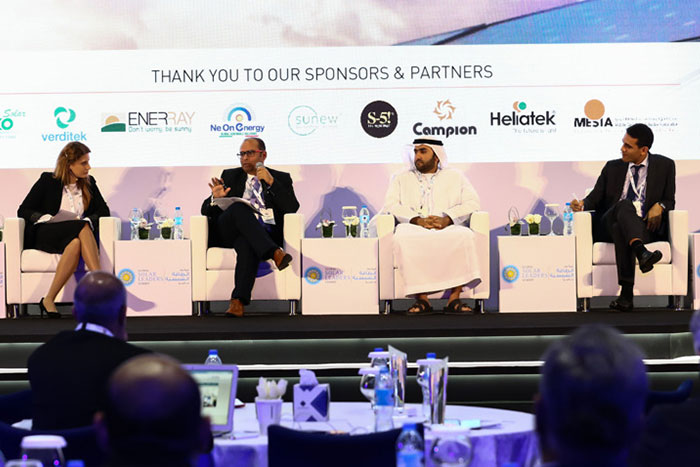 Under the Patronage of the Ministry of Energy & Industry, United Arab Emirates, the Global Solar Leaders' Summit has been held at The Big 5 Solar for a 4th edition. Under the topical theme 'Solar Solutions for Construction', the summit has brought together industry decision makers and thought leaders to assess the future of solar in the GCC region.

Ali Mohammed Al Jassim, CEO Etihad ESCO,Yousif Al Ali, Director, Business Development, MASDAR Clean Energy, Faisil Rashid, Director - Demand Side Management, Dubai Supreme Council of Energy, Rajit Nanda, Chief Investment Officer, ACWA Power and Ivano Ianelli, CEO, Dubai Carbon, Centre of Excellence were among the many high profile speakers who participated at the event.

In his opening remarks, Chris Kilbee, Senior Vice President at dmg events said: "Much of the energy consumption in the region is driven by urban spaces: The residential sector is responsible for the consumption of almost 47 percent of the GCC's total energy, against a global average of 25 percent.

"If we consider that there are more than 23,000 active construction projects in the GCC right now, we understand that it is extremely important for the solar and the construction industries to join forces, address current challenges and harness the immense opportunities that lie ahead."

In his keynote address, Ali Mohammed Al Jassim, CEO, Etihad ESCO said: "Today, we are leading the region in energy efficiency. We saved Dubai AED40mn in 2016/7 through retrofitting and our success story has made an echo around the globe. We have a plan and target to retrofit 30,000 buildings - a target of 2,000 per year. No other city has put such a challenging target but we have a path, a goal, a plan. The target is 30% by 2030; it's just a matter of time.

"We are also talking about building labeling. Every building that has been retrofitted and achieved savings should be recognized. We are working on the operational plan and it will be made public in 2019/20."

To celebrate achievements towards a more sustainable and efficient urban footprint through solar solutions, dmg events presented two awards at the summit. The Global Green Ambassador Award to Obaid Amrane, Member of the Management Board, Moroccan Agency for Sustainable Energy (MASEN), and the Global Solar Leaders' Award to Mohamed Jameel Al Ramahi, CEO, Masdar.

Belén Gallego, CEO & Co-Founder at ATA Insights (Spain), and one of the speakers at the Global Solar Leaders; summit said: "It has never been more important for the solar and construction industries to come together, as distributed solar markets are raising through the ranks to be an important part of the climate change solution. This event is a great opportunity for these two industries to meet, discuss and do business."

Taking place on November 27 at the Dubai World Trade Centre, the Global Solar Leaders' Summit is part of The Big 5 Solar, which displays the latest solar innovations from top local and international brands.

In a bid to further tie the solar industry to urban spaces in the GCC, the event is offering free CPD (continuing professional development) certified education sessions for construction professionals.

The Big 5 Solar runs until 29 November 2018 (from 11:00 to 19:00 hrs daily) at Dubai World Trade Centre, Za'abeel Hall 6. It enjoys support from Middle East Solar Industry Association (MESIA), Clean Energy Business Council, Sharjah Electricity and Water Association (SEWA), GCC Association for Renewable Energy and Sustainability - Green Gulf, Architectural Solar Association – ASA, BPVA – British Photovoltaic Association, Solar GCC Alliance, Jinko Solar, S5, Campion, Sunew, Verditek, Heliatek, NeOn Energy, and Enerray.

Offering a one-stop shop for all things construction related from concept through to design, The Big 5 Solar runs as part of The Big 5 along with HVAC R Expo, the Urban Design & Landscaping Expo, Middle East Concrete and The Big 5 Heavy. The mega construction event is hosting over 2,500 exhibiting companies and 100+ educational sessions.