Leading German Pump Manufacturer Wilo Launches New Headquarters in Jafza
Wilo, a leading German manufacturer of premium pumps, has opened an 8,000-square-metre facility in Jebel Ali Free Zone (Jafza), one of the largest free zones globally that offers market access to over 3 billion people. The new facility is Wilo's headquarters for the Middle East and North Africa (MENA) region that spans 20 countries.

Distinguished guests at the launch included His Excellency Peter Fischer, German Ambassador to the UAE, His Excellency Günter Rauer, German Consul General in Dubai, Mohammed Al Muallem, CEO and Managing Director of DP World, UAE Region and CEO of Jafza, Ahmad Al Haddad, Chief Operating Officer, Parks and Zones – DP World, UAE Region, and Abdulla Bin Damithan, Chief Commercial Officer of DP World, UAE Region.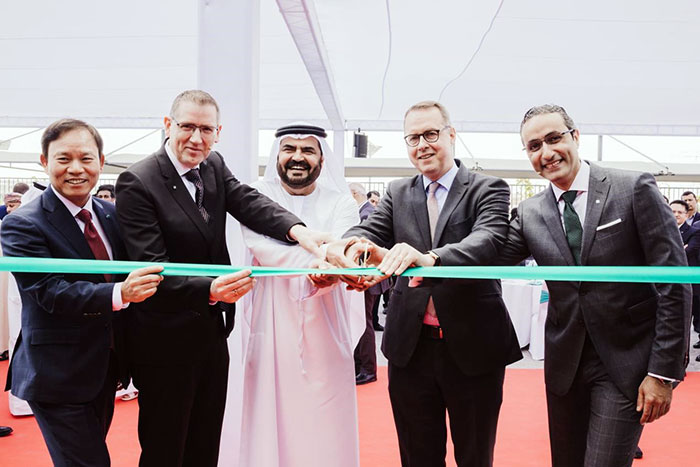 Speaking on the new headquarters, Yasser Nagi, Group Sales Director for the MENA Area at Wilo, said: "As the MENA region consolidates its position on the global industrial map, we are witnessing growing demand for our products in this market. Our new facility caters to the needs of a vast range of industrial businesses."

The LEED Gold-certified building complex features its own assembly line, office space, showrooms, a logistics centre and dedicated training rooms for the Wilo-Academy to host training sessions about the applications of Wilo products for dealers, engineers, installers and consumers.

Nagi added: "In line with our goal to manufacture cutting-edge technology to enhance the building services sector, we have incorporated the Wilo-Academy into our headquarters to ensure that engineers have access to training and equipment required to develop and innovate."

Georg Weber, Chief Technology Officer of Wilo Group, said: "Our aim at Wilo is to introduce energy efficient products that will enable businesses to optimise overall efficiency while developing innovative and intelligent solutions in the industrial sector in the UAE and the wider Middle East. Countries around the world are looking to enhance their infrastructure and cities are seeking innovative, future-proof solutions. In a bid to align with the Smart Dubai 2021 strategy that aims to shape Dubai into a world-class smart city, Wilo is developing intelligent products to contribute to the transformation of the urban environment."

Congratulating the manufacturer on the launch of the new facility, Mohammed Al Muallem, CEO and Managing Director of DP World, UAE Region and CEO of Jafza, said: "The opening of the new Wilo facility is a fortuitous event that highlights Dubai's ability to support an indigenous manufacturing sector. Manufacturing has already grown to become an important economic contributor, accounting for 9.4 per cent of Dubai's GDP in 2017 and is expected to grow to 20 per cent by 2030 under the government's Dubai Industrial Strategy 2030 vision."

"DP World, UAE Region is committed to supporting the government in its goals to further grow the emirate's industrial sector, and we are creating the necessary incentives and services through our numerous Parks and Zones such as Jafza and National Industries Park in conjunction with the trade opportunities presented by Jebel Ali Port and Dubai Trade," he added.
Wilo is a leading global manufacturer of premium pumps that set a new benchmark in energy efficiency. Designed to optimise the energy input to generate the greatest output, the company's Grade A pumps enable significant savings over a 10-to-15-year operational lifetime.

With around 7,700 employees across 90 countries, Wilo aims to make a positive contribution to shaping the country's economic landscape. As a pioneer in the pump industry, the company is committed to investing heavily in research and development, and to driving continuous innovation in all areas of water movement technology through its state-of-the-art pump systems.

@WILOMiddleEast #wilo #wilopumps #pumps