Losberger De Boer Delivers Saudi's First Three-Storey Temporary Build For Riyadh's MDL Beast Fest
Global temporary structures specialist, Losberger De Boer, has delivered a first-of its-kind build contract for Saudi Arabia's inaugural MDL Beast, a three-day festival, bringing together a blend of electronic music, performing arts and culinary craft.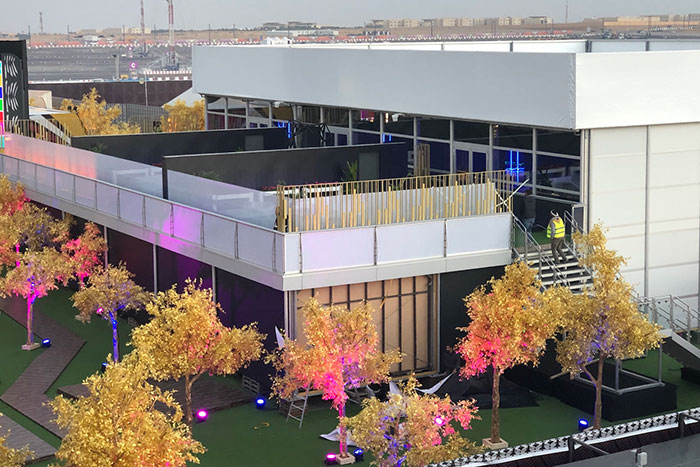 The festival located near Riyadh features an eclectic mix of global musical acts and emerging Saudi Arabian talent, with immersive performances and roaming street performers. The festival's Global Street Food Market showcases over 60 different dining experiences.

As part of the organisation's largest project to date with sports marketing agency, Sela Sport, Losberger De Boer delivered 9,500 square metres of interior space, including a triple-decker hospitality suite combining Losberger De Boer's Premier and Anova Vista structures for the Very Important Beast (VIB) district, marking the debut of this type of structure in the GCC. Other buildings include three President structures for the tier 2 VIB area, media lounge and pizza restaurant, two Palas structures for the Off Beast Box and contemporary Latin American MNKY HSE restaurant, Premier for a viewing deck, Maxiflex for the festival's banquet hall and a geodesic dome, which will be used as an air-conditioned tent during the festival.

Losberger De Boer's team of 42 temporary structure specialists began building the project in November, delivering the integrated complex within three weeks. Following the conclusion of the festival, the structures will be dismantled within two weeks, returning the site to its original state.

Waleed Khaled, Losberger De Boer Middle East's sales director, said, "We have global experience in delivering a wide range of temporary structures and modular buildings within very challenging timeframes. We have established a strong reputation in the market for providing spaces for mega-events, such as MDL Beast Fest, where ISO-certification and premium build credentials are a must. MDL Beast Fest is the first festival of its kind in the kingdom, so our mandate was to ensure an unrivalled visitor experience for guests. The diverse range of structures used will provide a unique experience for guests visiting the different areas of the festival, and the premium viewing facilities offer a fantastic view of all the action.

"In 2018, we successfully delivered 15 semi-permanent buildings for Qiddiya in 60 days in addition to working on other projects of international importance in Saudi Arabia and wider GCC region. Our local experience has led to us becoming a preferred partner for middle-eastern businesses and event operators looking to accelerate business openings or stage major events in the region. As Dubai Expo 2020 approaches and Saudi Vision 2030 advances, we expect our client base to continue to expand substantially."

Globally, Losberger De Boer delivers in excess of 500 rental projects and thousand of sales orders each year. In Saudi Arabia, the company has been involved in a number of iconic projects, including Qiddiya, the Middle East's largest temporary exhibition hall, Bay X at King Abdullah Economic City, the Guinness World Record-breaking Taif camel festival and a next-generation falconry club in Riyadh.

Website:
http://www.deboer.com/en-me